Written by Nick Ackerman, co-produced by Stanford Chemist
Cohen & Steers Quality Income Realty Fund (RQI) gives investors exposure to a significant portion of the REIT market. Within their portfolio, they hold some of the highest growth prospects. These areas are less impacted by what the COVID-19 pandemic might be doing to the other areas of the REIT space in; lodging, retail and office REITs. Those are the areas that are being hit the hardest. RQI's focus on infrastructure, healthcare and data centers has meant RQI has the composition to weather the storm.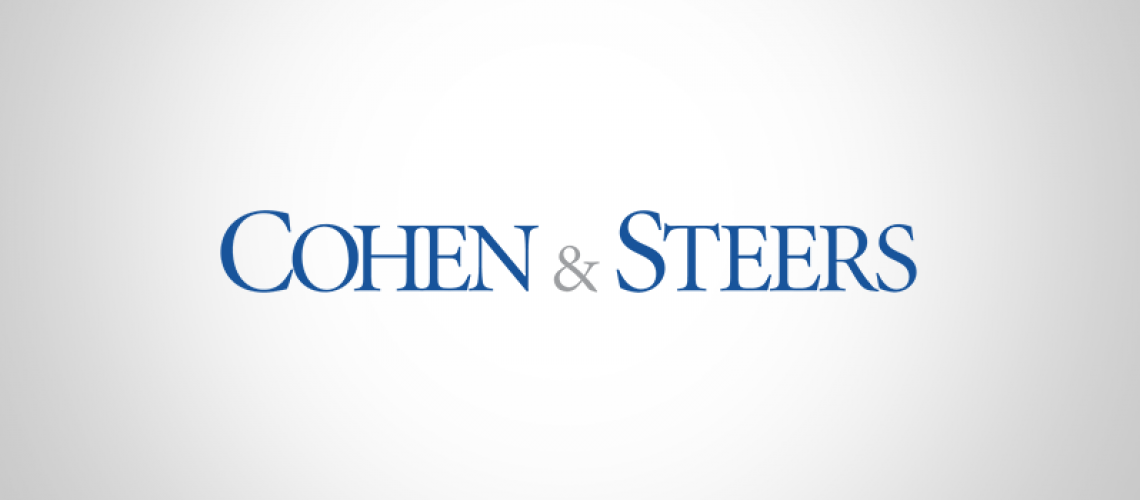 (Source)
RQI's investment objective is to provide a "high current income." They also have a secondary investment objective of "capital appreciation." They will invest in "real estate securities including common stocks, preferred stocks and other equity securities of any market capitalization issued by real estate companies, including real estate investment trusts (REITs) and similar REIT-like entities."
REITs have been historically strong performers. As real assets continue to be an essential part of life – no matter how much we transition to a digital life. Infrastructure continues to be an attractive way for not only strong cash flows from REITs, but also a growing area of the market. The "work from home" and "work from anywhere" culture is certainly helped by the latest pandemic. That's why areas like the tower REITs and data center REITs continue to play an integral part in our lives.
The fund has an expense ratio of 2.17% when including leverage expenses. When taking out those interest expenses we arrive at a reasonable ratio of 1.26%. The fund is also quite large as well at $2.2 billion in managed assets – this can provide for plenty of liquidity for most retail investors. They last reported that 24.2% of their portfolio is attributed to leverage.
When we last covered the fund, they had 15% variable rate and 85% fixed. This has changed a bit to a split of 10% variable rate leverage and 90% fixed rate. The average rate of financing is 2.8%.
Performance
On a YTD basis, the fund is still struggling to reach the positive territory.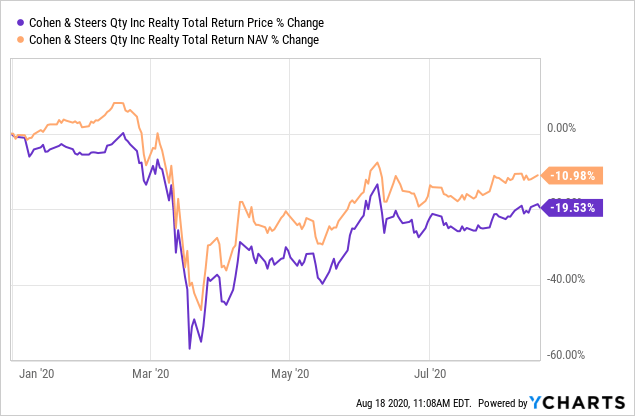 As we touched on above, this isn't much of a surprise as the REIT space has come under considerable pressure. I still believe that the fund can perform quite well going forward, as it has done historically.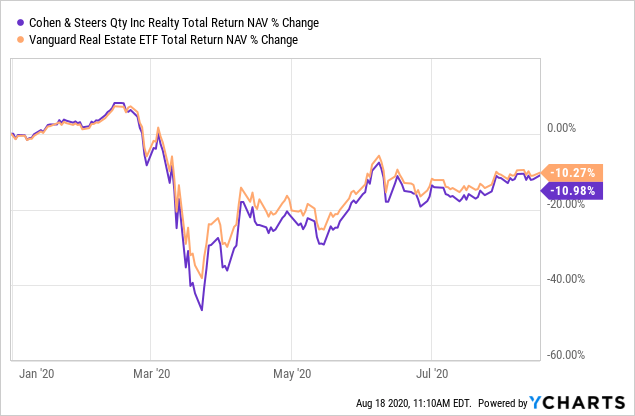 One might be interested to note that the popular Vanguard Real Estate ETF (VNQ), this is always brought up when RQI is discussed, is down a similar amount on a YTD basis. That is even including the leverage that RQI uses and that propelled the fund to steeper losses during the markets March madness.
Even further, over the last 10-year period RQI has done exceptionally well versus VNQ. Yes, a large factor does have to do with the utilization of leverage. Which does absolutely make the fund more volatile; however, those that can handle the increased risks might be better off over the longer-term.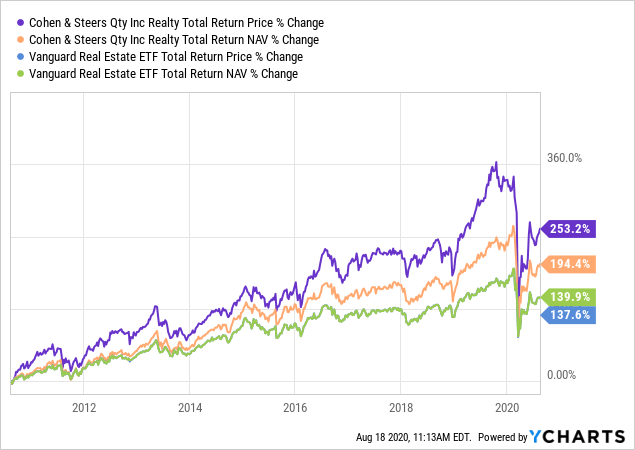 To be fair though, RQI has underperformed on a 1-year basis and since inception compared to VNQ. Also, RQI had outperformed on a 3 and 5-year basis as well.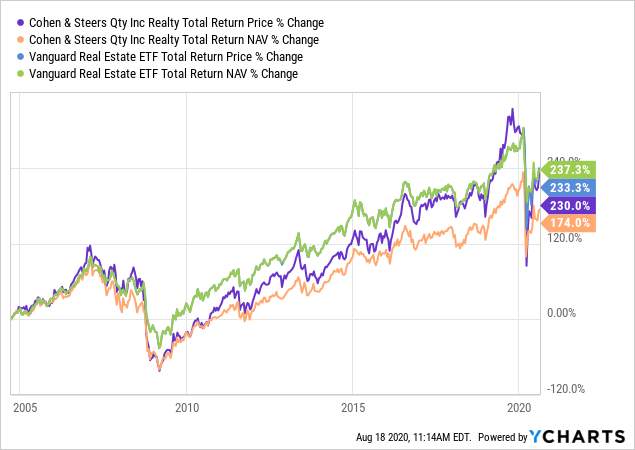 In 2008/09, the real estate market got hammered quite significantly. With RQI's leverage, we really see a much further drawdown. That is just yet another reminder that leverage can go both ways! The latest event isn't specific to real estate this time but is still impacting REITs nonetheless – due to the indirect damages that it can have with businesses shut down and not being able to make their lease payments.
The fund also trades at an attractive discount of 10.06% currently, its 1-year average is 6.03%. Additionally, its 5-year average is 7.41%. The fund has certainly traded at these discount levels in the past. However, for the last few years, it has been a bit more of a rare offering to see this type of trading level.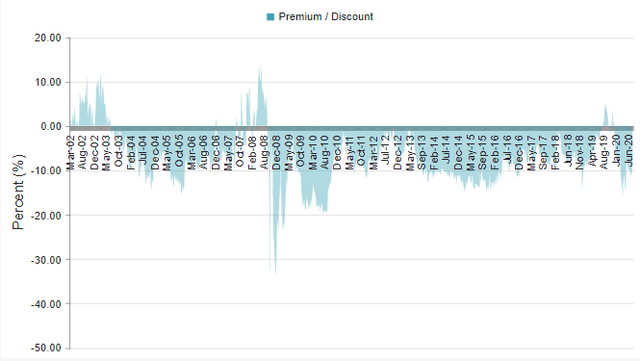 (Source – CEFConnect)
Distribution
The fund has been able to maintain its distribution throughout this year. The monthly rate of $0.08. This works out to a distribution rate of 8.53% and NAV distribution rate of 7.67%. This is also down significantly from the last time we talked about RQI. Then, the distribution rate was at a lofty 11.09% and 9.48% on the NAV. At the current level, this takes the fund off the watch list for a potential cut, in my opinion. That is subject to change upon a potential drop in the market, should one come and we see lows that we witnessed earlier this year.

(Source – CEFConnect)
The tax character for the fund was quite split down the middle for the fund between ordinary income and long-term capital gains.

(Source – Annual Report)
This can be a positive as LTCGs in a taxable account can be more favorable than the generally higher ordinary income rates.
As equities make up almost 90% of the fund, this isn't surprising to see either. Equity funds will typically rely on capital gains (sometimes in a significant portion) to fund its higher than average distribution rates. Essentially, that is where a large part of their "high rate" comes from.
As they completed a rights offering earlier this year, we will get a better understanding of their numbers when they release a new Semi-Annual Report. As the fund went into March madness with a ton of cash on the books, it should be quite interesting.
Holdings
They provide a full breakdown of all their sector exposure, the top sectors are some of the strongest in the REIT industry right now – as mentioned at the beginning of this article.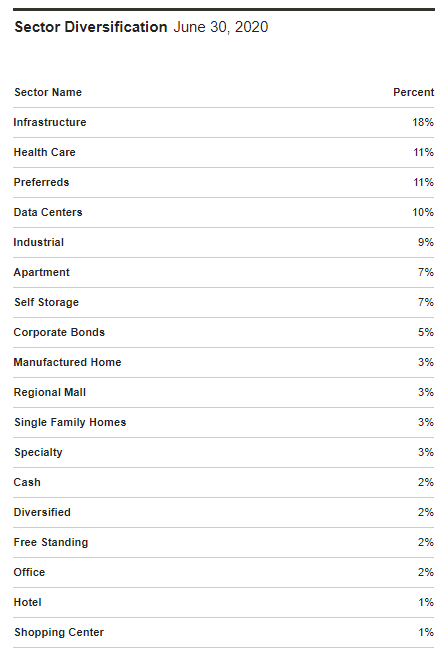 (Source – Fund Website)
As investors began to realize that these areas of the market might not be affected as badly by the pandemic, they have been getting lifted. Of course, a strong uptrend in the market since those lows certainly help raise all boats as well.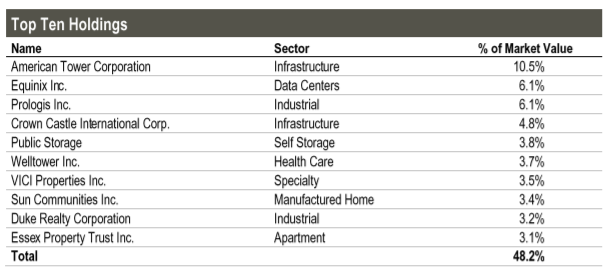 (Source – Fact Sheet)
Their portfolio hasn't undergone any significant changes to the top ten since we last visited this fund. The percentage allocated to each have only shifted due to price fluctuations within the positions. One position that does appear is Sun Communities Inc. (SUI), with that addition, UDR Inc. (UDR) has fallen from the top.
However, UDR is still in its portfolio and it was a divergence in performance over the last few months that resulted in this change. SUI has been a strong performer. Operating in the manufactured housing sector did mean that the company was under significant pressure earlier this year. However, as they are reporting strong quarterly results they have got some relief in their share price. Rent collection was 97% for the REIT – and along with an occupancy rate of 97.3% – means they were able to put up some great numbers.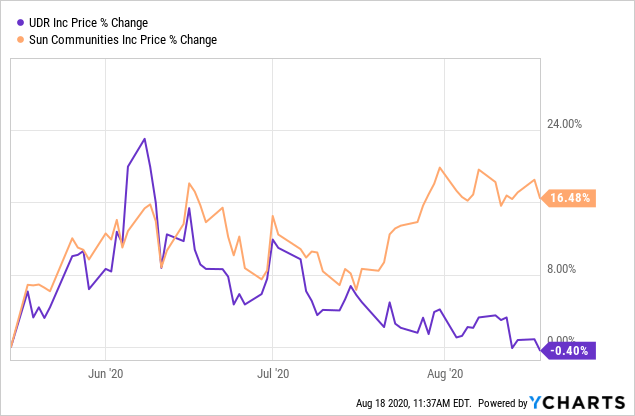 American Tower Corporation (AMT) continues to be the fund's largest position. I had covered AMT not too long ago more in-depth. Since then, they have announced their quarterly results. The quarter wasn't a blowout by any means. However, revenue increased by 1.2% and AFFO increased by 1.6%. That is significant when a company can continue to grow at all in this type of environment. Again, as they aren't directly affected by CV-19, they are poised to continue operating in an unfettered manner. In this case, it means to continue putting up cell towers that we all use in our everyday lives.
These results also mean they can continue growing their dividend on a quarterly basis. Which is exactly what they were able to do and announced in May an increase of 1.9%.

(Source – Seeking Alpha)
Conclusion
Last time we had covered RQI, we had an almost 15% discount. In hindsight, that was certainly the time to be jumping in aggressively as some investors did. However, the fund is still showing a deeper discount than its 1, 3 and 5-year averages. The over 8.5% distribution rate is definitely a cherry on top for an income investor. They hold a portfolio that is primed to offer growth and stability, even during times of uncertainly. Their composition relying more on infrastructure positions that are essential for business and everyday life means that they should continue offering positive returns going forward.
Profitable CEF and ETF income and arbitrage ideas


At the CEF/ETF Income Laboratory, we manage ~8%-yielding closed-end fund (CEF) and exchange-traded fund (ETF) portfolios to make income investing easy for you. Check out what our members have to say about our service.
To see all that our exclusive membership has to offer, sign up for a free trial by clicking on the button below!



Disclosure: I am/we are long RQI. I wrote this article myself, and it expresses my own opinions. I am not receiving compensation for it (other than from Seeking Alpha). I have no business relationship with any company whose stock is mentioned in this article.
Additional disclosure: This article was originally published to members of the CEF/ETF Income Laboratory on August 18th, 2020.