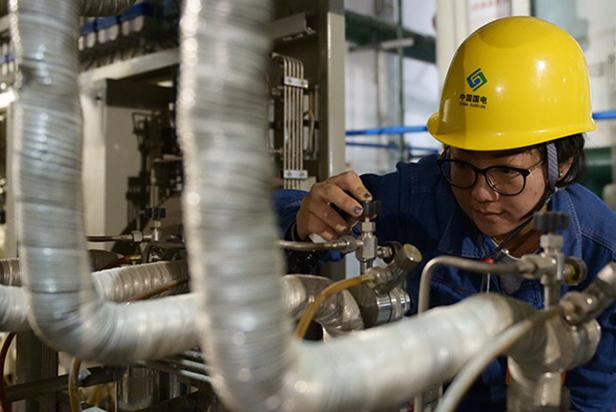 The country's advanced industrial chain will ensure that Sino-US trade friction risks remain limited and manageable for centrally-administrated State-owned enterprises, a senior official said on Friday.
Weng Jieming, vice-chairman of the State-owned Assets Supervision and Administration Commission of the State Council, said though the United States has been escalating trade disputes with China, which in turn has led to negative influences for the global economy, its impact on central SOEs is limited and controllable.
The official made the remarks after the US government raised tariffs on Chinese goods from May 10 and restricted Huawei's business operations, harming the interests of companies and financial markets from both sides.
Amid escalating trade friction, central SOEs reported steady profit growth in the first four months of 2019 as their combined profits saw year-on-year growth of 13 percent to 435.68 billion yuan ($63.1 billion) during the period. Companies in sectors such as manufacturing, defense, transport and construction outperformed the others, data from SASAC show.
The SOEs also made 547.4 billion yuan investment in fixed assets from January to April, up 10.8 percent year-on-year, while 66.9 percent of such investment flooded into the high-tech sector.
"The reality is that core technologies cannot be purchased or demanded from another party. We will increase investment in research and development in many fields as well as accelerate the application of scientific and technological achievements," said Weng.
Since the launch of China's reform and opening-up, a number of central SOEs have emerged with avant-garde technology and excelled in areas such as manned spacecraft, lunar exploration project, deep-sea exploration, high-speed railway, ultra-high-voltage power transmission and transformation and mobile communications, said Weng.
The total assets overseen by the SASAC are currently worth 58 trillion yuan. A total of 48 central SOEs including China National Petroleum Corp and Sinochem Group have made it to the Fortune Global 500 rankings in 2018.
Central SOEs have expanded their presence in more than 180 countries and regions across the world to carry out a full range of cooperation, especially in economies participating in the Belt and Road Initiative, data from the SASAC show.
Weng said central SOEs need to further strengthen cooperation with companies of various ownership – be it centrally or locally-administered SOEs, private or foreign companies, to reinforce the growth engine and cut risks.
For the next step, the SASAC said that it will vigorously adjust central SOEs' administrative and operational structure, speed up the transformation and upgrading, and promote the high quality of enterprise development, in particular in the manufacturing sector.
The government will also focus on key areas, leading companies and strategic emerging industries to deploy financial resources and manpower, said Gao Minghua, director of the Research Center for Corporate Governance and Enterprise Development at Beijing Normal University.