Facebook (FB) is one of my all-time favorite growth stocks and one which I have been actively urging investors to consider buying over the past year. In May, I published an article titled "Facebook: A $300/Share Price Is Closer Than You Think", and a few days ago, the stock did indeed cross the $300 threshold, reaching new all-time highs.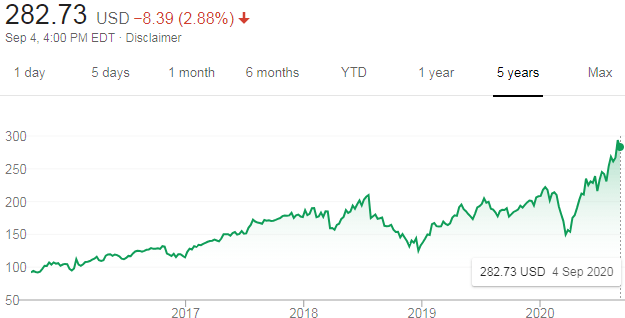 Source: Google Finance
At the time, it seemed very apparent that Facebook shares would eventually get the attention they deserve, as the stock's valuation had remained comparatively low to the tech sector, despite the company snowballing.
Frankly, despite shares currently trading near all-time highs, the stock has remained one of the most attractive picks in the sector, offering investors exciting growth at a reasonable price. As tech's valuations have been reaching absurd multiples, I view Facebook as being relatively cheap, continuing to present a much-rewarding investment case moving forward.
In this article, I will:
Remind investors of the beauty of Facebook's growth and financials
Assess the stock's valuation, return potential, and intrinsic share price
Conclude why Facebook shares are eventually on their way to $350/share
Facebook's growth and financials
The long-time argument against Facebook's growth story is in regards to its user base. The mainstream media has been portraying the platform as a lagged one, with many users deleting their online profiles, amid security and various other concerns. Such concerns peaked during the Cambridge Analytica scandal, back in 2018.
Meanwhile, the company's actual numbers have been displaying nothing but non-stopping growth, with no quarter having fewer users than its next one. It's utterly remarkable. Even with Facebook's continuous efforts of deleting fake accounts, the platform is adding about 100 million new users every quarter, currently counting 2.7 billion monthly active users.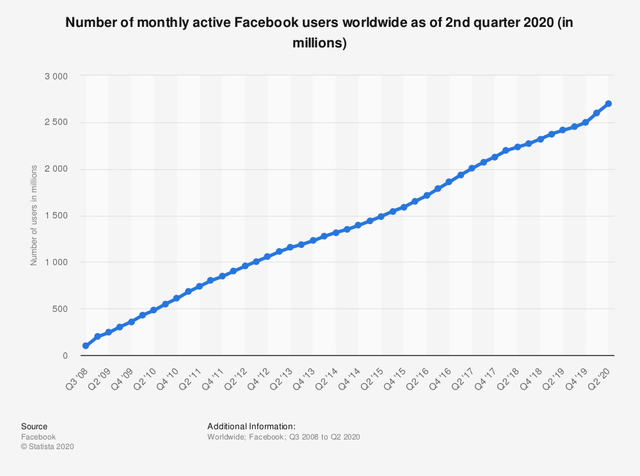 In fact, in the company's latest earnings report, the 2.70 billion MAUs suggested an increase of 12% year-over-year. The company's core platform is not only displaying remarkable resilience, but its growth rate doesn't indicate any slowdown signs as well.
The company's overall family of apps is also growing rapidly as a whole, with 3.14 billion MAP (monthly active people), as of June 30, 2020, an increase of 14% year-over-year.
On the back of a flourishing user base amongst its apps, the company has been able to build some of the most attractive financials in Wall St., in my view. Revenues have constantly been growing on an annual basis, as advertisers keep on capitalizing on the merits of digital advertising. Even as Facebook's sales growth, understandably so, has been slowing down, the current rate remains at a considerable 20.1%.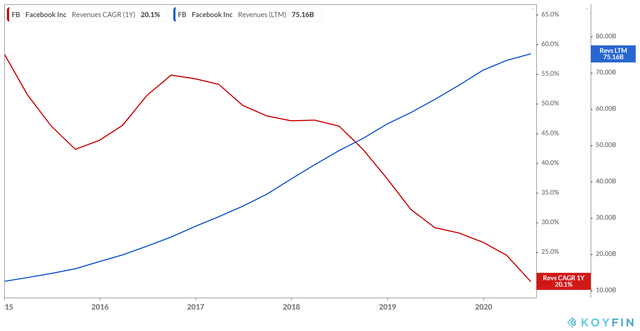 I would like to emphasize that Facebook's LTM (last-twelve-month) revenue growth of 20.1% is even more impressive when we consider that:
The company has a market cap north of $800B. Still, it displays little signs of maturity.
This period includes the months under COVID-19, during which global advertising budgets were considerably cut, while more than 100 major companies were boycotting the company amid its "handling of hate speech."
During the boycotting period, I published an article called "Facebook: Ad Boycott Has Opened A 16.7% CAGR Return Opportunity". Since then, shares have surged by around 23%. Politics aside, it's hard to be surprised. Facebook offers one of the best platforms for advertisers in terms of ROI, and frankly, there are a few to none competing alternatives.
Powered by the company's juicy 80%+ gross margins, Facebook's profitability is set to remain strong. Over the past four quarters, Facebook has reached record profitability levels, posting $23.52B to the bottom line. As a result, the company's balance sheet is incredibly healthy, boasting nearly $60B of cash and $0 of long-term debt.
Valuation, Future returns, Intrinsic Value
Valuation
Facebook's consistent undervaluation relative to tech stocks is a double-edged sword. On the one hand, bulls have been able to add shares on the cheap constantly. On the other hand, holding the stock has usually left investors feeling underwhelmed. Riding shares on multiple selloffs amid scandals, concerns, and various other reasons in regards to the company's reputation and "vice" status amongst Wall Street, has been quite upsetting at times.
As a result, the stock's valuation has remained relatively modest. It's worth noting that during COVID-19's selloff back in March, shares were trading close to 15X forward earnings, which is entirely unreasonable. Hence, I remain confident that the market's view on Facebook remains inaccurate.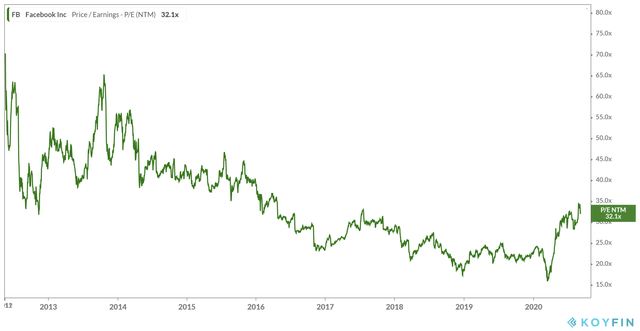 Future returns
Over the next three years, analysts expect Facebook to grow EPS by around 25% YoY, which makes sense as profitability should grow faster than revenues (economies of scale, share buybacks, margin expansions, etc.)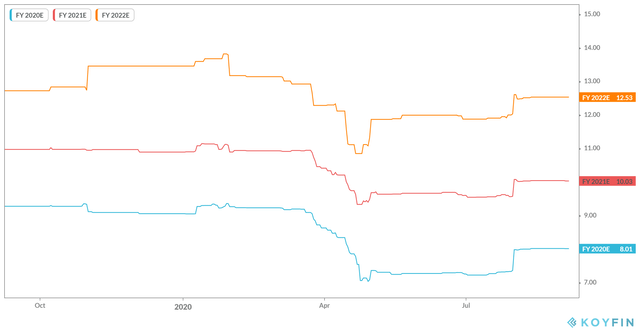 While EPS growth could arguably end up being even greater, I am always trying to be prudent with my estimates, as I recognize my biased views towards the company. Therefore, let's estimate a medium-term EPS CAGR (Compound annual growth rate) of 18%.
Based on this growth rate, annual EPS figures should roughly look like the following: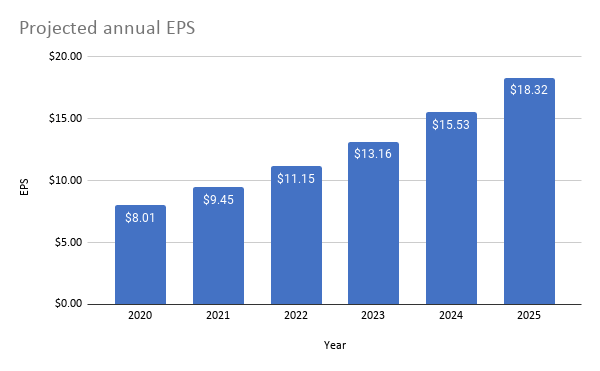 Source: Author
Now let's consider multiple future-return scenarios based on the company's current share price of $282.73, our EPS estimates, and various medium-term valuation multiples.
As the table below suggests, even if shares retain a modest valuation, investors can expect annualized double-digit returns in the medium term. Further, Facebook's margin of safety is greatly illustrated, since even if the valuation were to contract further (say a P/E of 23), investor returns would still be quite acceptable.

Source: Author
Intrinsic value
In regards to valuing the company based on its intrinsic value, we will use the DCF (Discounted Cash Flow) model, using the company's free cash flow generation. Over the past five years, Facebook has achieved a free cash flow CAGR of 23.4%.
Since the company has $0 of long-term debt on its balance sheet, our WACC is directly our cost of equity, which comes to around 7.78% (assuming a risk-free rate of return of 0.72%, equal to the 10-year T-bill).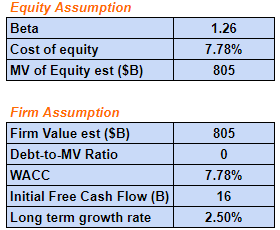 Source: Author
Starting from a reasonable FY2020 free cash flow estimate of $16B (H1-2020 FCF of $7.8B), and assuming modest deceleration moving forward, we estimate the following figures.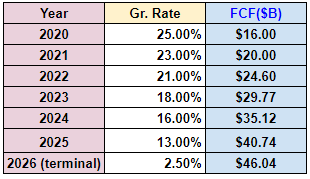 Source: Author
Plugging in the numbers, we get the following results: Facebook's intrinsic value per share results at nearly $300, suggesting that shares are undervalued by around 6%, based on its current price.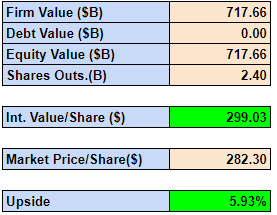 Source: Author
Keep in mind that this method may not complement Facebook's value, as the company hasn't raised any long-term debt and executes humble buybacks. The lack of debt issuance and considerable buybacks may undermine the stock's value in this particular model.
Overall, it turns out that Facebook's shares continue being undervalued, while the stock retains its medium-term double-digit CAGR return potential, despite its recent rally.
Conclusion and risks
In my view, Facebook is a marvelous company which has been well-managed over the years. I believe that its shares offer exciting growth prospects while trading at a reasonable -at many times cheap- valuation. While I remain greatly bullish on the future of the company, investors should be aware of the risks surrounding the stock.
Facebook shares are constantly challenged by the press, which has been scrutinizing the company's moral compass, handling of hate speech, privacy policies, and various other ESG-related issues. As a result, the stock could easily trade south or sideways, despite the company's excellent underlying financial performance, as it has happened in the past. Based on our prudent growth estimates, everything is pointing towards Facebook's next stop: A $350/share price.
Patience is key, though, as shares have had their fair share of volatility in the past. Investors who believe in the long-term growth story of Facebook should have little to fear, as management navigates through the future. With the exciting news, such as its plans to expand its checkout options in its platforms, the company showcases just another example of how Facebook can utilize and monetize its massive user base in profitable ways. I will keep on holding my shares and thoughtfully adding during potential dips.
Disclosure: I am/we are long FB. I wrote this article myself, and it expresses my own opinions. I am not receiving compensation for it (other than from Seeking Alpha). I have no business relationship with any company whose stock is mentioned in this article.