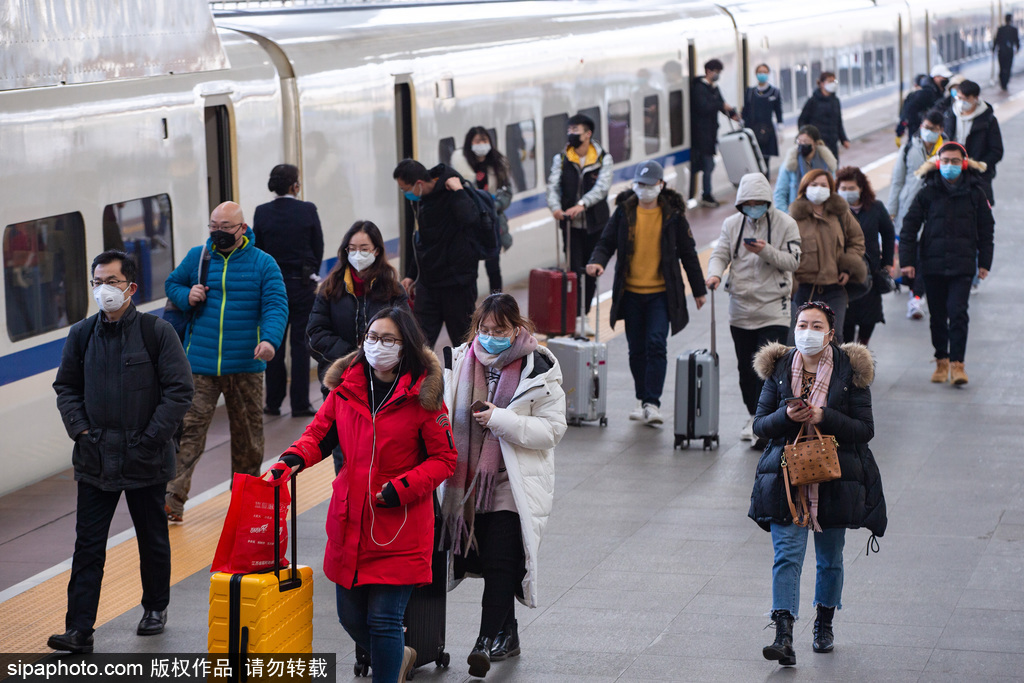 The number of migrant workers who have so far returned to Guangzhou, capital of Guangdong province, after the Lunar New Year holiday saw a sharp reduction due to the outbreak of novel coronavirus pneumonia (NCP). But authorities are refusing to relax their vigilance and are sparing no efforts to prevent and control the contagion from spreading in the city.
According to Li Chaowen, deputy director of the Guangzhou Bureau of Transportation, the city has coped with more than 25.05 million passengers leaving and arriving the southern metropolis in the previous 32 days ending Tuesday, a year-on-year reduction of 38.3 percent.
"All passengers, including those by air, railways and roadways, to Guangzhou have witnessed a big reduction after the Chinese New Year beginning Jan 25 due to the epidemic," Li said at a news conference in Guangzhou on Tuesday.He Aihui, deputy director of Guangzhou South Railway Station, said his station — one of the country's busiest high-speed railway stations — dealt with only about 39,000 passengers on Monday, a year-on-year reduction of 84 percent. And the figure recorded on Sunday was about 50,000 passengers, a year-on-year drop of 71.4 percent.
He predicted the figure would not witness big growth in the coming weeks.
Huang Bin, Party secretary of the Operation Control Center at Guangzhou Baiyun International Airport, said daily departures and arrivals were between 460 and 620 from Feb 7 to 10, reaching only 30 percent of the normal flights of 1,350 a day before the epidemic outbreak in Wuhan, Hubei province.
The airport's daily passenger volume during the period was only 33,000 compared to 44,000 in the previous week, Huang said.
"Flights taking off and landing at the airport would continue to decline in the coming days," he said.
But Li said transportation departments and companies in the city are going all out to prevent and control the outbreak of the epidemic in the densely populated city that has a population of more than 16 million.
All public transportation, including the subway, buses and ferries, have resumed normal operations since Monday. All passengers are required to have their body temperatures measured before they board subway cars, buses and ferries, Li said.
All buses are disinfected before each route, he said.
But he denied a rumor that all subway passengers have to show their identity cards to take trains in the city.
Wang Xiaodong, director of the traffic police detachment of the Guangzhou Bureau of Public Security, said traffic police have now introduced more mobile electronic cameras to help monitor vehicles and people coming from outside the city.
All the vehicles are examined while drivers and passengers are required to have their body temperatures measured before they are allowed to enter Guangzhou, Wang said.