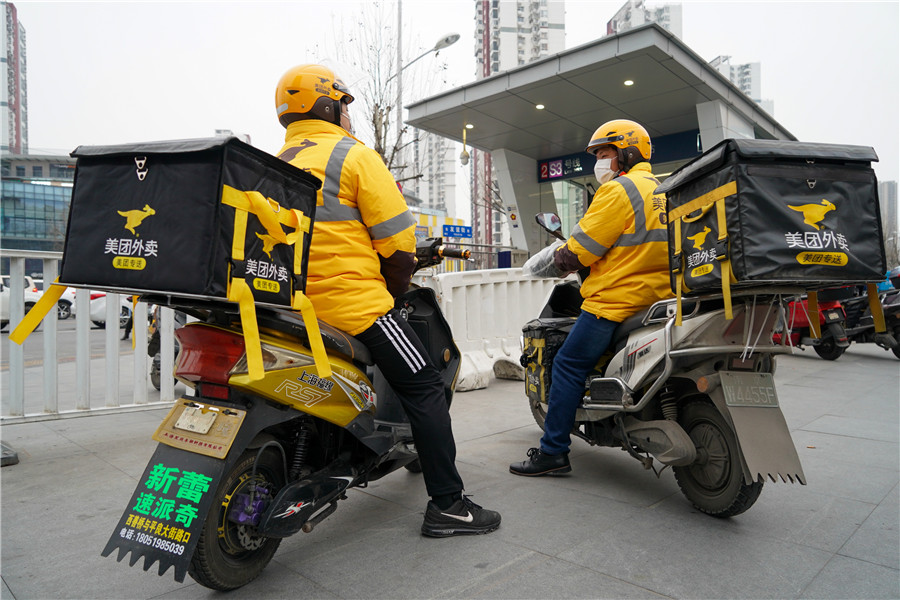 They express optimism for second half of year as production, operations resume across China
With more domestic and global manufacturers restarting production and operations across China, service providers and retailers have expressed optimism that their market areas will see a strong rebound in the second half of the year, after the country and the rest of the world bring the epidemic under control.
Their comments came after the central government pointed out the need to stimulate consumer demand and continue to expand opening-up, as well as take measures to sustain and boost the consumption of goods and services, in light of the outbreak.
China's economic resilience has stemmed from the sustained demand for services and goods, and the epidemic won't change these dynamics, given China's nascent consumption boom, said Patrick Tsang, CEO of Deloitte China.
The government has issued a number of policy measures to help retailers and service providers resume work, to resolve difficulties for foreign companies and to stimulate domestic consumption to put economic growth on a firm footing.
Chen Miaoqiang, CEO of New Century Hotels and Resorts, which is based in Hangzhou, Zhejiang province, and manages more than 450 hotels on the Chinese mainland, said, "Due to the seasonal characteristics of the industry, the hotel business is expected to rebound as early as the upcoming summer."
He said that business travelers' demand for accommodations will recover first after the epidemic, followed by individual and group travelers, which will help the occupancy rate to rebound.
Eager to fly more Chinese passengers, Michael Zhou, CEO for China of Kuala Lumpur-based AirAsia, predicted that because the impact of the epidemic is expected to be temporary, the country's market will see notable growth afterward.
James Chiu, vice-president and managing director of China at General Mills, a United States-based manufacturer of branded consumer foods, said, "Since China's economic aggregate continues to expand, its ability to withstand short-term shocks and respond to challenges has been further enhanced."
As the epidemic spreads across the globe, Zhang Yunling, former director of international studies at the Chinese Academy of Social Sciences, warned that global and domestic companies alike must keep a close eye on the international epidemic situation, which could result in declining trade and service activities.
Also as of Tuesday, the three major stock indexes in the United States had shed about 15 percent this month as the pandemic clouded economic prospects.
The market rout on Wall Street had tripped the circuit breaker that halts trading three times since last week. Such trading halts have occurred just four times in history.
In the latest move to mitigate the market meltdown and economic downturn, the White House is reportedly seeking a stimulus package worth as much as $1.2 trillion, including direct payments to individuals and aid to businesses.
The US Federal Reserve announced a plan on Tuesday to purchase commercial papers directly from the companies issuing the short-term notes to keep credit flowing, on top of the $700 billion in quantitative easing announced on Sunday.
The Dow Jones Industrial Average closed up 5.20 percent at 21,237.38 points on Tuesday, though still 28 percent lower than its recent high of nearly 30,000 points in mid February.
On Sunday, the Fed cut the policy rates by a full percentage point to the range of 0 to 0.25 percent, the second emergency rate cut this month.
Ren Hongbin, assistant commerce minister, stressed on Tuesday that China, in order to help partner economies sustain business, is striving to achieve an early transition from "resumption of production" to "the full recovery of the entire industry chain to reach production".
The country will deepen international cooperation in epidemic prevention and control and continue to export medical supplies around the world, he added.
Bian Nong, vice-president of the fast-moving consumer goods business unit of Suning Holdings Group, China's largest omnichannel retailer by sales revenue, said that although offline retail has been hurt by the outbreak, a number of businesses have seen explosive growth in their online retail operations.
Bian said he believes that consumers may experience a series of changes in their lifestyles and habits after the epidemic. For example, they may pay more attention to domestic hygiene management, home lifestyle, food nutrition and health. The outbreak to a certain extent has created an opportunity for many industries, including retail and logistics, to further integrate and upgrade, he said.
Suning has partnered with more than 2,000 factories worldwide to supply 3 billion yuan ($427 million) worth of materials and goods for epidemic control and prevention since late January. It has deployed 5,800 vehicles and 12,000 employees to enhance its logistics operations in the home market.
Sherri He, managing director for China at Kearney, the US-based management consulting firm, suggested that retailers should improve user retention and maximize consumer value.
For businesses in such areas as fresh food e-commerce, the online-to-offline, or O2O, supermarket business and distance learning-segments that have achieved significant breakthroughs in consumption or services recently-the outbreak has changed the market and attracted new customers, said He.
However, she emphasized that the boon will become a long-term benefit only if the businesses can retain new customers, improve peruser contribution to revenue and promote user traction.
For instance, top-performing e-commerce retailers look for repeat purchases after a sale instead of simply a spike in single purchases during promotions, she said.