We all know today that the sun doesn't actually rise in the east and set in the west. (With the exception, perhaps, of the flat earth crowd.) Instead, it only looks that way from our perspective on this orb we call home.
The sun isn't the one moving in relation to us. It's us moving in relation to it, as described by World Atlas:
"Despite the observation that the sun rises in the east and sets in the west, it actually stays in one position… centered in the solar system… The observation of rising and setting of the sun is due to the rotation of the earth. The process takes place every 24 hours, and the rotation is towards the east. As the earth rotates clockwise, the sunlight reaches different parts of the earth at different times.

"The first points to receive the sun rays are in the east. As the points begin to leave the light of the sun due to progression in the rotation, darkness begins to set in. The general appearance is that it (sets) to the west. The fact is that the sun appears to be revolving around us basically because the earth not only orbits it but also does rotate on its axis as it is revolving."
Regardless, it's a very comforting phenomena that we're always going to see the sun appear to rise and set. As expected.
Every single day. And every single night.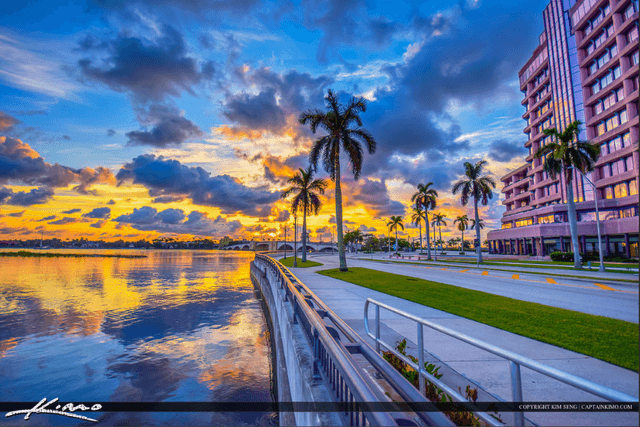 (Sunrise in West Palm Beach, home of Wide Moat Research: Source)
A History of Understanding Our Universal Place
The development of understanding earth's place in the universe is fascinating, with many a theory involved. Some of them seem ridiculous to us now, admittedly, in some part because they were.
Then again, we're still learning today. Who knows what "science" we hold dearly in the 21st Century that future generations will scoff at. It's always easiest to see past mistakes than current ones.
Take the theory devised by Philolaus of Croton, a Greek philosopher who lived from about 470 BC to 385 BC. He was the first known individual to believe the earth wasn't the center of the universe.
According to the Stanford Encyclopedia of Philosophy, Copernicus even referred to Philolaus as his inspiration in developing his own much more accurate model. Though, unlike his much more famous follower:
"… Philolaus did not replace the geocentric with a heliocentric universe. The 'central fire' rather than the sun is at the center of Philolaus' cosmos. The heavenly bodies are arranged in (10) concentric circles around this central fire. Beginning from the outside, the fixed stars come first, then the five planets, the sun, the moon, the earth, and a mysterious counter-earth."
This made a lot of sense at the time, with the stars serving:
"… as the backdrop against which the other heavenly bodies (moved). All of the bodies have only one circular motion around the central fire, from west to east. The moon completes its orbit in about a month, the sun in a year, and each of the planets has its own period of revolution. Thus, bodies move more slowly the farther removed they are from the central fire and the fixed stars probably did not move at all."
The Encyclopedia describes his model as one of "elegant simplicity," wrong though it was.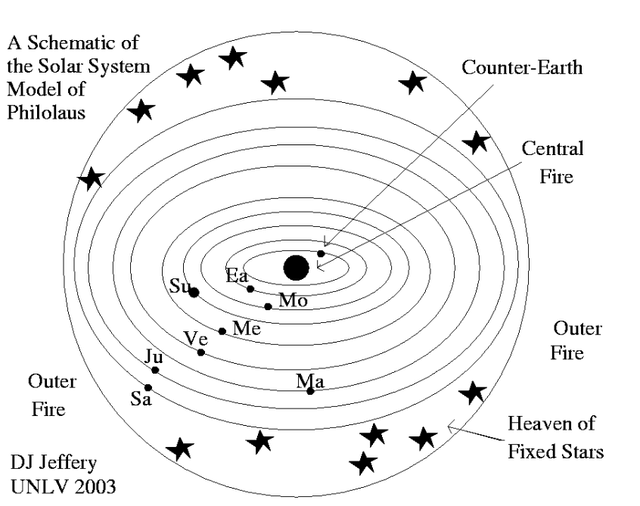 (Source)
Yet This Much Hasn't Changed
It wasn't a perfect system, admittedly. I would say "admittedly and obviously," except that – again – it's obvious to us from our "advanced" position. Our technological developments have allowed us to see far, far out into space.
Our predecessors, however, were able to compile such theories with nothing more than earlier ideas and the naked human eye. In some ways – perhaps in all ways – that makes them much more impressive.
Philolaus built off the intellectual giants of his day in this regard. Just like Copernicus built off Philolaus in setting the sun in center place. Just like Galileo built off Copernicus in reaffirming that theory through his telescope…
Just like every NASA scientist all these centuries since have built off that understanding in their turn.
Knowing that, I don't at all mean to diminish any of their contributions when I repeat myself in saying this:
"It's a very comforting phenomena that we're always going to see the sun appear to rise and set. As expected. Every single day. And every single night."
We don't have to be scientists to see as much. All we have to do is observe the absolute obvious with our own two eyes.
I can't claim quite the same track record for the real estate investment trusts (REITs) down below. No stock is that steady and stable, unfortunately, because no company is, because no person is.
But their pasts and presents do indicate they'll still be around in the future. Around and operating at impressive standards to generate reliable income.
I dare even say they could last you a lifetime – a thought that should help you sleep well at night no matter what else is going on.
Day In and Day Out Reliability
I hope you'll forgive me this quick interruption before revealing my top three income-for-life picks. I'm just so exceptionally excited about iREIT on Alpha's newest development: The launch of the iREIT IQ scoring tool.
We informed our members yesterday, writing:
"… we are revealing the "beta" version today. I have included a video below that explains the new tool, and we have also created a section in the toolkit for the Excel spreadsheet. Also, all of the scores have been updated on the iREIT Ratings Tracker."
This new tool is extremely intelligent – hence its name – in part because it requires very little human interaction. We created the blueprint and turbo charged it with data inputs. Then it cranks out quality scores for over 150 U.S. equity REITs.
We can (and do) use it to screen for the highest-quality REITs, which we then sort for the overall best value.
Much like Philolaus' model, we essentially developed our very own science to study the REIT universe.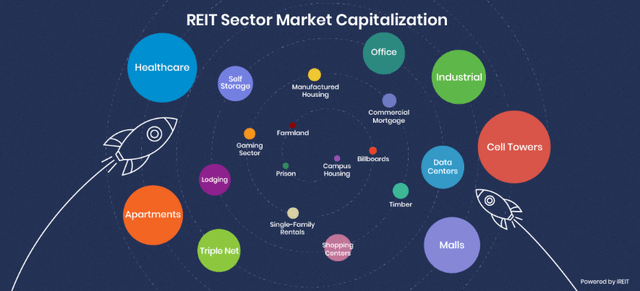 (Source)
And there really is so much to study.
Even so, using the all-new iREIT IQ tool, we were able to easily screen for three of the highest-quality REITs within three different property sectors:
Net lease
Multi-family
Industrial
These three REITs are categorized as either SWANs (sleep-well-at-night stocks) or super SWANs. While you look them over, keep in that mind that our research isn't subjective…
It's backed by data.
REIT Income for Life Pick #1
In the net lease REIT sector, the company that screens highest is Realty Income (O) – a super SWAN based on our analytics. There are only six super SWANs within our coverage spectrum, but Realty Income is one of them.
Here are its stats…
Balance Sheet: A-rated by S&P, it has the lowest cost of capital. (iREIT on Alpha is close to launching the iREIT weighted average cost of capital, or WACC, model soon, by the way). It's because of O's superiority here that it can acquire properties leased to investment-grade-rated tenants.
Scale Advantage: As the dominant net lease REIT based on size, O can take down large portfolios when nobody else can. This provides it with a tremendous competitive advantage to scale up and transact $1 billion deals with companies like 7-Eleven and Circle K.
Reliable Growth: It's because of those competitive advantages that Realty Income has been able to deliver highly predicable profits in the form of growing dividends. We've witnessed its discipline in raising dividends through many different economic cycles. And now we can safely say it's managed to increase its dividend even during a global pandemic.
Valuation: Realty Income isn't the cheapest net lease REIT on the block. But it's certainly one of the most predictable. As an "income for life" pick, I have no problem recommending it at $59.03 and a 4.8% dividend yield. Shares are trading at 17.5 p/AFFO (adjusted funds from operations), which is a hair below its normal 10-year average of 17.7x. Analyst forecast 4%-5% growth in 2021, which suggests a total return expectation of about 10% annually.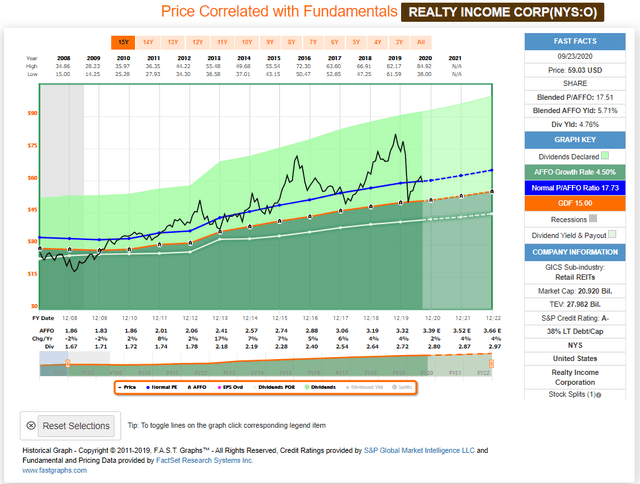 (Source: FAST Graphs)
REIT Income for Life Pick #2
The next income for life pick is AvalonBay (AVB), a multifamily REIT and another "super SWAN." It gets its elite status thanks to…
Balance Sheet: A-rated by both Moody's and S&P, it has healthy credit metrics of 4.9x net debt to core earnings before interest, taxes, depreciation, and amortization (EBITDAre) and 94% unsecured net operating income (NOI). This strong position provides flexibility to pursue attractive investment opportunities that may emerge.
Scale Advantage: S&P 500 constituent AVB has a highly-diversified portfolio consisting of 295 apartment communities. Together, they offer 86,380 apartment homes across 11 states and D.C. AVB has a $21.8 billion market cap, making it the largest multi-family REIT.
Reliable Growth: It's true that COVID-19 has severely threatened several key markets through economic shutdowns. That's specifically true in markets like NYC, L.A., Chicago, and San Francisco, where residents are fleeing to safer, lower-cost suburban markets. On the recent earnings call, AVB's CEO explained:
"Urban submarkets deteriorated more materially as compared to suburban. The weakness in urban environments is pretty broad-based across our portfolio. It's most pronounced in San Francisco, Boston, and parts of L.A."
Fortunately, a majority of AVB's apartments are in suburban markets. Between that and its scale advantage, it should be able to mitigate the shutdowns just fine. Avalon Bay's funds from operations (FFO) per share consensus growth estimates in 2020 are -4%. In 2021, that improves to -2%. And 2020 should see a solid 5% advancement. Its dividend also appears safe based on its 70% payout ratio.
Valuation: AVB is trading at 7% below our fair value target and 18% below its normal p/FFO range. Shares cost $147.06 each with a p/FFO of 16.2x (normal is 23.5x). The dividend yield is 4.3%, and we're forecasting annual growth in the 15% range.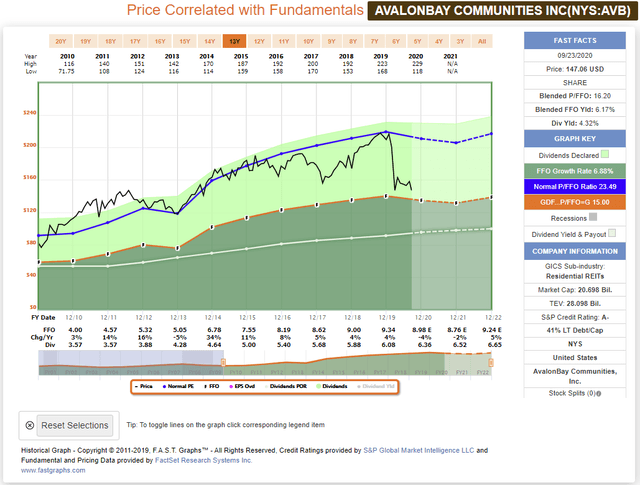 (Source: FAST Graphs)
REIT Income for Life Pick #3
Our final high-quality "income for life" pick is PS Business Parks (PSB). An industrial REIT, it owns and operates 27.5 million square feet concentrated in 12 submarkets in six states: California, Washington, Texas, Florida, Virginia, and Maryland. PSB primarily focuses on multi-tenant industrial, flex, and office space, while also holding a 95% interest in a 395-unit apartment complex.
The REIT prides itself on being the "premier landlord to small-business America" and serves a wide customer base throughout the country. It has more than 5,000 tenants nationwide with limited exposure to any single industry.
But, of course, that's just part of why we like it.
Balance Sheet: PS Business Parks has an A- rating from S&P and a fortress balance sheet with low leverage and strong ratios. Its debt and preferred to EBITDA is 3.4x, and its fixed-charge coverage ratio is 5.7x.
Scale Advantage: The company said it collected 95% of August rent and that, as of Aug. 31, only about "10.7% of customers – based on total rental income – had been granted rent relief in the form of rent deferral and/or abatement, with open rent relief requests from (about 1%) of customers." Although PSB does have exposure to several struggling industries (i.e., retail and restaurants), its diversification attributes are coming through.
Reliable Growth: PSB has a long history of capital markets discipline. And while it does use preferred shares for its growth, it doesn't abuse this option like Preferred Apartment Communities (APTS) does. (See my latest article on that here.) In fact, PSB has maintained a very healthy capital markets profile for decades, demonstrating the importance of reliable and predictable growth. It's currently forecasted to grow modestly in 2020 (+2%), 2021 (+3%), and 2022 (+3%) – all consensus numbers.
Valuation: Although PSB's dividend yield isn't so compelling at the moment at 3.6%, we consider the dividend itself safe and likely to grow. More interesting, however, is how it's become a bargain based on its share price of $116.18 and p/FFO of 17.7x. Shares are now -7% below our FV target and -11% below their normal p/FFO range. We maintain a BUY rating on this little-known SWAN.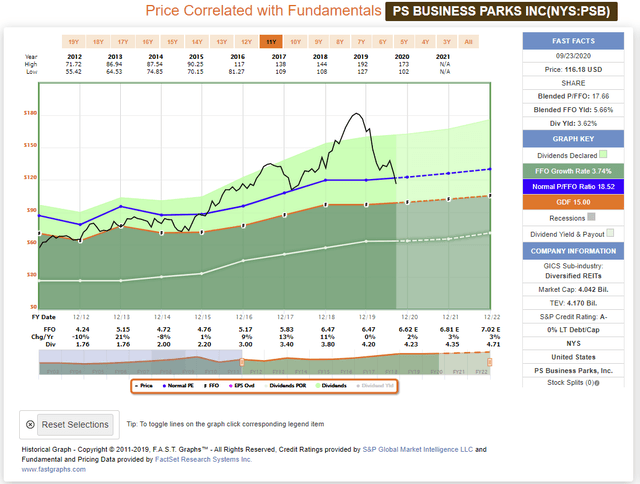 (Source: FAST Graphs)
In Conclusion…
While fundamental analysis always is our roadmap to success, we must also emphasize the importance of valuation. Our all-new iREIT IQ scoring tool is an excellent way for us to use data to obtain a quality rating score.
Plus, we're in the process of developing another highly complementary tool called the iREIT VQ score. Once it's all said and done, it will provide a 0-100 score based on a number of valuation metrics.
Much like Philolaus' successor Copernicus, we believe that all the "stars line up" when our data and reasoning are correct. This simply means that the secret to income for life is to focus on quality and value.
In this, we build off Benjamin Graham, an investment forefather, who said, "The true investor… will do better if he forgets about the stock market and pays attention to his dividend returns and to the operation results of his companies."
We couldn't say it better if we tried.
Author's note: Brad Thomas is a Wall Street writer, which means he's not always right with his predictions or recommendations. Since that also applies to his grammar, please excuse any typos you may find. Also, this article is free: Written and distributed only to assist in research while providing a forum for second-level thinking.
Exclusive CEO Interviews, For Members Only
If you're an iREIT on Alpha subscriber, you get exclusive video interviews with executive-level members of REIT management teams.
We just published one such interview today with the CEO of Broadstone Net Lease (BNL). Just one benefit for joining the iREIT on Alpha marketplace service.
Join iREIT NOW and get 10% off and get Brad's book for FREE!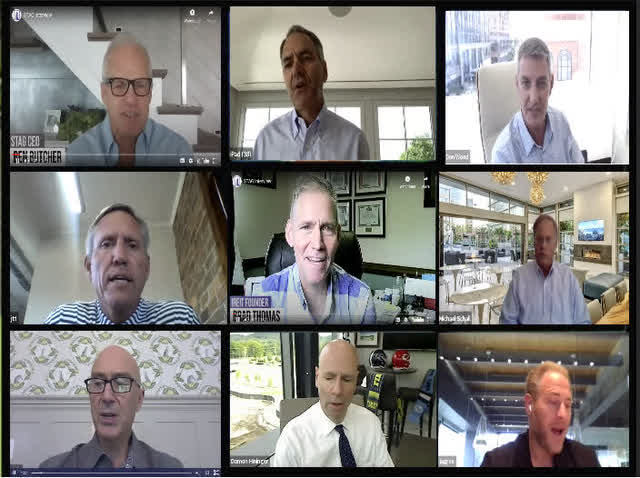 * Limited to first 10 new members * 2-week free trial * free REIT book *
Disclosure: I am/we are long AVB, O, PSB, BNL. I wrote this article myself, and it expresses my own opinions. I am not receiving compensation for it (other than from Seeking Alpha). I have no business relationship with any company whose stock is mentioned in this article.