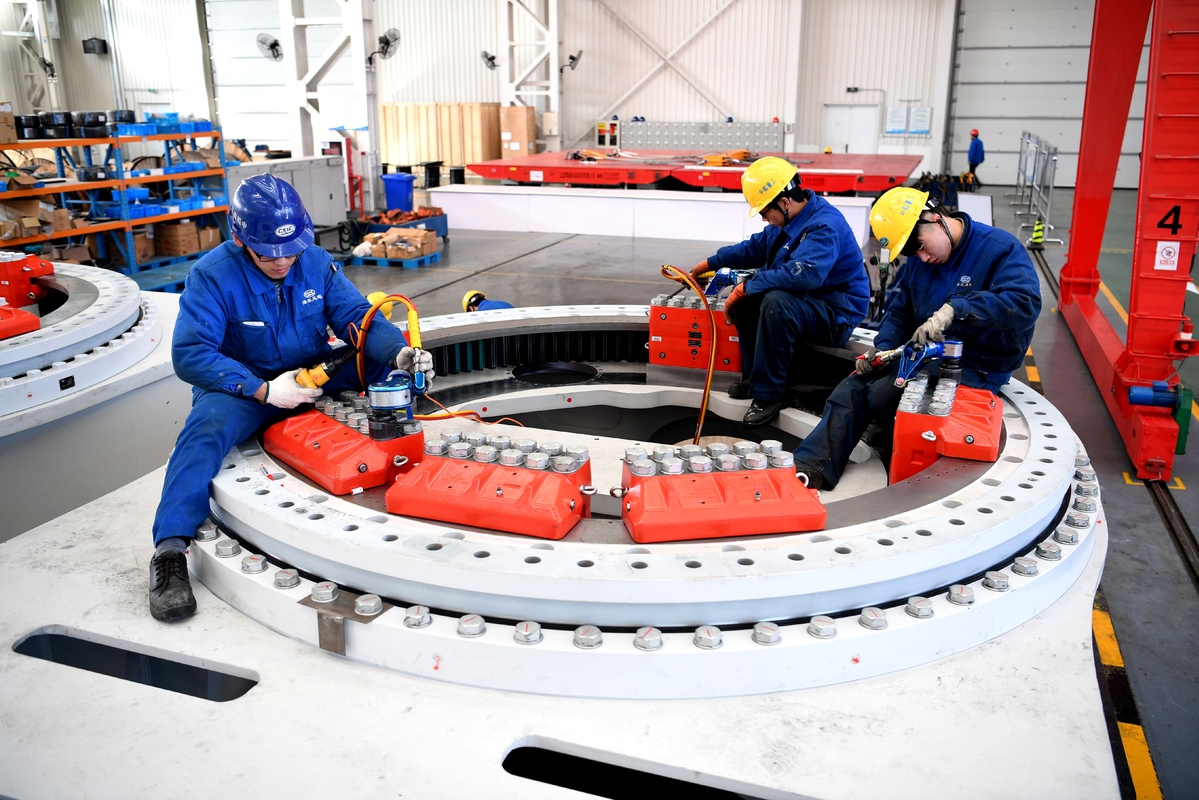 Move to help investment firms increase ability to mitigate risks, says expert
China will offer more power to its State-owned investment and assetoperating companies to inject vitality into the State-owned asset authorization and operating systems in the next stage of reform, a senior regulatory official said on Wednesday.
Weng Jieming, vice-chairman of the State-owned Assets Supervision and Administration Commission, made the remarks after the State Council issued a document to improve the reform of State-owned capital management earlier this month, urging an acceleration in the role transfer of State-owned enterprises from the 'management of companies' to the 'management of capital'.
Successful experience gained from previous tasks in these firms can also be introduced to other centrally and locally administrated SOEs in the future, said Weng, adding the SASAC will revise its list of power and responsibilities, as well as further clarify the contents of supervision and administration of State-owned assets.
China currently has 19 State-owned asset investment companies. They include the China Merchants Group, China Minmetals Corp, China Communication Construction Group and China Poly Group Corp. There are also two State-owned asset operation firms, the China Chengtong Holdings Group and China Reform Holdings Corp.
"As the operational and financial structure of central SOEs improves, they will see constant increases in their ability to ward off risks, their growth quality and efficiency, as well as their core competitiveness," said Ma Jun, director at the Enterprise Research Institute of the State Council's Development Research Center.
Zhou Yubo, chairman of China Reform Holdings Corp, said the moves will also enhance the power of State-owned capital investment or operation companies on strategy planning, management of core businesses, human resources, equity incentives, wages and management of major financial issues.
Eager to boost the central SOEs' abilities, China Reform Holdings Corp has invested 200 billion yuan ($28.47 billion) in 180 innovation and high-tech related projects in selected companies in the past three years. Among them, about 110 billion yuan were invested in over 70 projects that China heavily relied on imports in the past.
"We have also invested $22 billion for domestic companies to expand their presence in global markets," said Zhou, stressing the group would be more inclined to invest in high-end manufacturing and service projects to facilitate the "go global" strategy of SOEs.
Since China aims to build a group of world-class, role-model SOEs that lead in high quality development, empowering State-owned investment and asset-operating firms will boost the government's ability to further shift its role to serve the real economy, said Yu Gang, chairman of the Shenzhen Municipal Stateowned Assets Supervision and Administration Commission in Guangdong province.
Combined profits of China's central SOEs rose 7.5 percent year-on-year to 1.94 trillion yuan for the January-October period this year, while their total sales revenue jumped 5.4 percent year-on-year to 29 trillion yuan, the Ministry of Finance said on its website on Wednesday.