While most of the sector was busy revising guidance lower and hit by mine closures in Q2, Ramelius Resources (OTCPK:RMLRF) posted a 23% beat on its fiscal Q4 gold production guidance, helped by operational excellence and the low COVID-19 case count in Australia. The mid-tier miner finished FY2020 with 18% production growth year-over-year and exited the quarter with the second strongest balance sheet among ASX-listed gold producers. Given Ramelius' robust growth metrics, the miner is one of the few gold producers that's managed to hit new all-time highs, while most of the sector is trading 30% below the 2011 highs. Given this bullish technical development and organic growth potential, I continue to see Ramelius as a top-10 gold producer, despite its incredible advance already year-to-date.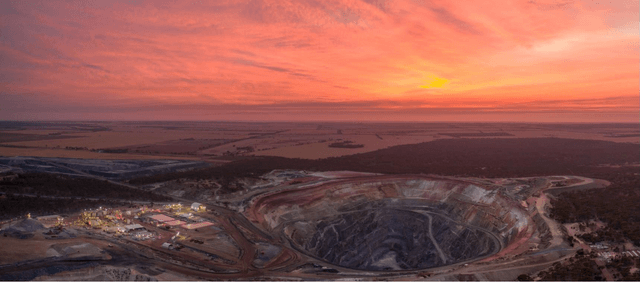 (Source: Company Presentation)
Ramelius Resources just came off one of its best quarters ever in the past several years with quarterly gold production of 86,500 ounces, up 82% compared to the 47,300~ ounces produced in Q4 2019. This incredible Q4 performance pushed FY2020 production to 230,400 ounces, an 18% increase in gold production year-over-year. The solid production growth resulted from a larger contribution from the company's Marda Mine at Edna May and higher grades at its flagship Mt. Magnet Operations. These robust results allowed the company to pay out a higher dividend of $0.02 fully-franked vs. $0.01 last year, which translates to a 1% yield at current prices. Meanwhile, the higher gold production with help from the gold (GLD) price also led to industry-leading revenue growth of 31% year-over-year. Let's take a closer look at the results below: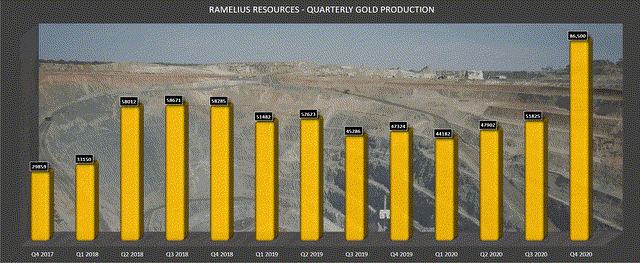 (Source: Author's Chart)
As we can see from the chart above, Ramelius Resources has seen limited growth in gold production over the past few years as it's been busy building out its portfolio and preparing the company for future growth. The company acquired Explaurum Limited in 2019 for the company's Tampia Hill Project, and also moved in on Spectrum Metals last year, scooping up the junior and its bonanza-grade Penny West Project for just over A$200 million. These key acquisitions within close proximity of the company's existing mills have allowed the company to maintain a steady production profile and acquired companies that might have otherwise looked expensive due to the benefit of synergies. Fortunately, this plan is finally paying bearing fruits, as Q4 production soared with the help of a higher contribution from Marda, and we should see some contribution from Penny West next year. This should allow Ramelius to post yet another year of double-digit production growth.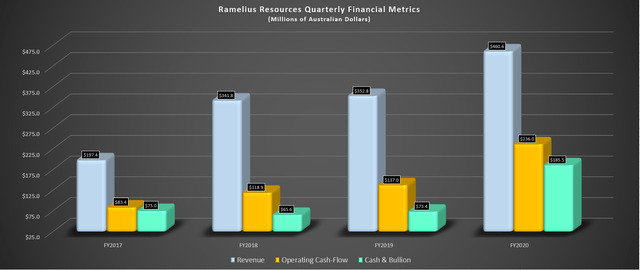 (Source: Author's Chart)
If we look at the company's financial metrics above, FY2020 was a blow-out year with revenue increasing by 31% to A$460.6 million, and operating cash flow soaring 72% to A$236 million. This significant increase in operating cash-flow allowed the company to bolster its cash & bullion balance to A$185.5 million, pushing Ramelius into the #2 rank among ASX-listed gold producers for balance sheet strength, second only to Silver Lake (OTCPK:SVLKF). However, these exceptional financial metrics do not do the company justice as we should see them improve even further in FY2020. This is because fiscal Q4 was the only quarter in FY2020 of increased production, while the majority of FY2020 was in line with FY2019 production levels. If we factor in a minor contribution from Penny West next year and near-record gold prices, I would not be surprised to see Ramelius grow revenues by an additional 25% next year as well.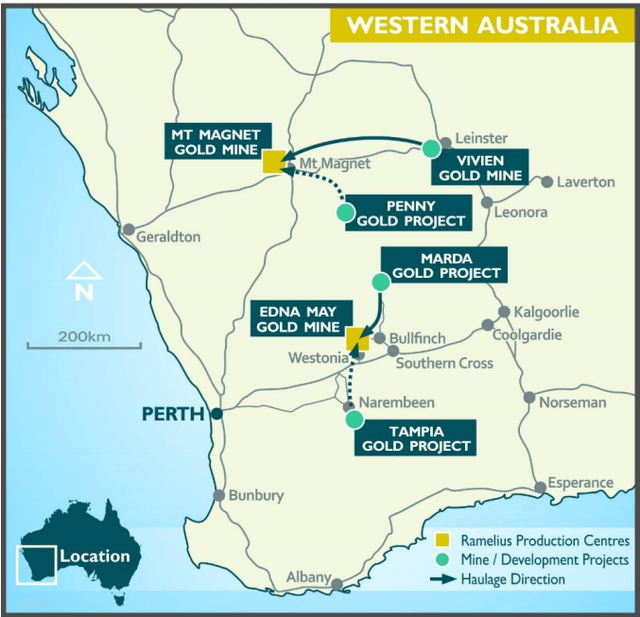 (Source: Company Presentation)
As we can see from the above map, Ramelius currently has two production centers (Mt. Magnet & Edna May), and Vivien ore is currently supplementing the Mt. Magnet open-pits while Marda is supplementing Edna May. However, starting in late FY2021, the company expects to bring both Tampia and Penny online. This should lead to a larger production profile at industry-leading costs in FY2022 through FY2024, with all-in sustaining costs estimated to average A$1,258/oz [US$906/oz] over these three years. This figure is well below the industry average of $970/oz for FY2019, and my estimate for an industry average of $1,005/oz for FY2020.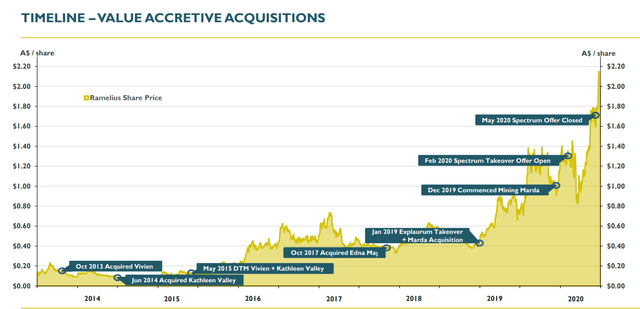 (Source: Company Presentation)
However, the company is also one of the only mid-tier gold producers with a healthy enough cash balance to grow through acquisition with minimal dilution, exiting fiscal Q4 with A$161.1 million in net cash. Therefore, while production is expected to average 268,000 ounces over the next four years, this could easily increase above 300,000 ounces with another project is added to the portfolio. Based on the company's strong track record of successful acquisitions with Edna May practically stolen from Evolution Mining (OTCPK:CAHPF) for A$90~ million, this is another growth lever Ramelius could pull that investors should be aware of going forward.

(Source: Company Presentation)
Most investors are likely aware of Ramelius' outperformance, but with the stock up 180% off of the mid-March lows, this might seem like an area to book profits, not hold on tight to one's position. While I am generally all for booking some profits after a rally of this magnitude, it's important to put this rally in context. While the near parabolic advance certainly left Ramelius a little short-term overbought heading into August, the stock has gone virtually nowhere over the past 12 years. In fact, Ramelius just broke out of a massive 12-year base and is one of the only gold companies to head to new all-time highs this year. This is an extremely bullish development, and the fact that the stock is consolidating after taking out this mammoth resistance level suggests that this breakout is likely to stick.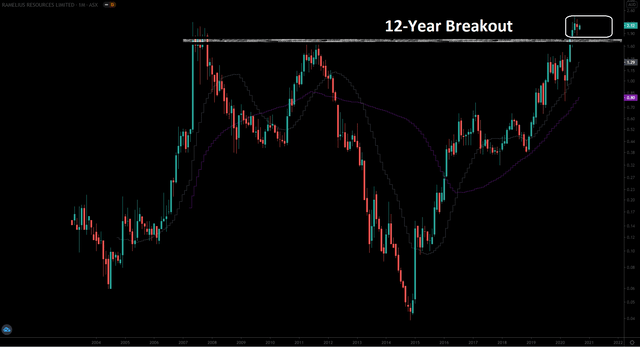 (Source: TradingView.com)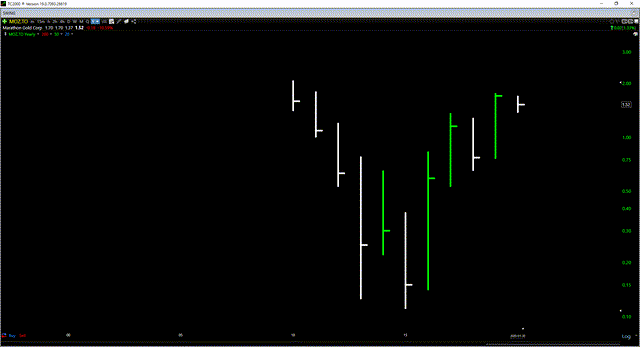 (Source: TC2000.com)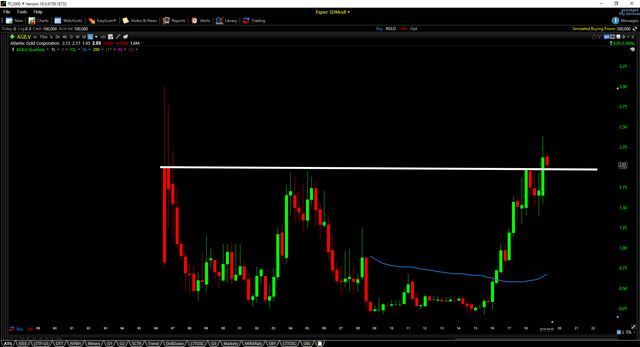 (Source: TC2000.com)
As I've shared in prior articles, my favorite situations to get involved in are exceptional companies that are either hitting new all-time highs or breaking out of decade long resistance levels. The most recent examples were Atlantic Gold (OTCPK:SPVEF), which was bought out just three months after I highlighted its decade-long breakout, and Marathon Gold (OTCQX:MGDPF), which is up 50% since taking out the C$1.65 level, which was a 10-year resistance level earlier this year. While there's no guarantee that this breakout for Ramelius will play out similarly to these two examples, it couldn't be a more bullish development for the stock and increases the probability of the stock heading to A$2.70 within the next 12 months. Therefore, while we could see some more turbulence in the share price, I believe any pullbacks to A$1.90 will provide low-risk buying opportunities.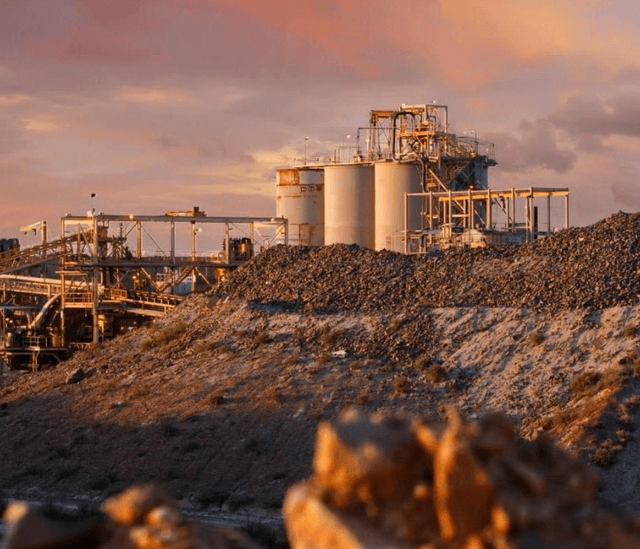 (Source: Company Presentation)
Based on Ramelius' solid organic growth profile, bullish technical picture, and balance sheet that allows it to grow through acquisitions, I continue to see the stock as a top-10 gold producer. While FY2020 was an exceptional year for Ramelius, thanks to operational excellence, FY2021 is shaping up to be even better, given that the company is now seeing an extra tailwind from record gold prices. Therefore, while I see the stock as a Hold at current levels, I would view any pullbacks to A$1.90 as low-risk buying opportunities. Ultimately, I would not be surprised if the stock traded up to A$2.70 in the next 12 months.
Disclosure: I am/we are long GLD. I wrote this article myself, and it expresses my own opinions. I am not receiving compensation for it (other than from Seeking Alpha). I have no business relationship with any company whose stock is mentioned in this article.
Additional disclosure: Disclaimer: Taylor Dart is not a Registered Investment Advisor or Financial Planner. This writing is for informational purposes only. It does not constitute an offer to sell, a solicitation to buy, or a recommendation regarding any securities transaction. The information contained in this writing should not be construed as financial or investment advice on any subject matter. Taylor Dart expressly disclaims all liability in respect to actions taken based on any or all of the information on this writing.
Editor's Note: This article discusses one or more securities that do not trade on a major U.S. exchange. Please be aware of the risks associated with these stocks.