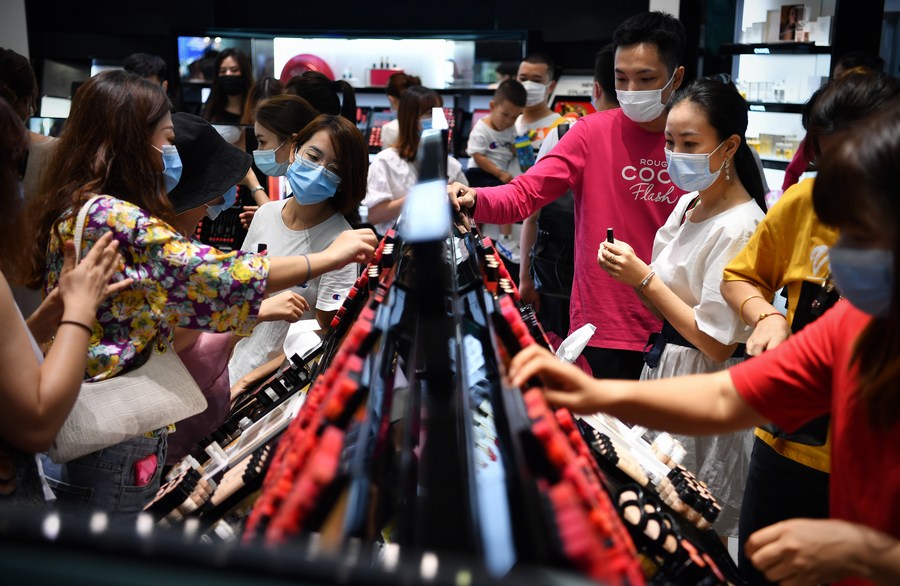 The COVID-19 pandemic has severely suppressed China"s consumption this year. In the first half, the growth rate of consumption declined. Many people are concerned about whether consumption-it has been the driving force of China's economic growth in recent years-is still strong.
Three key factors distinguish China's consumption story today.
First, the consumer market during the extended National Day and Mid-Autumn Festival holiday in early October was vigorous in some regions and industries, after recovering in an orderly manner.
According to data from the Ministry of Commerce, sales of China's major retail and dining companies reached 1.6 trillion yuan ($238.77 billion) from Oct 1 to Oct 8. Their average daily sales increased by 4.9 percent compared with last year's National Day holiday.
According to data from the Ministry of Culture and Tourism, tourist attractions across China received 637 million visits, and tourism revenue nationwide reached 466.56 billion yuan, regaining 79 percent and 69.9 percent of that in the same period last year respectively.
The film industry was hit hard by the pandemic this year and the current cinema attendance rate is still stable at 75 percent. However, total box-office receipts of films released during the holiday reached the second highest among all National Day holidays in China's history.
According to the country's film ticketing and data authority, total box-office receipts of films screened from Oct 1 to Oct 7 reached about 3.70 billion yuan. The Chinese audiences appeared to have thought that the extended holiday period was good for family reunions complete with film viewings.
Consumers have shown massive enthusiasm for spending on goods and night fairs. Consumption in culture, tourism, physical training and catering sectors is recovering.
The consumption boom during the National Day holiday has also attracted attention from across the world. Carlos Abella Picazo, secretary-general of Spanish organization Mesa del Turismo, which represents the interests of all sectors of the Spanish tourism industry, said that the Spanish government should learn from China's experience, strive to contain the epidemic as soon as possible, and rejuvenate Spain's sluggish tourism industry.
The second key factor is that four consumption trends-new forms of consumption, upgraded consumption, consumption of material goods and service consumption-will lead the market rebound after the COVID-19 pandemic.
Owing to the impact of the epidemic, consumption in the first half of this year had been severely affected. However, China's consumption capacity and level have not changed.
China's consumption is only temporarily suppressed due to measures for the prevention and control of the pandemic. In the second half of the year, consumption started to see a rapid recovery and growth.
New forms of consumption include culture and healthcare, which will see greater development after the pandemic. During the holiday, libraries and museums were among the top choices for many citizens.
Meanwhile drama, film, music, dance and other activities launched by art groups from all over the world brought a high-level cultural feast to citizens. Films also attracted a large number of audiences during the holiday, after the industry was halted in the first half due to the pandemic.
A great lesson from the epidemic for Chinese citizens is that we should exercise to enhance our immune systems. There might be a boom in the industry of exercise and fitness after the epidemic. Tennis, volleyball, basketball, marathon, yoga… all those kinds of exercise activities might see a surge in the number of people practicing.
Meanwhile, healthcare for the elderly may also see a growing need, and that will drive the development of traditional Chinese medicine, and related industries like herbs, senior care, and Yangsheng (life nurturing).
COVID-19 has offered opportunities for the development of upgraded consumption. China's current consumption can be upgraded from three aspects: the first is our way of consumption, which can become more convenient through online and offline channels, mobile payments, big data, and cloud computing.