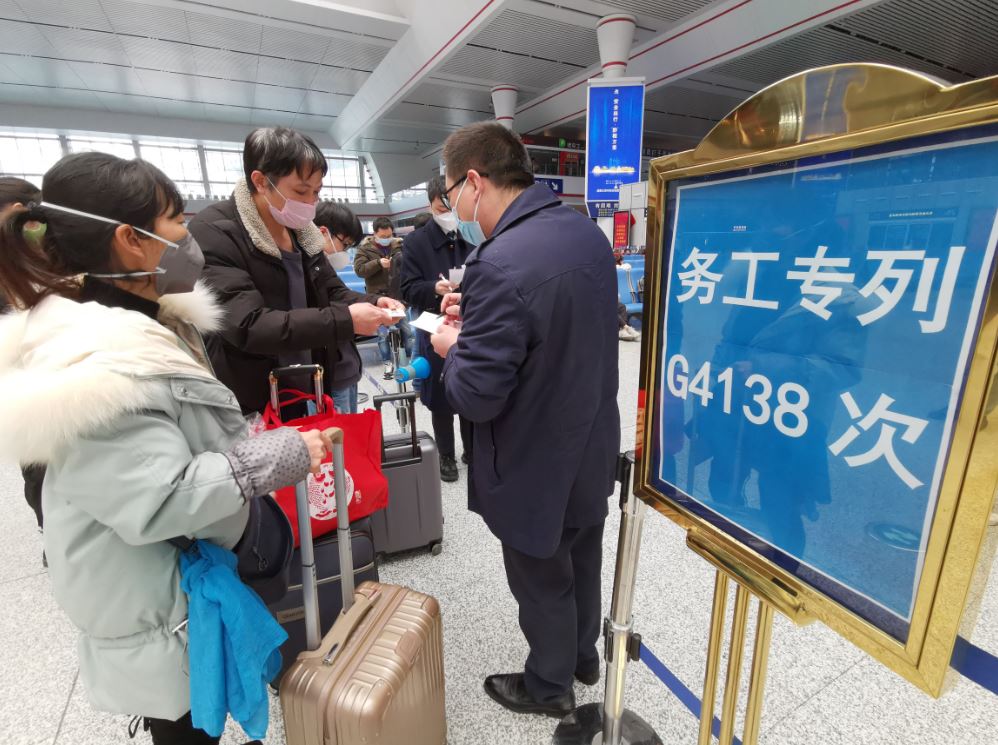 Yang Guomei, a migrant worker from Yanjin county in Southwest China's Yunnan province, was a bundle of nerves about her impending travel back to Zhejiang province when the Lunar New Year holiday ended amid the novel coronavirus outbreak in the country. However, her worries were abated after she got a clean chit at a free medical examination conducted by the provincial authorities.
On Feb 11, the Yunnan Provincial Bureau of Human Resources and Social Security launched a policy to offer migrant workers in the region who need to return to their distant workplaces free health checkups. The checkups will assure the employers that the migrant workers are not suffering from novel coronavirus pneumonia.
"I received the notification from the local human resources and social security department on Feb 11, and I went to the hospital the next day. Based on the health examination, the doctor said that I was perfectly alright.
"For migrant workers like me, I think the policy is good, as we are able to have a better understanding of our body condition," Yang said.
Apart from the physical examination certificate, Yang has to get some more certificates from other departments before she can return to Zhejiang, where she and her husband have been working for nearly six years.
This is a measure to help the migrant workers, who are mostly from rural areas, so that they can get jobs in the new year, Shi Likang, deputy head of the Yunnan Provincial Bureau of Human Resources and Social Security, said on Feb 11 in a news conference.
In addition, the province will provide free and customized transport services, including charter aircraft, trains and vehicles, for workers to return to their workplaces in other provinces, an effort to make sure they do not catch any infection during the trips, Shi said.
Other provinces are also taking similar measures. Southwest China's Sichuan province has connected with the neighboring regions where its rural workers are headed to remove bottlenecks, provide unified transport, thorough physical examinations and disease-prevention measures, just to name a few.
According to SCOL.com, a Sichuan province-based news portal, to ensure the safe travel of migrant workers from Sichuan to their workplace, and further implement epidemic prevention and control, the local government now offers free health condition certificate service.
"The measures guarantee the safety of both migrant workers and their workplaces. During the battle against the novel coronavirus outbreak, the reopening of enterprises should be guaranteed. In this way, the local economy can continue to develop in a rapid and stable manner," said Zhang Xianyu, a special commentator with SCOL.
Liao Jianwei, deputy general manager of Shenzhen Guomingwei Technology Co Ltd, said that "policies like offering migrant workers free physical examinations and unified transportation are beneficial for the companies that employ the workers."
However, Liao said, practical problems still remain. For instance, each local region has its own prevention and control measures and timetable, which increases the difficulty in resuming work.
Deng Huaijiang, deputy director of the bureau of human resources and social security of Zhaotong, a pilot city in Yunnan to implement the new policy, said that currently, the favorable policy is only offered to those migrant workers who are willing to resume work and whose enterprises also have the willingness to accept them.
After physical checkups, the migrant workers who are in good health will be transported to the workplace in groups, he said.
On Feb 13, the first charter train for migrant workers from Zhaotong commenced its journey. There were 23 passengers on the train, all of whom came from a clothing company in Haining, Zhejiang province. According to the local bureau of human resources and social security, the city currently plans to transport over 2,000 migrant workers under the new policy.