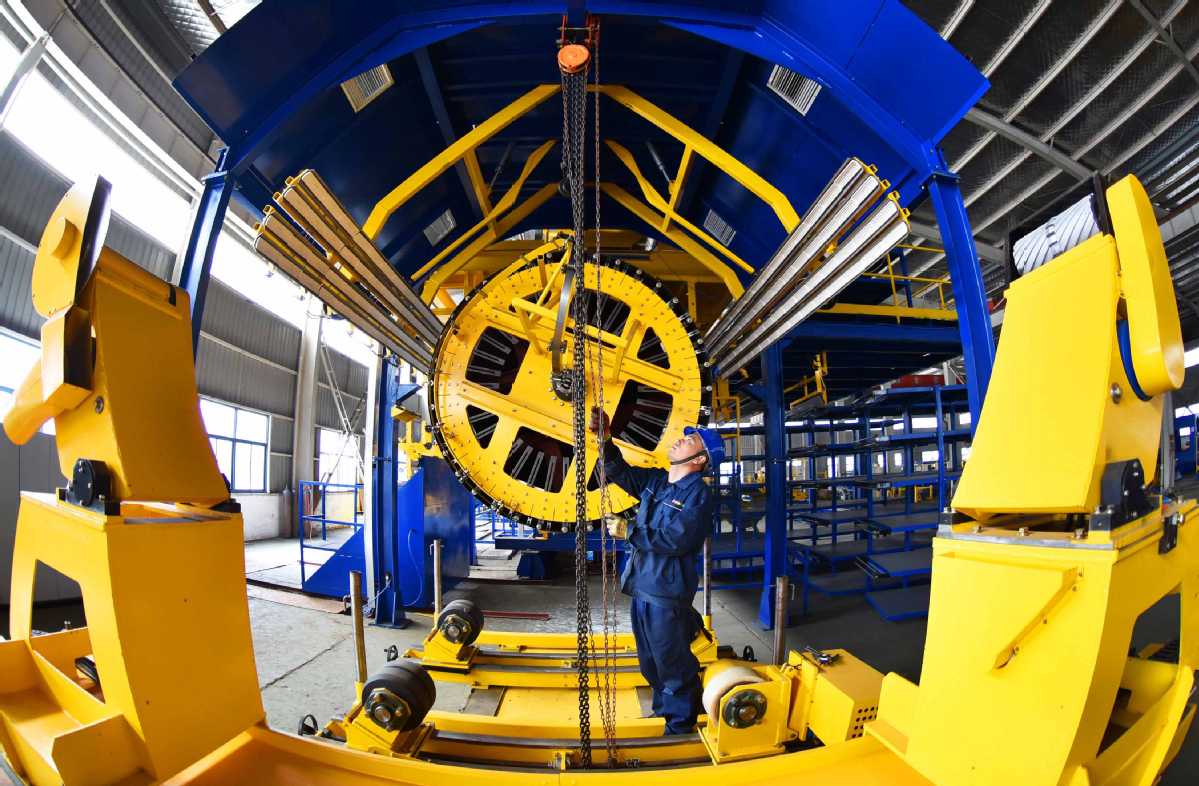 Industrial development progressing steadily despite downside pressures
Profit recovery in the high-end sector and some key industries during the first 10 months of the year despite rising downside pressure is an indication that China's ongoing industrial transformation and upgrade efforts are gradually bearing fruit, experts said.
Profits of the high-tech manufacturing sector rose 7.5 percent year-on-year from January to October, 1.2 percentage points higher than in the first nine months, according to the National Bureau of Statistics.
Strategic emerging industries and the equipment manufacturing sector saw profits jump 5.3 percent and 2 percent, respectively, in the first 10 months, 0.7 percentage point and 1.1 percentage points higher than that in the first nine months, NBS data showed.
Analysts said the rebound in the key sectors shows that the country is progressing steadily toward its high-quality development goals.
Tang Jianwei, chief researcher at the Bank of Communications' Financial Research Center, said the profit growth has largely been driven by the strong supportive policies from the government.
"Facing downward pressure amid uncertainties due to Sino-US trade friction, China will continue to ramp up efforts to boost innovation and achieve independent control of key core technologies, which will offer new opportunities for high-end companies and give them ample room for recovery."
In the first 10 months, profits of major industrial enterprises decreased by 2.9 percent year-on-year, wider than the 2.1-percent fall recorded in the first nine months, according to NBS data.
Among the 41 industries surveyed, 30 sectors witnessed year-on-year growth in total profits in the first 10 months, while 11 sectors saw profit declines.
Tang said the industrial profit decline was mainly due to dwindling producer prices and the slowdown in industrial production as well as the dip in profit growth of some key sectors, such as the 14.7-percent year-on-year decrease in vehicle manufacturing profits.
Despite the sharp decline in major industrial profits, Tang added some structural opportunities still exist.
"While many industries saw declines in profit growth, some have witnessed an increase in industrial concentration and profit growth for leading companies. One of the reasons is that some less-competitive small enterprises in the low-end segment have been phased out due to supply-side structural reforms and phasing out of backward capacity."
More efforts are needed to lighten the burden for companies, and government should take key measures to implement the tax and fee reduction policy more thoroughly and foster a better business-friendly environment, Tang said.
In fact, China's November manufacturing activity returned to the expansion zone, a new sign that the country's economy is gradually stabilizing. The purchasing manager's index for the manufacturing sector firmed up in November to 50.2 from 49.3 in October.
Zhang Wei, an analyst with Chongqing-based Southwest Securities, noted that the industrial profit almost bottomed out in October, and will recover gradually.
"Buoyed by the countercyclical policies, infrastructure investment will improve steadily. The overseas replenishment needs will last at least until the first quarter of 2020, a sign of recovering overseas demand. Caused by those factors as well as the future rise in producer prices, the industrial profit will gradually pick up," Zhang said in a recent report.
"Affected by several positive factors, the downward pressure will be released to some extent in 2020," Liu Yuanchun, vice-president of Renmin University of China, said during the recent China Macroeconomy Forum in Beijing.
A new report released during the forum predicted that China would see a 6.1 percent GDP growth in 2019, which would meet the annual projected growth goal of 6 to 6.5 percent growth.
Looking ahead for 2020, the report estimated that the GDP growth would reach 5.9 percent.
"As China is actively taking key measures to maintain employment and the financial sector, foreign trade, foreign and domestic investments are slated to remain stable, the economy will continue to enjoy resilience and flexibility," the report said.