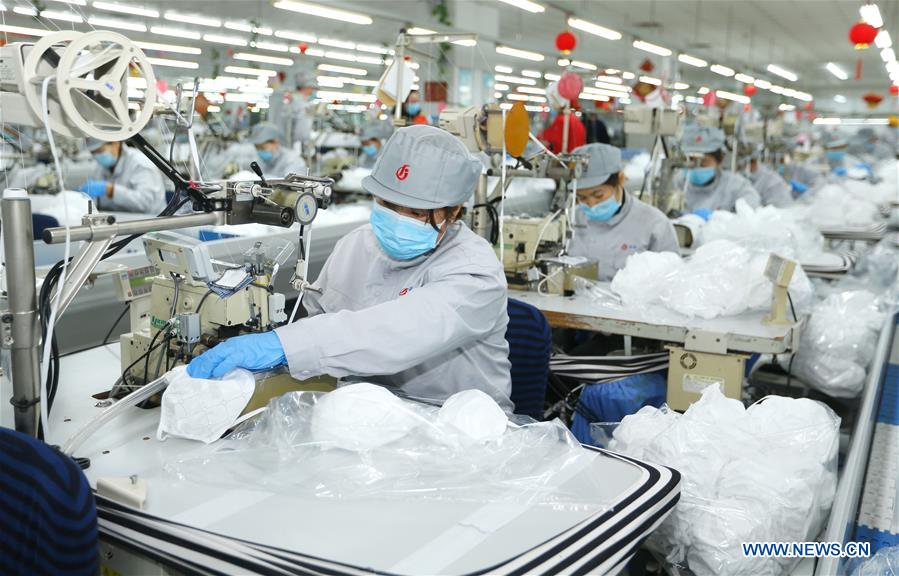 China's present manufacturing of masks is at 94 percent of total capacity, and front line medical workers' need for medical masks to fight the novel coronavirus outbreak has been guaranteed, an official at the country's top economic regulator said on Thursday.
With the joint efforts of all parties to speed up production of medical equipment and increase market supply, China has seen a significant surge of its daily mask output, Xia Nong, an official at the National Development and Reform Commission, said during a news conference in Beijing.
As of Tuesday, production capability of urgently needed N95 medical masks in China has been expanded to 128 percent of the normal level, and eight provinces reported capacity had been restored to or exceeded 100 percent.
Those producing surgical masks had boosted their production capacity to 106 percent of normal level on Tuesday, and 10 provinces said capacity reached or exceeded 100 percent, Xia said.
"Particularly, in key provinces with more than 1,000 confirmed cases, the production of N95 masks has also risen in varying degrees," Xia added. "Through the unified national allocation of medical resources, we are able to serve medical workers' needs for masks."
Hubei province, epicenter of the coronavirus outbreak, reported its daily production of N95 masks increased from 45,000 on Feb 2 to 158,000 on Tuesday, according to Xia.
As of Tuesday, daily production of N95 masks in Henan, Zhejiang and Guangdong provinces reached 14,000, 100,000 and 40,000 respectively.
In the next step, the NDRC said it will make a big push to speed up the production of masks and expand production capacity, resolve any issues mask manufactures are facing, such as financing or supply of materials, and increase mask supplies for key provinces and sectors hit badly by the coronavirus.