PrairieSky (OTC:PREKF) is dual-listed (Canada & US). All figures in the article are in CAD unless noted otherwise.
Q2-2020 Update
As expected, Q2-2020 was the worst quarter for PrairieSky (and the entire Canadian energy market) on record. Production volume dropped by 16.3% to 18,671 BOE/d from 22,297 BOE/d YoY. Realized pricing halved ($14.77 vs $31.10) with the weakness predominately coming from crude oil and NGL pricing. Natural gas price normalized to $1.39/Mcf as a bright spot. Royalty revenue dropped by 60.2% and operating netback dropped by 63.2%. PrairieSky was able to shrink the G&A cost to $5.1 million in Q2-2020 vs. $7.2 million in Q2-2019, an admirable job considering how low the starting point already is. This is one of the reasons I like PrairieSky's business model as I explained in a previous article – whenever the commodity up-cycle comes, virtually 100% of the increase in top line is going to flow down to operating income. As a validation to PrairieSky's strong ability to survive the downturn, it generated $23.0 million operating cash flow, which covered the $15.1 million dividend payment, $4.1 million share repurchase, and $4.6 million royalty asset acquisition in the worst quarter in the history of Canadian energy market.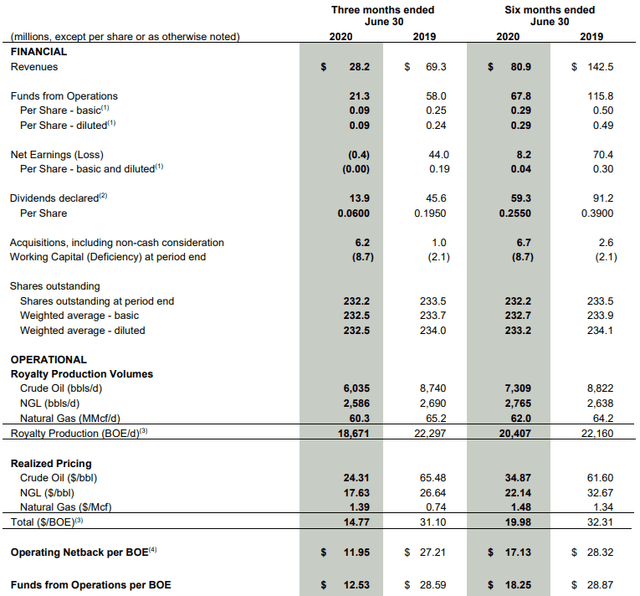 Source: Q2-2020 MD&A
Shrinking the Share Count in A Downturn is How You Create Long-term Value
Per the September 9 PR, PrairieSky has been very active buying back shares. QTD, PrairieSky repurchased 7,215,000 common shares at a weighted average price of $9.34 (NYSEARCA:CAD), for a total purchase price of $67.4 million. The purchase was funded by funds from operations and its credit facility. Together with the share repurchase in Q1-2020, PrairieSky has completed ~64.0% of the allowed share repurchase program (7,425,000 shares repurchased vs. 11.6 million shares allowed, or 5.0%). My understanding is that the Toronto Stock Exchange allows for 10.0% share repurchase in a one-year period, and in the PR indicated that the board will consider to increase the amount of repurchase.
What's most interesting is that the CEO compares the repurchase to an opportunistic acquisition:
PrairieSky shareholders will continue to receive a fully-funded dividend and will own approximately 3% more of the business, equating to an acquisition of 468,000 acres of royalty lands and approximately 560 BOE per day of current royalty production. As our assets sit on the some of the best parts of the development cost curve, management views this as the highest quality acquisition available in the current environment.
Treating the share buyback as an opportunistic acquisition, PrairieSky paid $144 per acre and $120,000 per BOE/d. In a previous article I showed a precedent transaction priced Fee Land at ~$400/acre adjusting for the oil price difference, so this "acquisition" is tremendously value accretive. From a EV/Production standpoint, the price paid was higher than PrairieSky's current trading multiple but is still at a discount to FY2019 and FY2018 historical multiples when sentiments were also very negative against the energy market.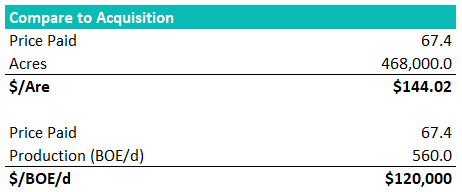 Source: Company Filings, Author's Estimate
PrairieSky generated ~$47 million in funds from operation (FFO) in Q1-2020 and ~$21 million Q2-2020. 2H2020 should fall somewhere in the middle as oil price normalized back to the $37-$40/bbl range and AECO gas price continue to strengthen. Using a $34.0 midpoint, net out ~$14.0 for dividend payments (the amount is reduced due to the recent share buyback), the company has ~$20.0 million to pay down debt, which is consistent with the management expectation to pay down the balance within the next 12 months.
Update and Downside From Here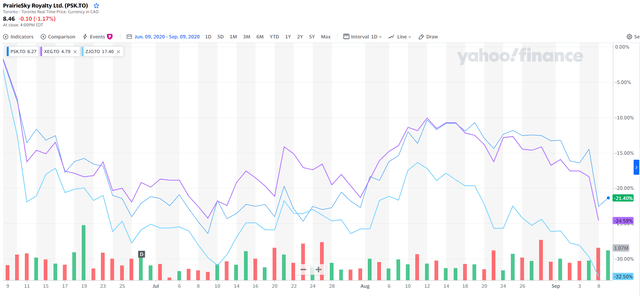 Since the publication of my previous piece (where I stated " PrairieSky has further upside and limited downside"), the stock is down 21.4% vs. the broad Canadian energy index (XEG.TO) down 24.6% and the North America Junior Oil Index (ZJO.TO) down 32.5%.

Source: Company Filings, Author's Estimate
It's hard to point to a bottom when the stock is trading at all-time lows and the energy market still can't catch a bid, but at least we know that the management team finds $9.34 to be an attractive price that they were willing to put ~$67 million behind it.
The stock is currently trading at 14.5x EV/FFO (the $135.6 million FFO is an annualized 1H2020 FFO number), which looks very cheap in a historical context. Inverting the EV/FFO multiple to get a FFO Yield to get a sense of a justified FFO yield given other alternatives. Canadian 10-year treasury yield is at ~60 basis points. The question is how much risk premium is justified? Canadian High Yield Index has a spread of ~500 bps. While the duration is different (Canadian High Yield Index has an effective duration of 3.51 years and PrairieSky's cash flow is in theory perpetual), I feel 500 bps is enticing enough to buy something of which the cash flow is contractual in nature and has the potential grow, during a market downturn. Add the spread to the government yield gives you a cap rate of 5.5%, which translates into $11.01/share price target. To give context, the implied cap rate is ~7.0% (keeping everything else constant). The continuation of energy price improvements or some positive developments around COVID should drive the multiple higher (i.e. driving the cap rate lower).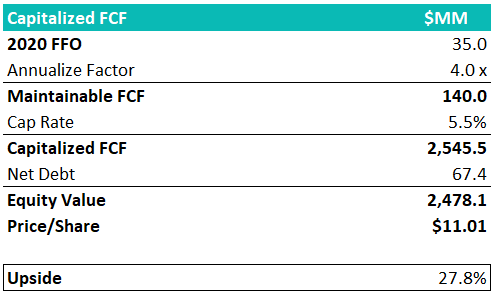 Source: Author's Estimate
In the absence of marginal buyers bidding up the multiple, share buyback can create value in of itself. In other words, the company can act as the marginal buyer. As stated above, the company should have FCF of ~$20.0 million after dividend to either pay down debt or continue to buy back shares. At $9/share, the company can in theory purchase ~2.2 million shares, which presents ~1.0% of the shares outstanding. For illustration purpose, shrinking the share count by 10% brings about 11.1% upside keeping everything else constant.

Source: Author's Estimate
To complete this valuation exercise, I updated the PDP value with the current strip pricing. The difference between the current EV and the PDP value, which I assign to the excess land holdings of ~5.2 million acres, gives a land price of $287.39/acre, still significantly below the Heritage Royalty transaction of ~$400/acre (adjusting for the energy price change).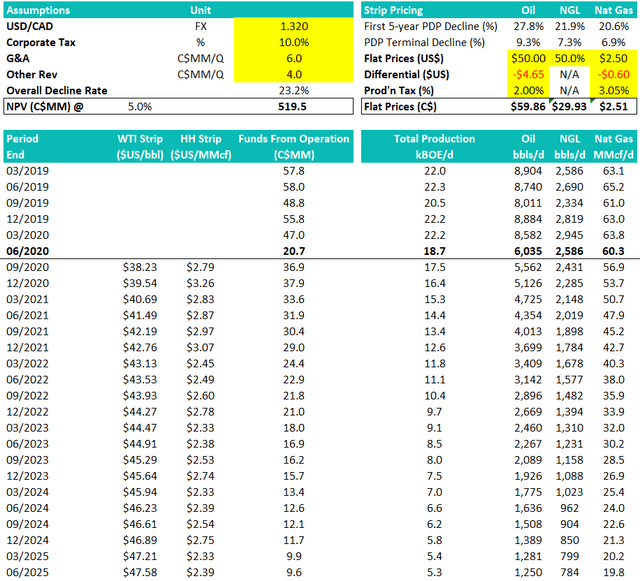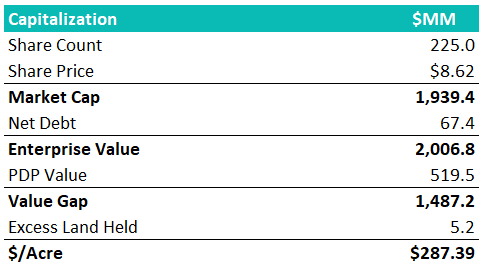 Source: AIF, Author's Estimate
Irreplaceable Asset Deserves A Premium Valuation
PrairieSky is the largest land owner after the government with a total land holding of ~15.6 million acres in the Western Canadian Sedimentary Basin. PrairieSky captured 3.2-4.7% of the industry capital from 2014 to 2019. Although 2020 is certain going to be a anomaly, there are plenty of well drilled YTD on PrairieSky's land as they are economical even in this depressed macro environment. There are approximately 38,000 producing wells and 320 royalty payers.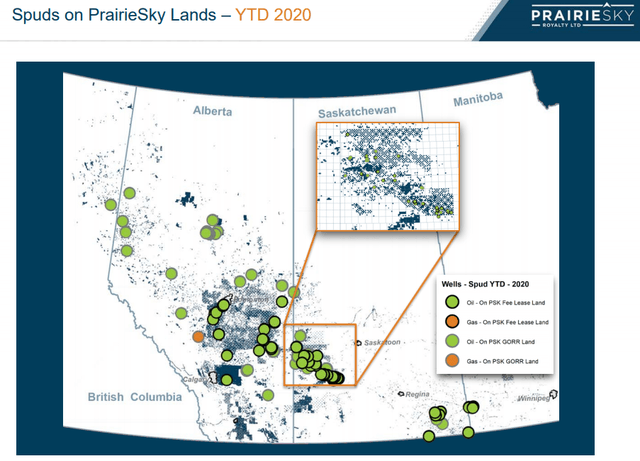 Source: Investors Presentation
All resource companies by definition hold depleting assets, but I'm comfortable treating PrairieSky as a "perpetual business" and why I used a capitalized cash flow valuation approach above. The reason is that with more exploration work we will find more reserve, and with technological advancement (i.e. better recovery method), more resource will upgrade to the recoverable reserve category.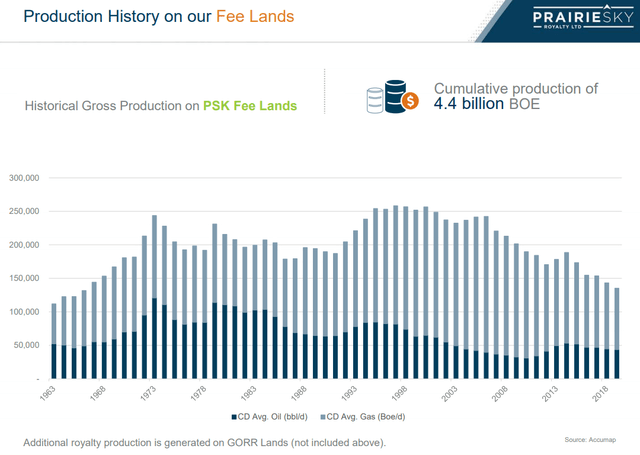 Source: Investors Presentation
Another important factor that's often overlooked is that there are often multi-zone potential underneath a piece of land, and with the advancement of technology, the industry is able to access different zones over time. From PrairieSky's perspective, the royalty checks is perpetual assuming the Canadian energy industry does not go away completely. In addition, as of December 2019, PrairieSky has another ~5.2 million acres of land with no attributed reserves.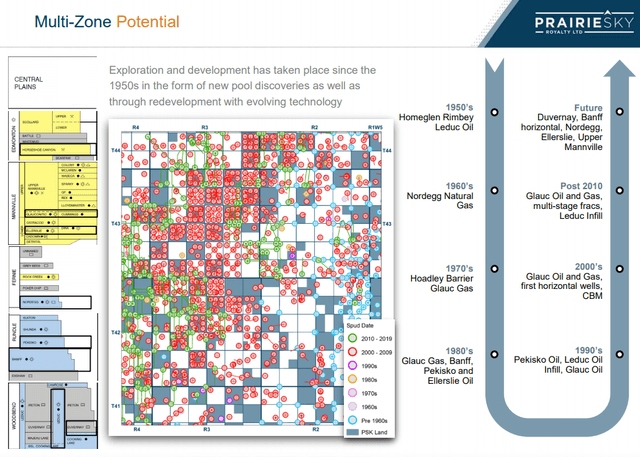 Source: Investors Presentation
Conclusion
The market has so far disagreed with me on an absolutely basis. PrairieSky has outperformed peers which it's expected given its no/low-leverage and no capex business model. The management team is making the right capital allocation decision by redirecting cash flow to buy back shares in a meaningful way. While it's difficult to pinpoint a bottom, the management has shown its hand by purchasing shares at below $9.50/share. I'm adding to my PrairieSky position down given the even more attractive risk/reward setup.
Disclosure: I am/we are long PREKF. I wrote this article myself, and it expresses my own opinions. I am not receiving compensation for it (other than from Seeking Alpha). I have no business relationship with any company whose stock is mentioned in this article.