Introduction
Power Integrations (POWI) perhaps isn't a well-known name, but the technology it applies is quite interesting. Thanks to its Innoswitch feature, it creates a significant competitive advantage over other electric component users as Power Integrations Integrated Circuits (mainly used in AC-DC power supplies) tend to use fewer components. The reduced component count also reduces the complexity, increases the reliability of the devices and, not unimportant, it allows the producers of the devices to make for instance phone charges smaller.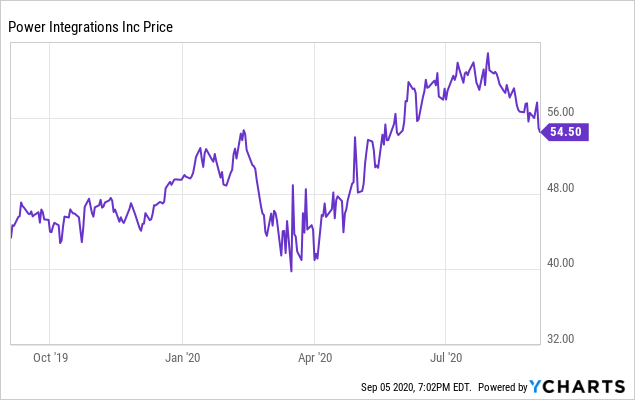 Power Integrations continued to generate a decent positive cash flow
Surprisingly, Power Integrations was able to actually increase its revenue during these COVID-19 times. The total revenue in the first half of the year increased by roughly 12% to $216.5M while the COGD increased by a slightly lower percentage, resulting in a gross profit of $110M, up $13M compared to the first half of 2019.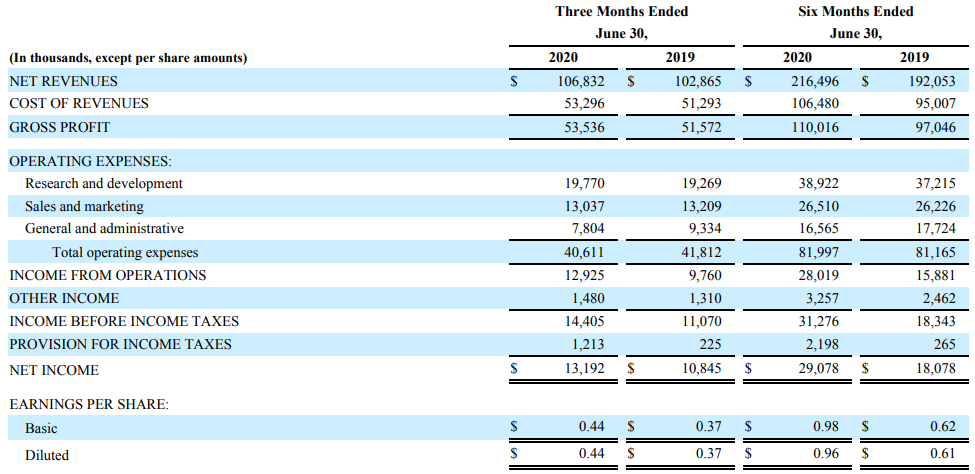 Source: SEC filings
POWI continued to spend a lot of money on R&D, and the H1 2020 R&D expenses were hiked to almost $39M. Other expenses remained relatively stable (although G&A expenses decreased slightly) and this resulted in the company recording a 75% increase in its operating income, which came in at $28M in the first semester. The bottom line reports a net income of $29.1M or $0.98 per share thanks to the average tax rate which remains very low for Power Integrations. The low tax rate can be explained by the company earning a portion of its income in low tax jurisdictions while it also records federal research tax credits against the taxable income.
Also important – since reporting these financial results, Power Integrations completed a 2:1 stock split so the reported $0.98 EPS represents $0.49 per share post-split. This also means the current share count has increased to approximately 59.8M shares.
Looking at the cash flow statements, Power Integrations confirmed its excellent performance resulting in an increased net income as the company's free cash flow result also increased.
The reported operating cash flow in the first semester was $63M but this includes some cash that as released by changes in the working capital position. On an adjusted basis, the operating cash flow in the first six months of the year was $56.7M.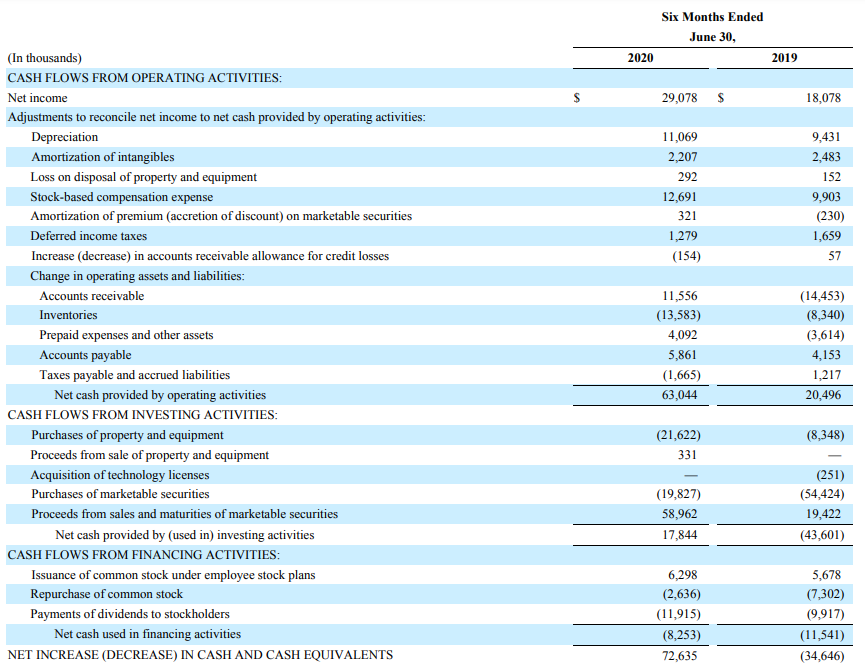 Source: SEC filings
The total capex was $21.6M, resulting in a net free cash flow of approximately $35.1M. Based on the current share count, that's just short of 60 cents per share.
I hope to see the company ramping up its share repurchases again
Power Integrations already is spending quite some money on research and development to protect its enviable position in the Integrated Circuits sector while the EcoSmart feature is a useful technology to sharply reduce the energy consumption of electronics in a standby modus. Thanks to the R&D efforts, Power Integrations is now able to serve AC-DC applications with power outputs up to 500 watts which is 10 times as high compared to the 50 watts the company was able to deal with just 10 years ago.
Thanks to this increased amount of watts, the total "served available market" for the Power Integrations technology has increased from $1.5B to $4B and the continuous investments in R&D will help to protect this position.
As most R&D investments are booked as an expense (and aren't capitalized) they already are included in the aforementioned free cash flow calculation, which means the $35M in free cash flow can be spent however Power Integrations wants to: Its capex and R&D needs are already fully covered.
During the first semester, Power Integrations spent almost $12M on dividend payments and $2.6M on share repurchases, which means the "excess" cash generated after paying the dividends (free cash flow minus dividend-related cash outflow) exceeds the $20M per semester.
As Power Integrations already has a very robust balance sheet with $251M in cash, $195M in marketable securities and no financial debt whatsoever (and less than $100M in total liabilities), the main question now is what the company should do with its cash. Note: The cash is unrestricted although a portion is held in overseas accounts. Should Power Integrations be unable to find suitable acquisitions that could help boost its free cash flow, buying back stock could perhaps be an option although I'm absolutely not in favor of repurchasing shares at the current levels and valuation of the company. Power should first check if alternative ways to spend the money wouldn't generate a higher return.
Investment thesis
Although I'm impressed with the technology of Power Integrations, the company is a bit too expensive to my liking. At the current share price, the free cash flow yield is just over 2.5% (based on the enterprise value) which is more than reasonable for a company with a relatively strong moat. Looking at the analyst consensus estimates, the company already is trading at 25 times its expected EBITDA for 2022 so while I like Power's products, the share price is just too high for me to consider an investment at this time.
Consider joining European Small-Cap Ideas to gain exclusive access to actionable research on appealing Europe-focused investment opportunities, and to the real-time chat function to discuss ideas with similar-minded investors!
NEW at ESCI: A dedicated EUROPEAN REIT PORTFOLIO!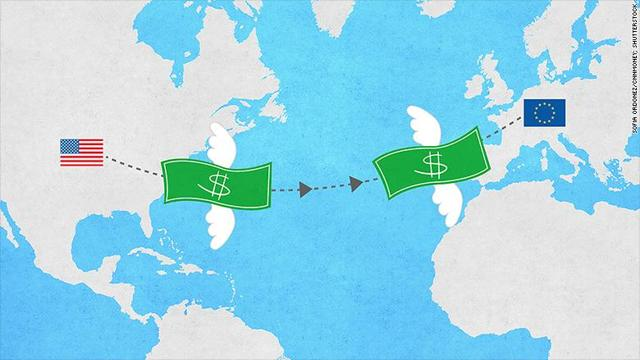 Disclosure: I/we have no positions in any stocks mentioned, and no plans to initiate any positions within the next 72 hours. I wrote this article myself, and it expresses my own opinions. I am not receiving compensation for it (other than from Seeking Alpha). I have no business relationship with any company whose stock is mentioned in this article.