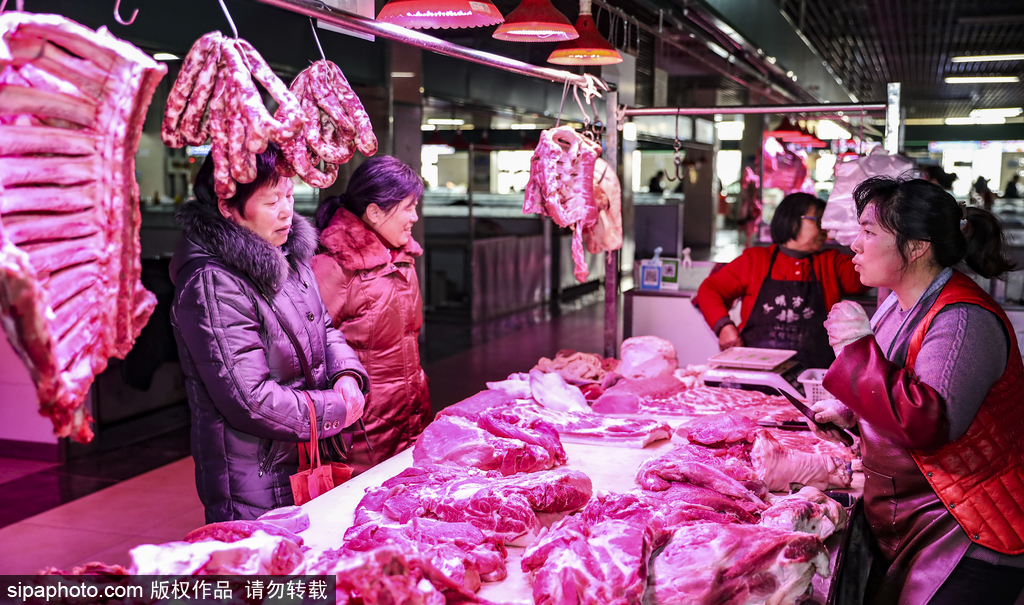 China's pork supplies and prices will stabilize in the period ahead thanks to the steady recovery of pig production capacity, the country's top economic regulator said on Thursday.
"With a sufficient supply of industrial and agricultural products and the rapidly growing service sector, China has a firm basis for overall prices remaining stable,"Peng Shaozong, an official from the National Development and Reform Commission told a news conference.
Peng said the consumer price index, a main gauge of inflation, will fluctuate from high to low within a reasonable range this year, and pork prices will drop with China's pig production capacity gradually recovering.
NDRC data showed the average retail prices of lean pork in 36 large and medium-sized cities dropped to 64.42 yuan ($9.1) per kilogram on Wednesday, down from the peak price of 69.26 yuan in mid-February.
China is stepping up efforts to boost pork supplies and curb surging pork prices, taking a series of measures, including releasing frozen meat, boosting the production and supplies of alternatives, like poultry, increasing meat imports and offering subsidies for those in need.
The government has released frozen meat for six consecutive weeks after the Spring Festival holiday, and it will continue to release a new batch of frozen meat this week.
To cope with the coronavirus epidemic's impact, the government has also prepared 20,000 metric tons of frozen meat for hard-hit regions, such as Wuhan and other cities in Central China's Hubei province. And it has already transported 2,000 tons of frozen pork to Wuhan.
Since 2019, the government has offered more than 16 billion yuan in subsidies for people living in hardship.