Tal og statistik
Politisk aftale: Fattige familier får midlertidigt tilskud
By
|
Regeringen, Radikale Venstre, Socialistisk Folkeparti og Enhedslisten og er tirsdag blevet enige om et nyt midlertidigt tilskud til de børnefamilier, som er berørt af kontanthjælpsloftet eller er på integrationsydelse.
Der er et midlertidigt skattefrit tilskud på vej til børnefamilier, som har haft svært ved at kunne få økonomien til at hænge sammen på grund af lave ydelser og kontanthjælpsloftet. Det har regeringen, SF, Enhedslisten og Radikale Venstre aftalt tirsdag. Det forventes, at ca. 27.900 børn vil få glæde af tilskuddet.
Partierne har afsat en kvart milliard kroner om året til børnefamilierne, som vil få udbetalt pengene med tilbagevirkende kraft fra august.  
Det månedlige børnetilskud udgør 700 kr. pr. barn pr. måned for forældre på de laveste ydelser, 600 kr. pr. barn af enlige pr. måned og 550 kr. pr. barn pr. måned for de øvrige i målgruppen. Derudover får enlige forsørgere et supplerende tilskud på 650 kr. månedligt uafhængigt af antallet af børn. Tilskuddet gives til børn i alderen 0-14 år. Det vil fx betyde, at en enlig mor på kontanthjælp med to børn i alderen 0-14 år vil kunne få op til 1.850 kroner ekstra skattefrit om måneden.
Det midlertidige børnetilskud er skruet sammen på en måde, så man ikke kan få mere i ydelse, end man kunne før kontanthjælpsloftet og integrationsydelsen blev indført af den tidligere Venstre-regering.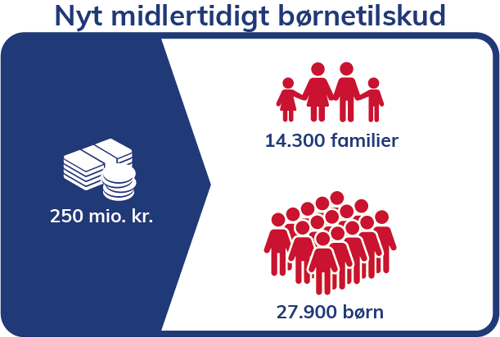 Beskæftigelsesminister Peter Hummelgaard siger:  
– Det er godt, at vi her og nu hjælper de børnefamilier, som er hårdt spændt for på grund af de lave ydelser – og det gælder ikke mindst enlige forsørgere. Mange har vendt hver en krone og haft svært at finde penge til fx at holde børnefødselsdag eller gå til fritidsaktiviteter, og det går ud over børnene. Det er ikke et velfærdssamfund værdigt. Vi må samtidigt åbent sige, at børnetilskuddet på ingen måde løser de problemer, der er med ydelsessystemet eller med fattigdom. Uanset hvordan man vender og drejer det, er det bedste for børnene, at mor og far kommer i arbejde. Det er derfor et hovedfokus for regeringen at bruge de goder tider lige nu til at få alle i arbejde eller i gang med uddannelse. Der er dog ubalancer i vores ydelsessystem, så derfor vil vi nedsætte en ydelseskommission, som skal komme med anbefalinger til nye regler, der både tager hensyn til børnefamilier og sikrer, at der er en økonomisk gevinst ved at arbejde.
Social- og indenrigsminister Astrid Krag siger: 
– Denne regering vil bekæmpe den stigende ulighed, og efter fire år med borgerlige regeringer, hvor børnefattigdommen er steget markant, har vi brug for at få vendt udviklingen. Uanset deres forældres situation skal alle børn i Danmark have mulighed for at være en aktiv del af fællesskabet. Derfor er det vigtigt, at vi i dag har fået et nyt midlertidig børnetilskud på plads, indtil vi finder en samlet løsning på ydelserne. Det hører ingen steder hjemme i et velfærdssamfund som det danske, at børn ikke kan gå til fodbold eller komme til fødselsdag, fordi mor og far ikke har råd til støvler eller til at give en gave med. Det er i hvert fald ikke sådan et land, vi mener, Danmark skal være. Derfor er jeg rigtig glad for, at vi med aftalen her, nu kan give de trængte familier en håndsrækning.
Beskæftigelsesordfører Samira Nawa (RV):
– Ingen børn skal vokse op i fattigdom. Det her er første skridt mod et opgør med de fattigdomsskabende ydelser, som har sendt børnefattigdommen i vejret. Det har været vigtigt for Radikale Venstre, at børnefamilier på den særligt lave integrationsydelse får en ekstra håndsrækning, fordi nye vinterstøvler, mad og medicin koster det samme, uanset hvilken ydelse man er på.
Kirsten Normann Andersen (SF): 
– Vi er glade for, at vi nu har indgået en aftale, som giver en hjælpende hånd til de børnefamilier, som har de sværeste økonomiske vilkår. Mens vi venter på ydelseskommissionen og afskaffelse af kontanthjælpsloftet, skal det midlertidige tilskud være med til at skabe lidt mere luft i de fattigste børnefamiliers budgetter. Fattigdom er ulighedsskabende og fattigdom i barndommen er et stempel, som det kan være svært at vaske af. Det midlertidige tilskud løser ikke alle problemer, men det er det første skridt på vejen til bekæmpelse af børnefattigdom.   
Beskæftigelsesordfører Victoria Velásquez (EL):  
– Det er en vigtig aftale. Bare få hundrede kroner betyder alverden for børnefamilier i fattigdom. Det er måske chancen for at få et juletræ i år, komme med til børnefødselsdag med kammeraterne eller at der reelt er råd til den receptpligtige medicin. Men det er ikke en aftale, der afskaffer fattigdom i Danmark. Jeg har ondt i hjertet over alle de mennesker, der ikke bliver hjulpet. I Enhedslisten vil vi fortsat kæmpe for at afskaffe alle fattigdomsydelser og gøre forholdene for mennesker ramt af arbejdsløshed eller sygdom bedre. Det har også været vigtigt for Enhedslisten, at den her aftale ikke bare accepterer finansministeriets tossede regnemetoder. Dermed har vi forhåbentlig taget første skridt på vejen mod et opgør med finansministeriets regnemaskine.
Kasper Sand Kjær (S):
– For Socialdemokratiet har det været afgørende, at vi med den midlertidige børneydelse får lavet et løft til de fattigste børnefamilier, som kan mærkes i familierne og gøre en forskel for de børn, der med den tidligere regeringens politik har lidt afsavn. Aftalen viser med al tydelighed, at Danmark har fået et nyt politisk flertal, som er trukket i arbejdstøjet for at styrke fællesskabet.