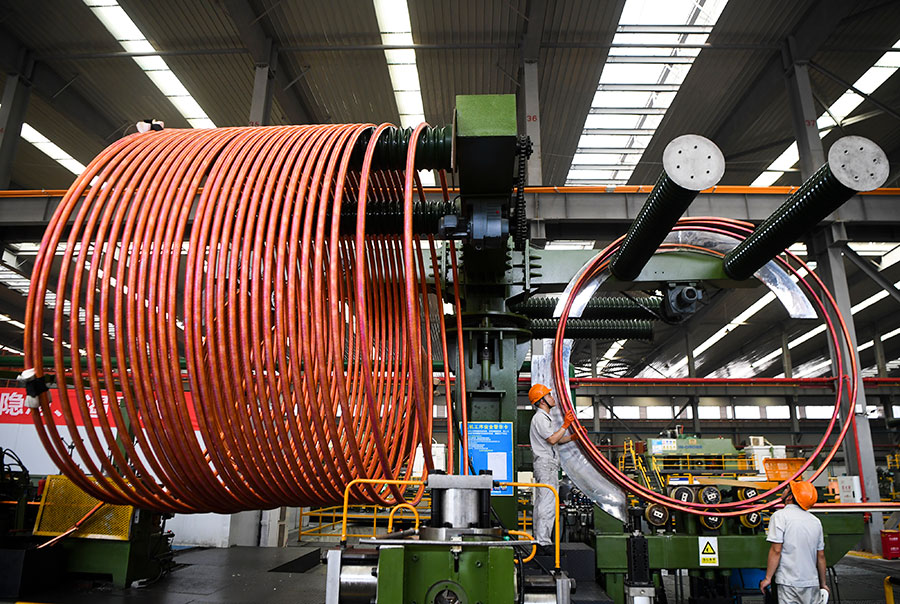 I recently visited Columbus, Indiana, a small city of about 47,000 people in America's agricultural heartland. In many ways, it is a typical Midwestern small town, although it's known for modernist architecture and it happens to be the hometown of US Vice-President Mike Pence. However, the first thing that will strike any visitor is the high level of prosperity. I don't mean the people are rich – just that the city-center stores are all occupied, lots of workers are downtown, the streets are clean, and the buildings are maintained. This may have been common for American small towns a generation or two ago. But, it is far from typical today.
What's different about Columbus? It's the headquarters of Cummins Engine Company, a manufacturer of large engines and turbines for large trucks and construction equipment, helicopters, power plants, and factories. Within easy walking distance of the center of Columbus, you can find research facilities, a manufacturing plant, and the headquarters building. This means there are jobs available for skilled factory workers, engineers, and managers.
China's government reasserted the importance of manufacturing in the Oct 28-31 Fourth Plenary Session of the 19th Communist Party of China Central Committee – especially calling for modernization of the industrial chain and of applying science and technology to upgrading of the manufacturing sector. And, during a visit in September to the Zhengzhou Coal Mining Machinery Group Co, President Xi Jinping underlined the importance of developing the real economy through bolstering manufacturing to enhance high-quality economic growth. Xi said that while China has the world's largest manufacturing industry, efforts are still needed in realizing industrial transformation and upgrading through technical and industrial innovation to move the nation's manufacturing up the industrial chain.
I have had the opportunity to visit several times the city of Changsha, capital of central China's Hunan province. With about 7 million inhabitants, it is much larger than Columbus, but both cities are centers for manufacturing heavy equipment. The companies Zoomlion and Sany, both builders of large and sophisticated construction machines, are both centered in Changsha. Both companies give many job opportunities to managers, engineers, and skilled factory workers. I was told that the average pay for a factory floor worker there is more than twice that of a recent university graduate.
Sadly, many American small towns are more like Port Clinton, Ohio – the hometown of Harvard professor Robert Putnam which he discusses in his book Our Kids: The American Dream in Crisis. He describes the city as a great place to grow up when he was young in the 1960s. Jobs were plentiful, crime was low, and the people saw themselves as part of a community. Today, none of these things are true – partly because of changes in the culture and partly because industry went out of business or moved away.
Research by Andrew Foster and Mark Rosenzweig, professors at Brown University and Stanford University respectively, concluded that factory jobs are essential to raise poor rural people out of poverty. In the Indian villages they studied, factory jobs provided both higher pay and more secure employment than any other opportunities. A study by David Atkin of Yale University showed that Mexican women who are able to get a factory job have children who are taller and healthier than women who work in retail, food services, or transportation.
I have a lot of sympathy for President Donald Trump's overall goal of reducing what he calls "American devastation" by encouraging manufacturing jobs, but he certainly won't be able to achieve that goal by tariffs or other economic measures against China.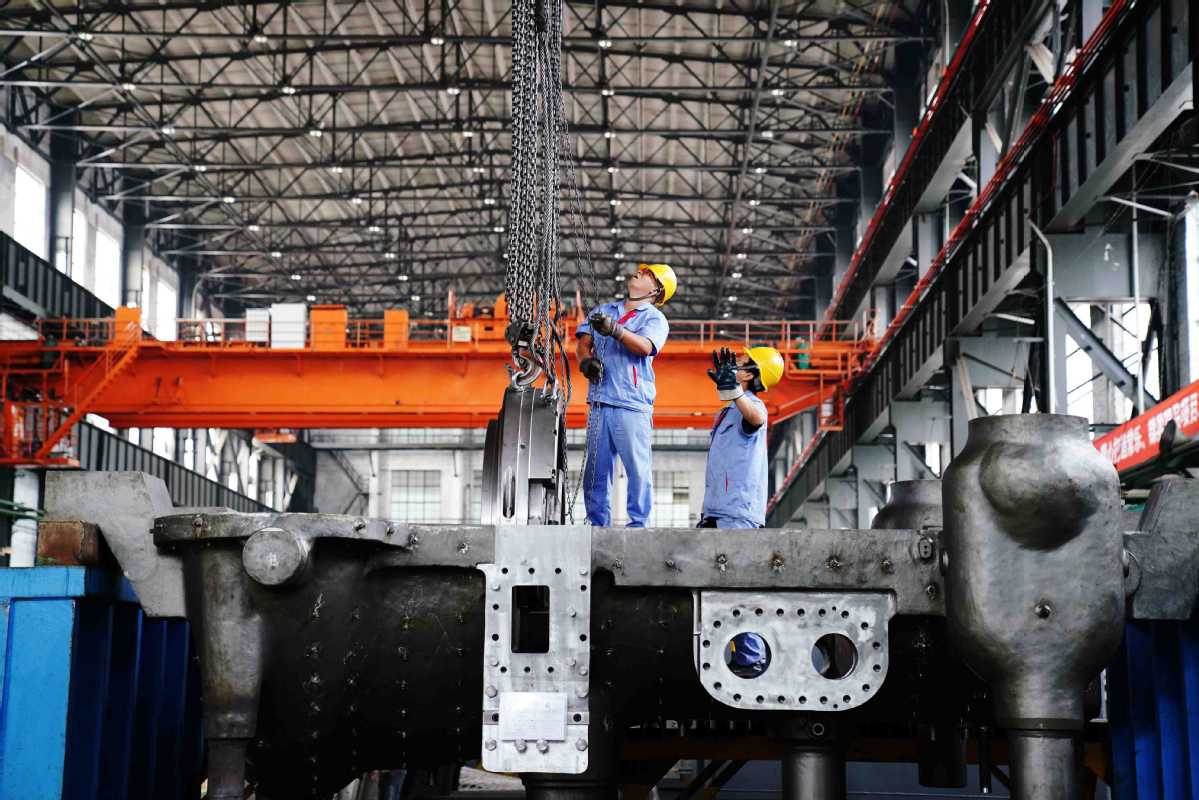 The decline of manufacturing in the US is primarily caused by domestic political and economic decisions – not by China or Mexico or any other country. Essentially, the US government has not prioritized policies that support manufacturing. There has been a lot of vague talk about the new economy, knowledge-workers and "symbolic manipulators" without sufficient attention to the jobs needed by most people.
Research published in 2014 by the Information Technology and Innovation Foundation wrote that "American largely dithered and allowed the policy environment supporting the competitiveness of its manufacturing industries to wane… Through a combination of inaction and inattention, America's investments in R&D languished over the past decade and a half, as its tax code grew ever less competitive, its industrial commons eroded, and its talent base weakened".
This contrasts with countries such as Germany, Japan, South Korea, the Netherlands, and China that "worked feverishly throughout the 2000s to bolster their science, technology, and innovation ecosystems that underpin the competitiveness and innovation potential of their private sector enterprises", the report concluded.
The financial reforms of the 1980s and 1990s were a major factor. Previously, banks concentrated on corporate and small business lending. Now, banks' business models concentrate on consumer lending – causing the long-term decline in US savings rates.
Forty or 50 years ago, America's corporations were largely run by engineers who had a deep knowledge of their products and of the underlying technologies. Now, top managers are usually finance experts who have a short-term perspective. Many reports argue that the mistakes that led to the Boeing 737 Max disasters were caused by the fact that there was not a single engineer on the Boeing board.
Another key problem is that the US has developed a political and economic elite that has no connection to manufacturing. The type of work rewarded by a society is an indicator of what it values.
The wealth of the US used to be concentrated in the manufacturing centers of the Midwest and Pennsylvania where people made things. It is sometimes argued that the concentration of wealth in the US is just a reward to highly productive people. But, now, six of the 10 richest counties in the US are suburbs of Washington and the remaining four are New York City suburbs, which are occupied by bankers, lawyers, and lobbyists – hardly paragons of productivity-enhancement.
The US education system also does not value people who can work with their hands or make things. The Cummins website tells the story of a young man who started working as a bicycle mechanic at age 13. Eventually, he was able to go to university to become an engineer and got a job at Cummins. But, such stories are rare.
No nation and no company can just sit back and enjoy past glories. Future competitiveness depends on continuous innovation by companies and scientists, which must be enabled by supportive government policies.
The coming decade will see a transformation of manufacturing, as the 5G, AI, robotics, and the internet-of-things technologies are applied in factories. Companies around the world will have to compete both domestically and internationally in order to prosper during this change. No government can protect the companies from the need to compete. However, China's commitment to creating an open, competitive market and a good business environment combined with the kinds of investment in R&D and infrastructure that can only be done by the government, are essential to maintaining a healthy manufacturing sector. Unlike others, China's leadership has repeatedly stressed the importance of industrial upgrading and has developed serious plans to enable it.