De beslutninger du tager, mens du er i arbejde, kan have store betydninger for din pensionstilværelse. Selv hvis du allerede er i gang med at spare op til pension, kan det alligevel være fornuftigt at gå i dybden med planlægningen af din pension og økonomi, allerede når du er midt i 50erne.
Der er mange aspekter i, hvordan du planlægger din pension. Her går vi i dybden med, hvordan du sparer op mest fornuftigt.
Indbetalingen er fradragsberettiget
Når du indbetaler til pensioner med løbende udbetaling, er indbetalingen fradragsberettiget i den personlige indkomst. Det gælder for ratepension eller livrente.
Hvis du betaler topskat, betyder det, at du kan trække op til 52,06 % af din pensionsindbetaling fra i skat. Hvis du ikke betaler topskat, når du skal have pensionen udbetalt, vil du slippe 15 %-point billigere ved udbetalingen. Alt afhængig af hvilken kommune du bor i.
Kan opsparing til pension overhovedet betale sig?
Hold øje med dit udbetalingsområde
Din pension bliver udbetalt i forskellige udbetalingsområder, som du skal holde øje med, at du ligger inden for. På den måde får du mest ud af din pensionsopsparing.
Hvis du fx har sparet så meget pension op, at du bliver modregnet i pensionstillæg, skal du overveje, om det kan betale sig for dig at spare mere op til pension. Hvis du kun sparer yderligere op til, at du blot bliver modregnet endnu mere i pensionstillæg, er det måske ikke det, der giver bedst mening for dig.
Lad os illustrere det med et eksempel. Hvis du indbetaler mere i pension, så du ender med at blive modregnet i pensionstillægget, vil du, som enlig, gå glip af 32 kr. i pensionstillæg for hver 100 kr. du får mere i pensionsudbetaling. Pensionsudbetaling er de penge, du får udbetalt hver måned, som består af folkepension og din egen pensionsopsparing.
Dermed er det ikke sikkert, at det er en god ide at spare mere op til pension. Også selvom det gør, at du slipper for at betale topskat igennem en del af dit arbejdsliv.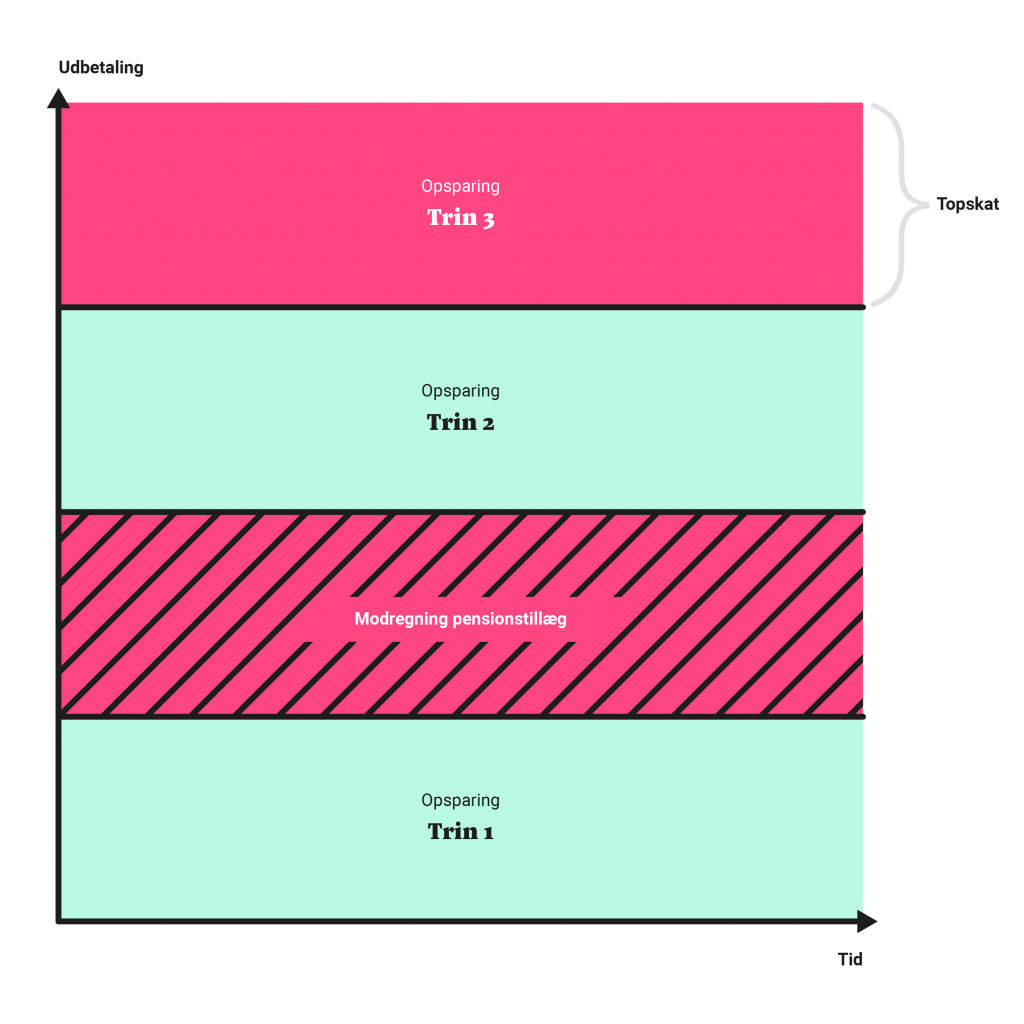 Bliver min pension modregnet mine offentlige ydelser?
Når du har sparet nok op til pension, får du ikke længere pensionstillæg. Hvis du har sparet så meget op, at du ender i opsparingstrin 2, men stadig er under topskattegrænset, og samtidig er så tæt på pension, at du får ekstra pensionsafdrag, kan det være en idé at spare mere op og udnytte skatteforskellen.
Spar op via boligen
Har du ikke en pensionsopsparing, fordi du fx er selvstændig, er det måske bedre at spare op i din bolig. Når du selv har boet i boligen – eller brugt sommerhuset – er værdistigningen skattefri. Og den formue du har i boligen, bliver ikke modregnet ældrechecken eller pensionstillægget. Det er ofte en bedre ide at eje sin egen bolig og spare mindre op til pension. Også bedre end at bo til leje, og i stedet at spare op til pensionen.
Uden fast ejendom risikerer du at blive en fattigere pensionist
Som du kan læse, kan det være en god ide at spar op til pension, hvis du altså ikke ender i det område, hvor pensionstillægget bliver modregnet. Det kan i særdeleshed betale sig, hvis du betaler topskat, mens du er på arbejdsmarkedet. Hvis du derimod ender i at skulle betale topskat af din pension, eller ender med at blive modregnet i pensionstillæg, bør du tænke dig om en ekstra gang.
Du bør derfor altid overveje at tale med en professionel rådgiver, der er økonomisk ansvarlig for evt. forkert rådgivning, så du ikke træffer en beslutning, der spænder ben for din økonomi, når du går på pension.