It's been an exceptional couple of months for the junior gold sector (GDXJ) as we've seen several names put up triple-digit returns, with a few managing to return over 500% in the past three months. Pinecrest Resources (OTC:PNCRF) is an African gold junior that's enjoyed incredible performance, up 340% year-to-date, and a 150% return in the last 35 trading days. Pinecrest's flagship Enchi Project neighbors Kinross Gold's (KGC) Chirano Mine, and to date, the company has defined a low-grade 1.1 million-ounce resource. While this is an intriguing project that is in a prolific gold region, the stock is beginning to get ahead of itself, now more than 60% above its 200-day moving average. Meanwhile, the valuation is no longer a tailwind, with the stock trading slightly above the peer average for African explorers. Based on this, I believe investors would be wise not to chase the stock above C$0.74.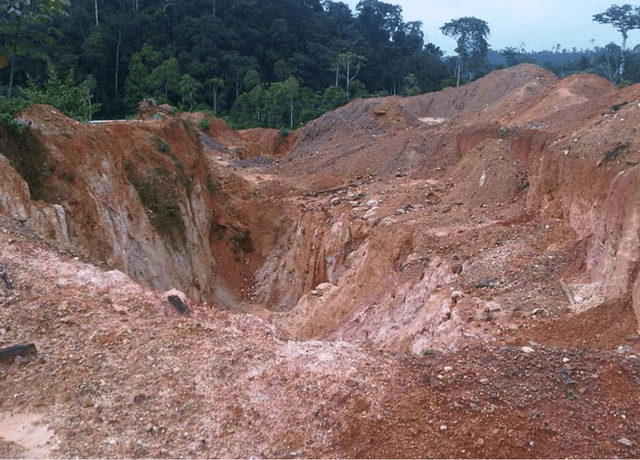 (Source: Company Presentation)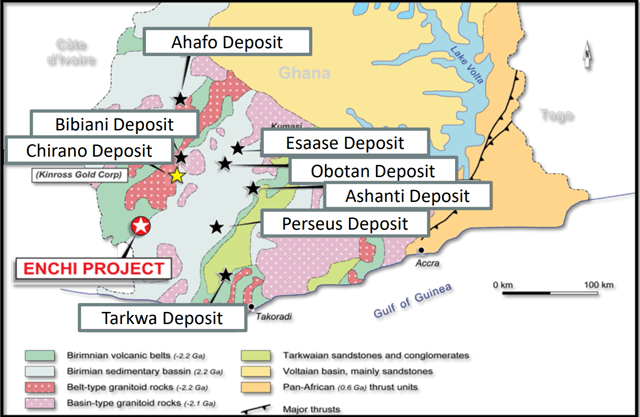 (Source: Company Presentation)
Pinecrest Resources is a lesser-known gold junior that has secured a project that covers a 50-kilometer strike on the prolific Bibiani Shear Zone in southwest Ghana. The company has several well-endowed gold deposits as neighbors with Newmont's (NEM) Ahafo Mine to the north, Resolute Mining's (OTCPK:RMGGF) Bibiani Mine to the northeast, and Kinross Gold's Chirano Mine directly northeast. For those unfamiliar, the Chirano Mine was acquired through the Red Back Mining acquisition, one of the most significant mining acquisitions in the past decade, with a price tag of $7.1 billion. Therefore, when it comes to locations for uncovering monster gold deposits in Africa, Pinecrest Resources couldn't have a better address. However, Pinecrest has lied relatively dormant with lifeless returns until recently, with the catalyst for the recent rally being the acquisition of Kinross' 17% stake in the company by institutional investors and a cash infusion from the recent C$3 million private placement. Let's take a closer look at the project below: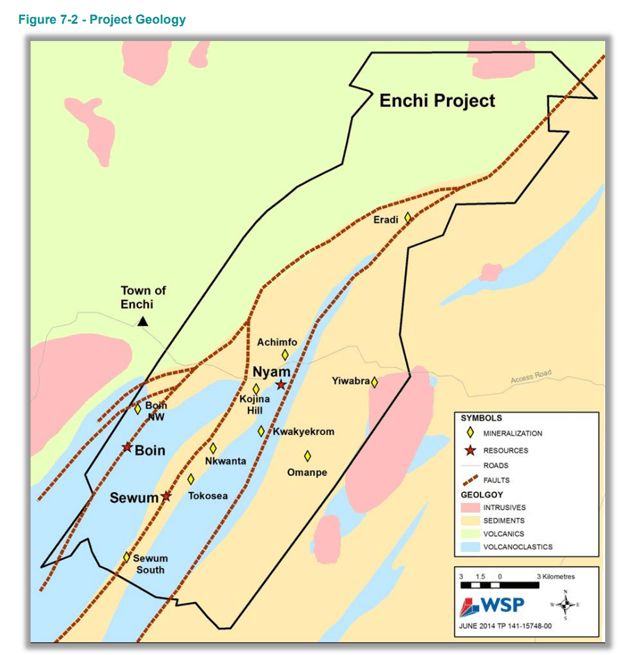 (Source: Company Technical Report)

(Source: Company Technical Report)
If we take a look at the above chart, we can see that Pinecrest's three main resource areas defined to date are Boin, Sewum, and Nyam, with Boin being the largest deposit with 490,000 ounces of gold at an average grade of 0.96 grams per tonne gold. Meanwhile, the Sewum deposit, which lies to the south, is slightly smaller at 423,000 ounces at a lower grade of 0.82 grams per tonne gold. The two largest deposits (Boin and Sewum) are within 5 kilometers of each other, supporting the potential for a central processing facility with smaller deposits acting as satellite pits to feed in additional material. Since the resource was delineated, Pinecrest has had some exploration success at Kojina Hill, which is just southwest of Nyam and Boin Northwest, northwest of the largest deposit on the property, Boin. Therefore, there is certainly the potential for satellie deposits to be delineated, though we haven't seen anywhere near enough drilling to confirm this yet.

(Source: Company Presentation)
The other encouraging sign about the project is that it's only been drilled down to roughly 150-meter depths, and Pinecrest has already delineated a resource of 1.08 million ounces to date. Given that Red Back found its best grades at depth at the Chirano Mine 70 kilometers away, and encountered mineralization down to over 800 meters, there is the potential that deeper drilling could add significantly to the current resource. However, as noted, this is merely speculation at this point. This is because we've seen limited drilling on the property over the past couple of years. However, with C$3 million on cash in the bank, the company can finally get back to steady news flow, with the company expecting to begin a new drill program during Q3. This should give us better insight into whether the Pinecrest Resources story is one worth following closer.

(Source: Company Presentation)
Based on a current resource of 1.08 million ounces and a Preliminary Economic Assessment at Enchii, one could argue that we should see a valuation floor at the US$25 million for Pinecrest Resources. This is because African explorers are currently being valued near US$22.50/oz, while African explorers across all grade profiles are valued closer to $40.00/oz. However, here's no reason to expect the company would command a valuation similar to that of Tietto Minerals or Oklo Resources, which are two names with premium valuations near $70.00/oz in the African explorer space. This is because these are very high-grade names, with resources that should come 150% higher than Pinecrest's grade of 0.90 grams per tonne gold. Given that Pinecrest Resources is currently valued at US$41.74/oz, I would not call the valuation expensive as it's in line with all explorers, but I wouldn't call it cheap either. However, if the company can have a strong drill season, this story might be able to change for the better. The silver lining is that the company has a strong board with previous experience at Newmarket Gold, Integra Gold, and the current Chairman of Calibre Mining (OTCQX:CXBMF), and management and insiders hold 39% of the shares. Therefore, if there was ever a team that could turn the Enchii Project into a winning story, this is the team capable of doing it.

(Source: Author's Chart)
Unfortunately, while the valuation isn't overly expensive and the board couldn't be more impressive, the stock is beginning to get a little ahead of itself short-term, suggesting that the reward to risk is no longer favorable at C$0.70. As we can see from Pinecrest's daily chart below, the stock has seen a parabolic rise since early May and is up over 250% in less than 50 trading days. This has pushed Pinecrest more than 70% above its 200-day moving average (yellow line), and this is often an area that stocks will struggle short-term, and often. It's important to note that this does not mean the stock has to correct sharply from current levels or that it can't go higher, but adding new exposure above C$0.74 is probably not a good idea.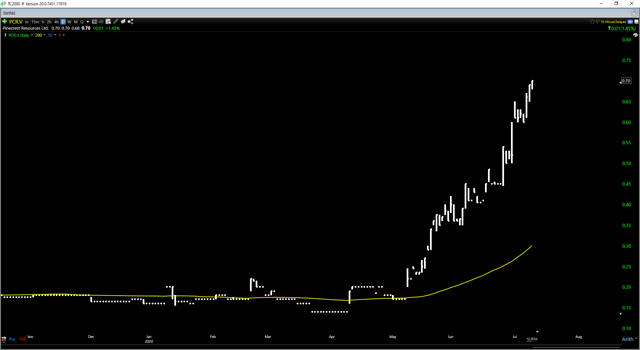 (Source: TC2000.com)
While Pinecrest Resources is an interesting story that's finally finding some bids in the junior gold space, I see the stock as too early-stage to invest in currently, and far too overbought to buy at current levels. This is especially true since there are many more attractive projects in Tier-1 jurisdictions trading at similar valuations per ounce to Pinecrest. Therefore, while the stock might be one to keep an eye on this drill season, I believe investors would be wise not to chase the stock above $0.74. If we were to see the stock trade above C $ 0.90 before the end of August, the valuation would become a headwind, and I would view it as an opportunity to book profits.
Disclosure: I am/we are long GLD, IRRZF, CXBMF. I wrote this article myself, and it expresses my own opinions. I am not receiving compensation for it (other than from Seeking Alpha). I have no business relationship with any company whose stock is mentioned in this article.
Additional disclosure: Disclaimer: Taylor Dart is not a Registered Investment Advisor or Financial Planner. This writing is for informational purposes only. It does not constitute an offer to sell, a solicitation to buy, or a recommendation regarding any securities transaction. The information contained in this writing should not be construed as financial or investment advice on any subject matter. Taylor Dart expressly disclaims all liability in respect to actions taken based on any or all of the information on this writing.