I learned long ago that picking winners in emerging industries is littered with pitfalls. Think back to the personal computing rise, then fall, and eventual rebirth of Apple (AAPL). The success of one of the most lucrative companies in the world didn't occur in a straight line with a positive slope. On the contrary, at times it came with significant risk to shareholders.
In similar fashion, the rise and fall of players in the electric vehicle space is heating up on a worldwide basis. As the adoption of EVs continues to rise, so does opportunity, but that opportunity does not come without risk. The most recent being the unfolding Nikola Corporation (NKLA) saga. Capital on both the long and short side of the NKLA trade has come under duress.
So how do we increase our batting average in emerging industries?
One way to combat winner and loser missteps is to look for a diversified player within the targeted industry. When looking at the electric vehicle space, specifically the Chinese EV market, BYD Company Limited (OTCPK:BYDDF) fits the mold. As both a manufacturer of electric vehicles and a key supplier/partner to others within the industry, BYDFF has a significantly lower level of execution risk, an envious place to be in a disruptive industry.
In terms of valuation, I believe a significant amount of downside risk, primarily from a balance sheet perspective, has been taken off the table. As a diversified player in the EV space, forward-looking earnings estimates tend to be more visible. Having multiple verticals gives us more confidence in the outlook for the shares, with significant opportunity to surprise on the high side. With a very low PEG ratio, confirming that from a fundamental perspective.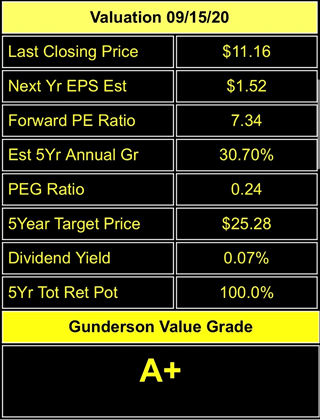 BYD's continued use of joint ventures with other large auto manufacturers also has helped mitigate some of the balance sheet issues that have worried investors over the years. Expanding via joint-venture spreads the initial capital outlay among partners, while leveraging the expertise of both. The result, increasing the probability of a positive ROI event, with less downside risk, via lower capex. A better risk-return trade off.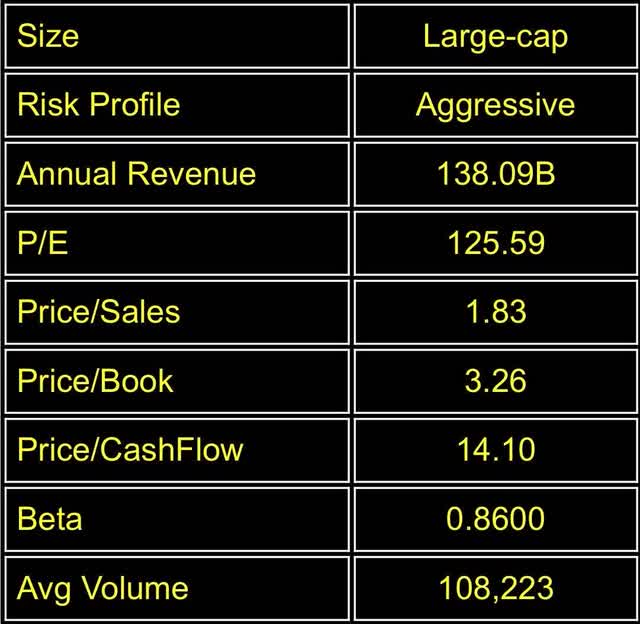 The superior risk-return efficiency of BYDDF's growth plans creates the environment for a higher probability of positive alpha. With a Beta measure of just 0.86, shares of BYDDF have outperformed the S&P 500 over the last one-, three-, and five-year time periods. With a one-year alpha measure off the charts – 121% if your counting at home. Scoring high momentum and performance grades, an A+ and B, respectively.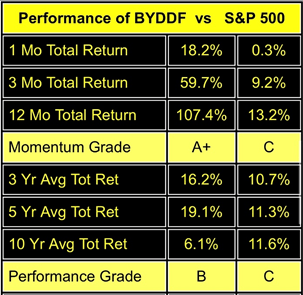 Once I have a company that meets our screening criteria, I turn to the charts to gauge a stock's current health and preferred entry point. As you can see from the chart below, the shares gapped significantly higher this week. A significant breakout, coupled with strong volume. All very good technical signs for the shares. Great looking chart!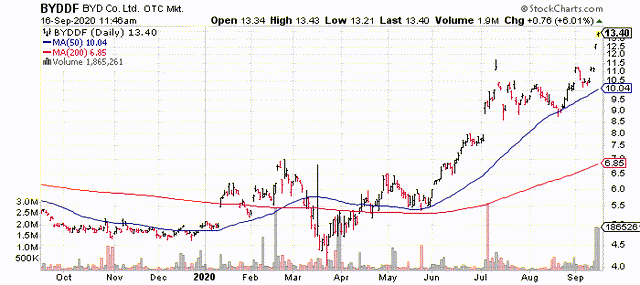 As a long-term play in the global electric vehicle market, I currently have a five-year price target on the shares at $25. We currently own a position in my Gunderson Capital Emerging Growth portfolio, our most aggressive offering. We are "Very Bullish" on the shares, and after the most recent breakout, would suggest building an initial position as the shares test support levels along the way. Volatility is to be expected in this ever-evolving industry.
Investing in emerging industries where disruption lurks around every corner makes choosing the ultimate winners difficult. BYD provides a unique play in the Chinese EV market. China's government has continued to promote the growth of clean vehicles and BYDDF is well positioned to benefit from the tailwinds driving clean energy ambitions. As both a leading manufacturer in China, and a key supplier to broader market players, BYD makes for a risk efficient way to gain EV exposure.
*All Data From Best Stocks Now Database Unless Noted
Best Stocks Now Premium gives you access to Bill Gunderson, professional money manager & analyst with 23 years of experience.
You get Bill's daily "live" buys and sells in his four portfolios: Emerging Growth, Ultra-Growth, Premier Growth, and Dividend & Growth. Our Ultra-Growth portfolio has tripled the returns of the S&P 500 since its 1/1/2019 inception, while our Premier Growth portfolio has doubled the returns of the market during that same time-period.
JOIN NOW to get daily "live" buys and sells, weekly in-depth market-timing newsletter, access to Bill's proprietary database with daily rankings on over 5,300 securities, and a daily live radio show!
Disclosure: I am/we are long BYDDF. I wrote this article myself, and it expresses my own opinions. I am not receiving compensation for it (other than from Seeking Alpha). I have no business relationship with any company whose stock is mentioned in this article.
Additional disclosure: I collaborated with my Gunderson Capital Management colleague, Barry Kyte Jr., CFA, on this article.