I drive way too fast to worry about cholesterol. – Steven Wright
Penske Automotive Group (PAG) has had a volatile year, among many other car making companies. However, things appear to be turning around ever since a somewhat muted response to Q1 earnings on May 11, where their earnings were in line with expectations, but revenues beat, despite dealing with a global pandemic. Revenues were $5,009.1 million, versus expectations of $4,868 million. That is impressive when you consider it is only 10% lower than last year's non-pandemic Q1 revenues of $5,564 million. How will this company fare as the economy reopens? I expected them to do much better overall, which is why I think this company is a buy and remains attractively valued after being down more than 12% year-to-date, even after a surge on Friday, June 5.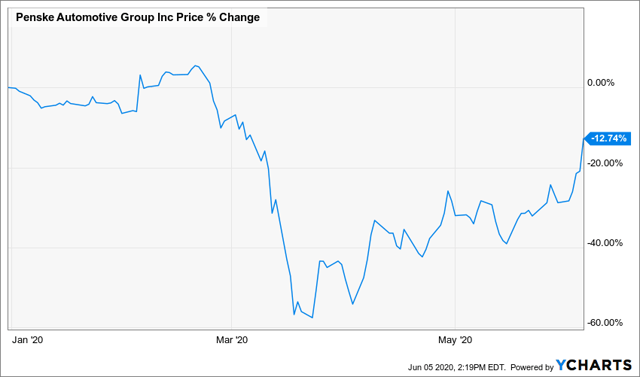 The rally from the low has been extremely impressive, gaining over 105% as of writing since March 23. Momentum is increasing in the stock, and gains tend to beget gains, as the saying goes.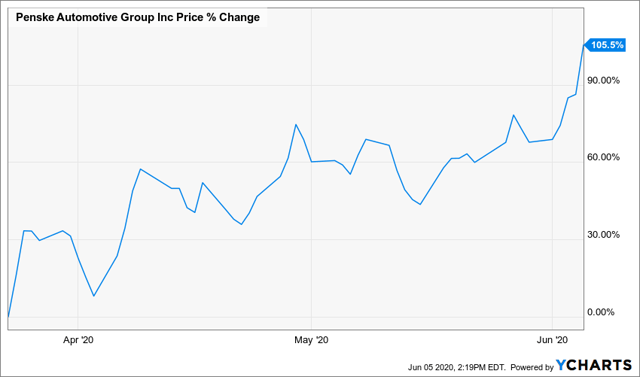 Recently, though, PAG did suspend its dividend, which might be a concern for equity investors. However, given the unprecedented pressure on cash flows at this time, this should be construed as smart management. The suspension was to preserve the balance sheet, as it will conserve approximately $34 million in cash for Q2 by holding off to see how sales go.
This is just one of the risks to consider when investing in the company. The second major one is if there is a second wave of Covid-19, which is expected by many epidemiologists. That would cause dealerships to shut down, and car sales to plummet like we saw in April. Another risk is that the consumer never fully recovers from the massive job losses we are seeing. After a blockbuster rebound in the May jobs report, though, where 2.5 million jobs were gained instead of expected losses of 7.5 million, there should be more support for consumers going forward. Of course, lost wages are still gone from that period, so there might not be enough extra cash lying around to purchase a new or used car. Penske is also a highly levered company, with net debt of 8.32 times EBITDA. In times of stress, debt can be problematic for a company. At this valuation, though, it is hard to not think it deserves a position in your portfolio.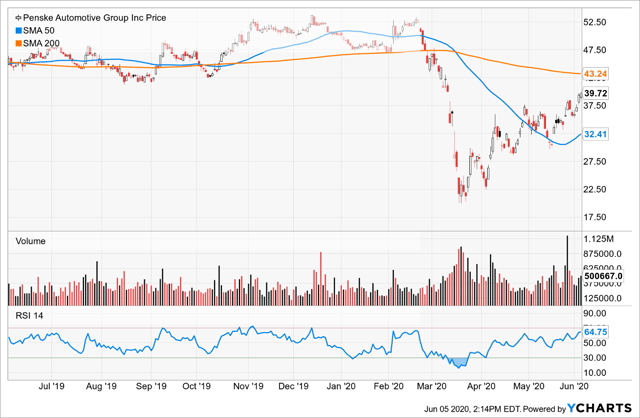 The technical setup for Penske is quite attractive right now over the medium term, especially if it can use recent momentum to break above the 200dma. It is close. That is a resistance level to watch, but a few more days of rallies and it could look to break out to new highs, and the 50dma should continue to catch up. Short term, it might experience a pullback if the overall market does after an impressive rally, but that should be used as an opportunity to get long the stock. The V-shaped recovery in this stock looks to be happening, and upside looks attractive from these levels.
One of the secular changes that we are going to see over the next year, I think, is that with far less airline travel, the great road trip will come back into vogue. What better way to spend some vacation dollars than to get on the road again, see part of your domestic country that you have never seen before. And what better way to do that than with a new car! The shift from airline to road travel will likely happen through 2021 until there is a proper vaccine or cure for the coronavirus.
In addition, there will be far less public transport used than pre-Covid times. Think about it, are you comfortable jamming into a packed bus or subway to get to work, or should you think about investing in a new or used vehicle? How much is your safety worth? I'm thinking of investing in a new vehicle, and that vehicle is an investment in PAG. Look for the upward trend to continue in the coming months as the economy reopens for business.
*Like this article? Don't forget to hit the Follow button above!

Subscribers told of COVID Bubble March 31. Now what?

Sometimes, you might not realize your biggest portfolio risks until it's too late.
That's why it's important to pay attention to the right market data, analysis, and insights on a daily basis. Being a passive investor puts you at unnecessary risk. When you stay informed on key signals and indicators, you'll take control of your financial future.
My award-winning market research gives you everything you need to know each day, so you can be ready to act when it matters most.
Click here to gain access and try the Lead-Lag Report FREE for 14 days.
Disclosure: I/we have no positions in any stocks mentioned, and no plans to initiate any positions within the next 72 hours. I wrote this article myself, and it expresses my own opinions. I am not receiving compensation for it (other than from Seeking Alpha). I have no business relationship with any company whose stock is mentioned in this article.
Additional disclosure: This writing is for informational purposes only and Lead-Lag Publishing, LLC undertakes no obligation to update this article even if the opinions expressed change. It does not constitute an offer to sell, a solicitation to buy, or a recommendation regarding any securities transaction. It also does not offer to provide advisory or other services in any jurisdiction. The information contained in this writing should not be construed as financial or investment advice on any subject matter. Lead-Lag Publishing, LLC expressly disclaims all liability in respect to actions taken based on any or all of the information on this writing.