Co-produced with Beyond Saving
We recently wrote an article "Juicing Your Retirement Yield With CEFs" where we discussed the power of CEFs to provide your portfolio with a high-level of current income.
One of the CEFs we highlighted in that article was the PIMCO Dynamic Credit Income Fund (PCI), this fund is currently yielding 10.8% and is trading at a small 2% premium to NAV.
Today, we take a deeper dive into PCI and discuss why it is such a great deal at today's prices.
The COVID Crash
Like many investments, PCI was humming along as we entered 2020. Then it fell off the cliff in March, with both its price and NAV dropping.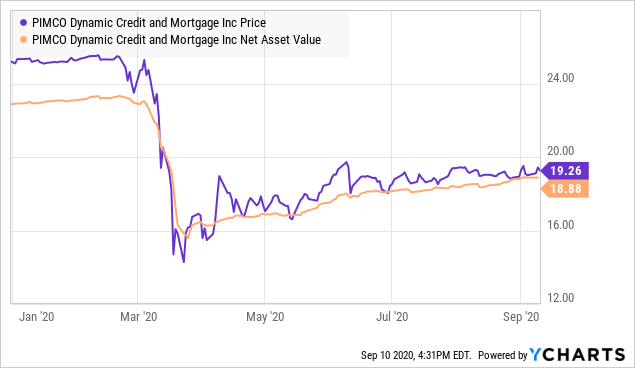 The decline was driven by a decline in prices across several of PCI's major allocations. Mortgages, high-yield credit, bank loans and emerging market debt all suffered.
The market's reaction can basically be boiled down to investors worrying that the impacts of COVID-19 increased the risk of lending money. Money rushed out from assets with exposure to loans, and into US Treasuries and the high-end of investment grade credit, thus earning minimal yields.
This is quite common during times of economic turmoil. It should not surprise anyone that the impacts of COVID-19 is putting economic pressure on businesses and individuals, which could lead to a spike in defaults on loan obligations. One great mitigating factor has been the Fed's intervention by pumping liquidity in the system, and government assistance to overcome the financial impact of job losses. In fact, during the COVID-19 crisis, most people were able to save more money than usual due to lack of activities, and thus many have seen their savings go up.
One important factor to note is that not all loans investments are alike. Throughout history, we have seen that loans can trade at a much higher or much lower price than what will ultimately be paid by the borrower. Today, mortgages in general trade at a price that is disconnected from the face value of what is owed by the borrowers, or what the borrower is likely to be able to pay. This means that the market has "priced in" a very pessimistic scenario which assumes that there will be many defaults, even though the fundamentals of the mortgage market are very strong (as we will explain later in this report). PCI has a large exposure to these mortgage loans.
Note that the managers of PCI, PIMCO are a best-in-class in their field. As investors in debt markets, PIMCO's goal is to identify areas where the market is being overly pessimistic, and where the debt is trading at a much lower price than what the long-term recovery is expected to be.
Mortgages Are Underpriced
PCI's main bet is on mortgages. Their largest holdings are "non-agency mortgage backed securities" or MBS. These are securitized mortgages, meaning that they are packaged together and the rights to collect the principal and interest payments are sold off to investors. This helps lenders who originate a lot of mortgages maintain liquidity to make future loans. Instead of waiting for 30-years for the borrower to make payments, they sell the loan to investors like PCI. Those investors can either profit from the regular interest payments or they can actively trade them, trying to buy low and sell high.
Today, mortgages make up nearly half of PCI's total assets.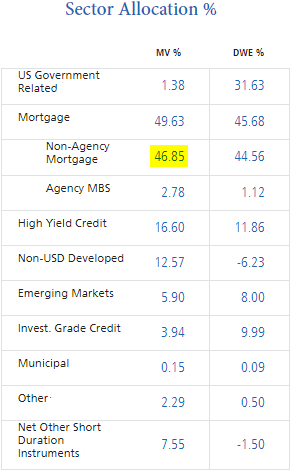 Source: PIMCO
Since March, non-agency MBS has seen a significant rally, but continues to trade below pre-COVID prices. PIMCO focuses on non-agency MBS bought at discounts to par, providing both income and capital upside.
Non-agency MBS is a difficult market for retail investors because they are not created equal. It is crucial to do the legwork to analyze the mortgages held within an MBS. This is one of the advantages of investing in MBS through PIMCO's expert team.
PIMCO focuses on MBS that they believe have a low loan-to-value. In their recent quarterly commentary PIMCO stated:
We expect senior non-agency MBS fundamentals to remain resilient in the face of slower growth and elevated unemployment as homeowner equity remains robust at 40%+, based on PIMCO calculations.

Source: PIMCO
The historic strength of mortgages comes from the relative liquidity of residential real estate and the tendency for the value of residential real estate to appreciate over time. If the borrower defaults, the lender can foreclose on the house and sell it at auction to recover their principal. Or better yet, there is enough equity in the house that the borrower is incentivized to sell it at market value and pay off the loan in full, and recover the excess equity (or cash) to help their financial situation.
Another Mortgage Crisis? Not!
We are all aware of the mortgage crisis back in 2008-2009, when foreclosures escalated, the market was flooded with houses for sale causing residential real estate to collapse and lenders were overwhelmed by the sheer number of mortgages that defaulted. MBS investments, that were historically considered safe and often had AAA ratings from the ratings agencies collapsed.
That event has impacted a generation of investors and no doubt was in the minds of many during the March collapse. Yet the indications are that mortgages and the housing market today is very different from that of 2008. Not only it is much healthier, but it is supported by strong fundamentals as we can see in the chart below.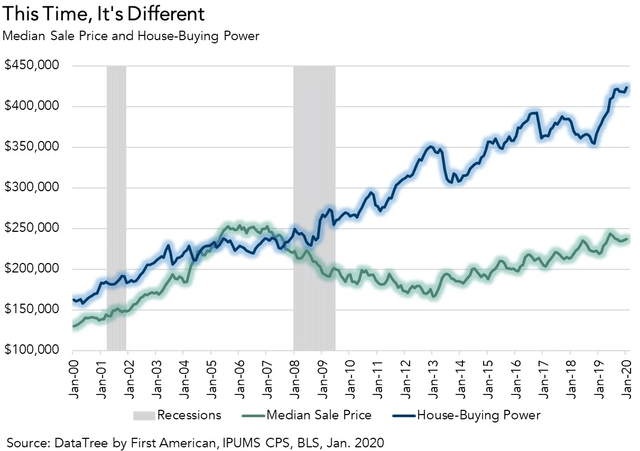 Source: First American
One measure is "House Buying Power" which is calculated by First American based on wages and interest rates. In the early 2000's, we saw consumers buying the most expensive houses they could afford, pushing up housing prices rapidly. Over the past decade, even as the median sales price for houses has recovered, it has risen much more slowly than buying power. This is important because consumers with sufficient buying power help maintain strong demand for housing. When prices drop to a "good deal" there are enough potential buyers that they will step in and buy.
We have seen similar improvement among existing mortgages, as homeowner equity reached record highs early in 2020: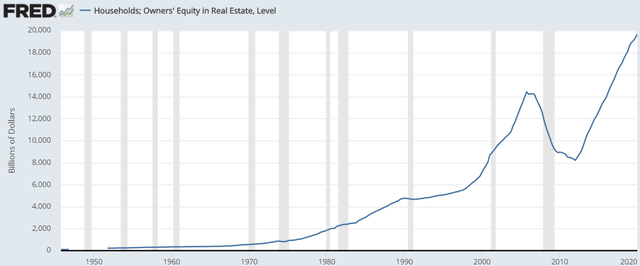 Source: St. Louis Federal Reserve
Better yet, the number of existing mortgages that were underwater – meaning that the amount they owed exceeded the estimated home value – declined 16% year over year. This is very impressive!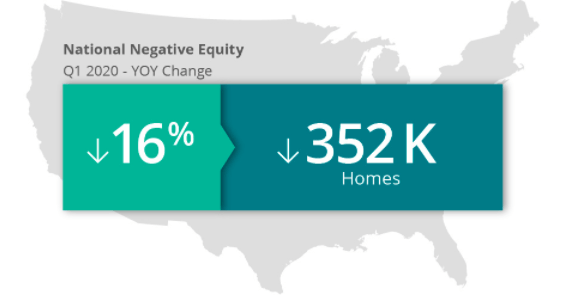 Source: Corelogic
Coming into 2020, only 352k mortgages were underwater, representing only 3.1% of all mortgages.
It is ironic that the negative outlook on mortgages comes at a time when real estate inventory is very low due to high demand for residential real estate. The supply of existing homes plummeted 21.1% annually. The July supply number is the lowest on record. This has resulted in a surge of US home prices. The median existing-home price was $304,100 in July, up 8.5% from a year ago. In fact, the month of July marks the first time ever that median home prices in the United States have exceeded $300,000. In practical terms, it means that most homeowners that have taken mortgages have more equity than what they have borrowed from banks, and probably substantially more if they borrowed years ago.
What This Means For PCI
For PCI, this means that most of its holdings are mispriced, or very much underpriced. There is plenty of buying power to support demand. The housing market remains very strong despite the impact COVID-19, and some might even argue because of COVID. Certainly, record low mortgage rates provide an incentive to buy today.
As explained above, a strong housing market will limit defaults and foreclosures. If a homeowner struggles to make payments, he can quickly sell their house at a good price, pay off his mortgage and retain a good amount of equity.
PCI is an expert at opportunistically buying MBS below par value. This means that a certain number of defaults were "priced in" to the mortgages whereby PCI's management saw a disconnect between the price and the risk. As the MBS markets are proven wrong, overestimating the likely default rates, PCI is set to realize some massive capital gains.
The current low interest rate environment is likely to persist for an extended period as confirmed by Fed Chairman Powell last week. This makes older mortgages, with higher coupons, more attractive. PIMCO believes that the housing market will remain strong and we agree. Those MBS that PIMCO bought below par could easily start trading over par to be more competitive with new mortgages being written at 3% rates.
Strong Track Record of Dividend Payments
PCI has an excellent dividend record, raising their monthly dividend from $0.1538 to the current $0.174/month over the past 5 years. In addition to that, PCI has had several special dividends including an extra $0.45 payment last year.
Since COVID negatively impacted their NAV, PCI has paid six dividends at $0.174. Yet we continue to be frequently asked about the risk of a dividend cut. We believe that the dividend will continue to be easily covered, but a special (extra) dividend is unlikely this December. In all cases, this extra dividend which is usually paid in December is not calculated within the current 11% yield, and is usually a "year-end gift" by Pimco.
Note that since April, PCI's NAV has increased considerably, despite making regular monthly dividend payments of $0.174.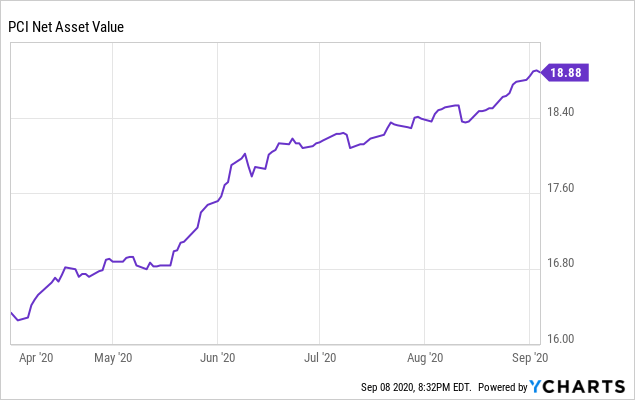 PCI ended their fiscal year in June, and for 2019 they will have $0.25 of dividends that will be recorded as "return of capital". Return of capital is a concern if it is routine and is leading to NAV falling with each dividend. Clearly, PCI's NAV has been growing, even as they are paying out dividends, since April. So in this situation, the return of capital is not destructive. We address the concept of return of capital in detail in this article.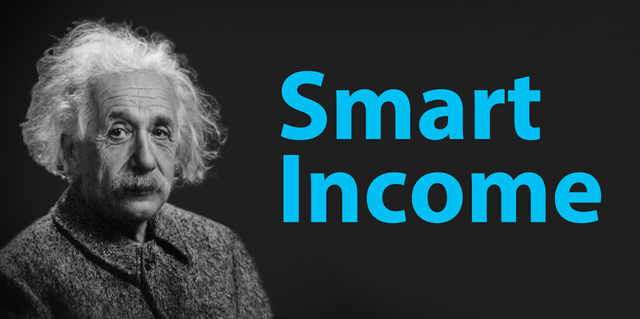 Conclusion
The housing market is hot right now, having surprised many analysts with its strength in an economic climate where everything seems impacted by COVID-19. It is strong because it has strong fundamentals and outlook. Homeowners equity is high, buying power far outstrips prices, and record low interest rates helps stimulate buying. Add to this that US house prices just hit all-time highs and housing supply is low. This creates a perfect storm for a booming housing market.
The market remembers the pain of the 2008 mortgage crisis, but is ignoring that 2008 did not come out of the blue. There was a build-up of mortgages being written at 100%+ loan-to-values, home prices were climbing at excessive speeds, and underwriting was lax. Housing was in a bubble.
Today, it is not. Consumers have been buying homes well below their buying power, they have been building equity in their homes working on paying down their mortgages, and housing prices were increasing at a very sustainable pace. Defaults are low, demand for new mortgages significantly higher, and home prices continue to increase. All this is extremely bullish for PCI, and yet it is being ignored by Mr. Market. Smart investors should be "loading up" on PCI before the price moves higher. By buying now, you are locking-in the 10.8% yield for the long term, and will be in a good position to see some nice future capital gains. PCI is one of the largest position I own in my retirement portfolio, and I believe it will be my biggest dividend stock winner. As an added advantage, the dividend is paid monthly which is great for any income investor.
Thanks for reading! If you liked this article, please scroll up and click "Follow" next to my name to receive our future updates.
Which Dividend Stocks To Buy?


High Dividend Opportunities is the #1 service on Seeking Alpha for the 5th year in a row. We are the most exciting community of income investors and retirees with over 4400 members. Our Immediate Income Method generates strong returns, regardless of market volatility, making retirement investing less stressful – simple and straightforward.
Invest with the Best! Join us to get instant-access to our model portfolio targeting 9-10% yield, our preferred stock portfolio, bond portfolio, and income tracking tools. Don't miss out on the Power of Dividends! Start your free two-week trial today!

Disclosure: I am/we are long PCI. I wrote this article myself, and it expresses my own opinions. I am not receiving compensation for it (other than from Seeking Alpha). I have no business relationship with any company whose stock is mentioned in this article.
Additional disclosure: Treading Softly, Beyond Saving, Trapping Value, PendragonY, Preferred Stock Trader, and Long Player all are supporting contributors for High Dividend Opportunities.
Editor's Note: This article covers one or more microcap stocks. Please be aware of the risks associated with these stocks.