A man initially reported as a participant in a Denver "Patriot Rally" was shot and killed by another man on Saturday near the Denver Art Museum, according to the Denver Post.  A suspect, an employee of 9News, is in custody. Early reporting suggested that the suspect was an Antifa participant in an anti-police counter-rally, however the Post has updated their report to say that the shooter's affiliation is unknown after police took issue with the initial characterization.
Video of the incident appears to show the man drawing and spraying pepper spray at a shot rang out.
Shooting Moment captured on this streamer: @stillgray @zerosum24 @KittyLists https://t.co/OPaCZmLmS9 pic.twitter.com/5Z22oWBCgA

— ChesterBelloc (@GKCinspiredCSL) October 10, 2020
Update: A Denver Post staff member witnessed the fatal confrontation. This story has been updated after authorities called into question the accuracy of that journalist's report concerning the affiliation of the shooter.

In a news conference after the incident, division Chief Joe Montoya, said police could not confirm the shooter's or the victim's affiliations, but said the incident started as a verbal altercation. Two guns were found at the scene, he said, as well as a mace can.

When asked about the 9News report, Montoya said he could not confirm any connection, only saying that the department was still interviewing witnesses. One of those witnesses was a Denver Post photojournalist.

"We're hopeful that as soon as possible we can get the factual information out as to what led to this — who the individuals involved were," Montoya said. "We're hopeful that that information will help kind of calm the waters a little bit." –Denver Post
According to The Denver Channel, several police officers in riot gear were already on the scene when the shooting occurred attempting to perform crowd control.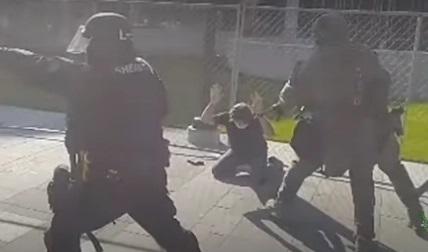 The shooting his being investigated as a homicide, while charges have yet to be filed against the suspect.