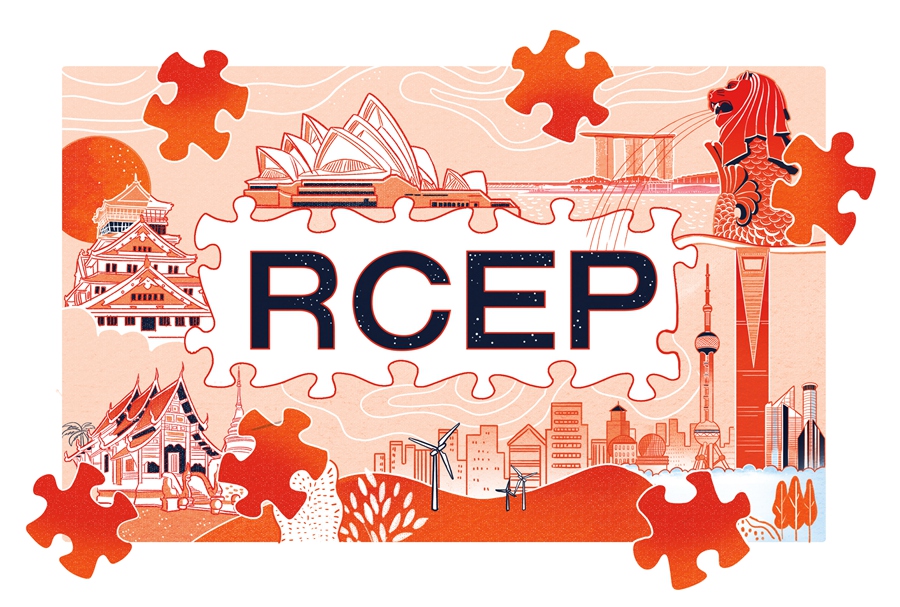 The signing of the Regional Comprehensive Economic Partnership agreement will be helpful to cut the negative impact caused by the COVID-19 pandemic on the economies of the involved parties, a senior commerce official said.
Commerce Minister Zhong Shan said as the partnership is able to cover the world's largest free trade zone, it will have great significance for all parties to ensure that this agreement can be signed within the year. He made his remarks in a speech during a video conference at the ministerial meeting on partnership negotiations held on Tuesday, according to a statement released by the Ministry of Commerce.
Zhong stressed that this move will help Asia-Pacific countries unite to respond to the challenges of the pandemic and inject strong momentum into the economic development of the Asia-Pacific region, the statement said.
Zhong suggested that all parties should fully support the spirit of partnership, resolve the remaining issues as soon as possible, and push for the signing of the partnership agreement by the end of this year.
The statement revealed that ministers participating in the meeting believe that under the current global pandemic situation, all of them should strengthen their confidence and work together to continue to facilitate regional economic integration in East Asia, boost confidence in regional economic development, and fully implement the consensus reached during the third partnership leaders' meeting last year to seal the partnership deal within 2020.
This meeting was the first ministerial meeting after the third partnership leaders' meeting in Bangkok in November 2019. It was chaired by Vietnam, which holds the rotating presidency of the Association of Southeast Asian Nations, and the ministers of economy and trade from China, Japan, South Korea, Australia, New Zealand and 10 ASEAN member states, as well as ASEAN's secretary-general, according to the ministry.