It's been a busy couple of months in the gold juniors sector (NYSEARCA:GDXJ) for preliminary economic assessments (PEA) and feasibility studies (FS) as several companies are rushing to showcase their projects at higher gold (NYSEARCA:GLD) prices. The most recent company to complete a feasibility study is Paramount Gold (NYSEMKT:PZG), a $50 million market cap junior delineating its flagship Grassy Mountain asset in Nevada, which has an After-Tax NPV (5%) of $105 million at $1,472/oz gold. While there are better projects out there on an After-Tax NPV (5%) to Initial Capex [ATNIC] ratio, the project benefits from being in a safe jurisdiction, and Paramount trades at a very reasonable P/NAV ratio. Therefore, I believe there's likely further upside here, but one has to be comfy with high-risk, high-reward investments as the sub $100 million is very speculative. I personally do not buy sub $100 million companies, so I have zero plans to start a position.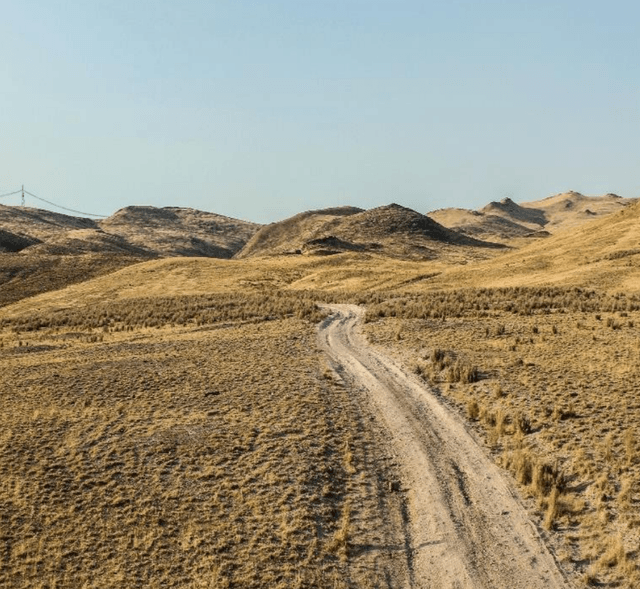 (Source: Company Presentation)
Paramount Gold is a relatively under the radar junior that's gone absolutely nowhere for years, and up until recently was trading below its 2016 lows. The lack of market interest for the stock is likely because the company's Sleeper Project in Nevada is very low grade and doesn't really turn heads. However, the study released this week focuses on the company's Oregon asset, Grassy Mountain, a high-grade proposed mine and mill located 70 kilometers west of Boise. The feasibility study builds on the pre-feasibility study (PFS) released in 2018, and it envisions average annual gold production of 47,000 ounces over an 8-year mine life. Notably, the upfront capital to push the mine into production has dropped 11% from the 2018 PFS ($111 million) to a very reasonable $98 million. Let's take a closer look at the study below: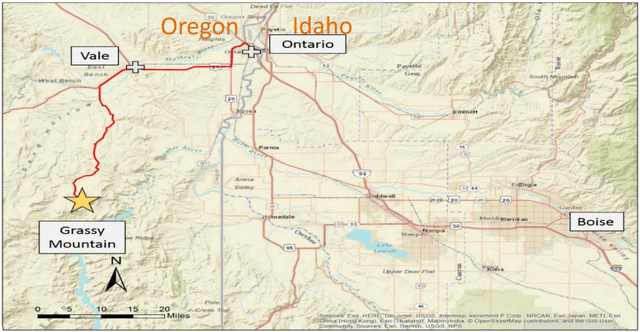 (Source: Company Presentation)
As noted above, the Grassy Mountain feasibility study supports a small-scale gold operation with total gold production of 366,000 ounces over an 8-year mine life. This represents roughly 33% of the company's 1.1 million ounce resource base at Grassy Mountain. While the production profile is pretty paltry relative to most undeveloped projects, the costs are exceptional, with average all-in sustaining costs estimated at $671/oz at sub $1,500/oz gold, and $678/oz at current gold prices. These projected cost figures are more than 30% below the industry average last year of $970/oz and would make the company one of the lowest-cost gold producers if these costs are achieved. As we can see below, the company would be ranked 7th out of 61 gold producers with a cost profile of $678/oz.

(Source: Author's Chart)
If we look at how the project stacks up from a financial standpoint and what the costs are like to build Grassy Mountain, the project also beats peers on this metric. As shown below, the upfront capital comes in at $98~ million, which is very reasonable as few undeveloped projects can be built for less than $100 million in the sector. The mine benefits from infrastructure, given how close it is to major cities, and the plant is relatively small with capacity for just 750 tonnes per day, so the costs are quite reasonable here as well. We can take a look below to see how this stacks up against other undeveloped projects owned by peers: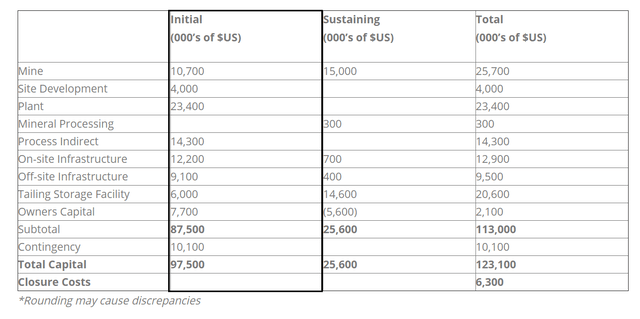 (Source: Company News Release)
As we can see in the chart below, Paramount Gold has one of the lowest levels of capex to move into production, with a cost of $98 million vs. a peer average of $111 million for small-scale gold projects. However, the company also has the smallest production profile within the group, so the very modest production profile somewhat offsets this. However, as noted earlier, this study is based on only 33% of current resources and does not include potential upside from converting resources or adding ounces at the Frost Prospect, which lies just 12 kilometers away. While these wouldn't do much to add to the production profile unless mill capacity was increased, these would have a positive effect on mine life.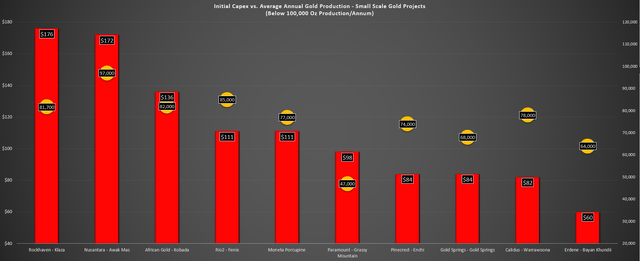 (Source: Author's Chart)
So, are there any negatives?
The one negative for the project is that it doesn't stack up great on an After-Tax NPV (5%) to Initial Capex ratio basis [ATNIC] with a ratio of 1.04 vs. a peer average of 1.49. As we can see, the two most attractive projects from an ATNIC ratio basis are Erdene Resource's (OTCPK:ERDCF) Bayan Khundii Project and Rio2's (OTCQX:RIOFF) Fenix Project. However, it's not the capex that makes the project unattractive, like in Rockhaven's (OTC:RKHNF) case; it's the low After-Tax NPV (5%) due to a small production profile. Therefore, we could see a dramatic improvement once the mine is in production if a decent amount of gold resources are converted to reserves. Paramount Gold's ATNIC ratio is based on initial capex of $98 million and an After-Tax NPV (5%) of $102 million at $1,450/oz gold.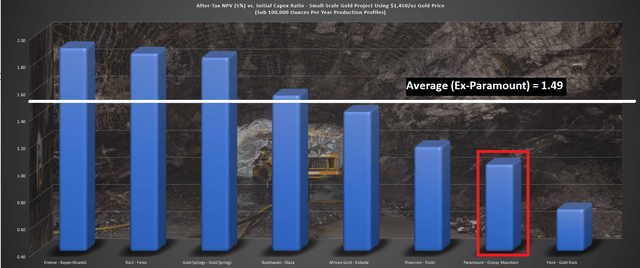 (Source: Author's Chart)
It's worth noting that the above chart is based on a $1,450/oz gold price for all projects to make sure they are apples to apples comparisons, so their economics are easy to compare. However, clearly, a $1,450/oz gold price is quite conservative, given that spot prices are currently above $1,900/oz. Therefore, if we look at the upside case here, Grassy Mountain has some impressive leverage to the gold price. As shown below, the After-Tax NPV (5%) soars to $195 million at $1,900/oz gold vs. $105 million at $1,472/oz gold. This is an improvement of 85% with only a 29% higher gold price, so both the economics and ATNIC ratio would improve dramatically if these gold prices are here to stay.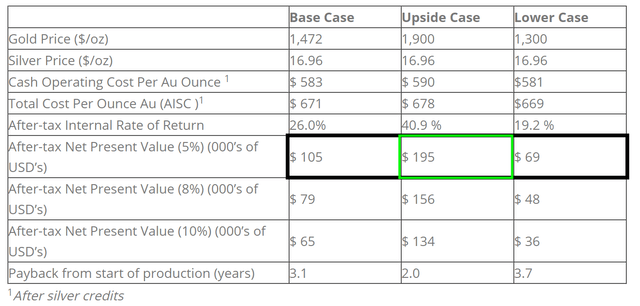 (Source: Company News Release)
So, how's the valuation look?
Based on Paramount's 39 million shares fully diluted and a share price of $1.22, the company is currently valued at just $48~ million, which pales compared to the After-Tax NPV (5%) of $195 million. This leaves the company valued at just 0.25x P/NAV and valued at an enterprise value per ounce of US$43.64 based on solely Grassy Mountain resources. Given that feasibility level juniors typically trade at 0.40x NAV or higher in Tier-1 jurisdictions, I would argue that the stock is very reasonably valued.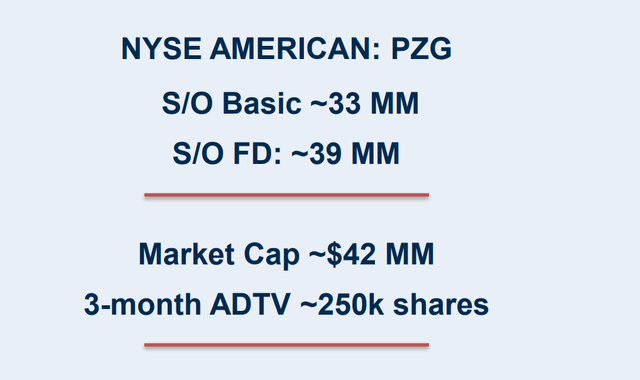 (Source: Company Presentation)
One possible reason for the discount is uncertainty around financing the project, as it won't be easy for the company to raise $98 million to build Grassy Mountain without further dilution, or the sale of a stream or royalty to help raise capital. While the latter option would reduce share dilution, it would also weigh on economics slightly and increase costs. Obviously, debt is also an option to build out the project. However, the company would have to finance a portion of the project with debt, and the majority with share capital, as it's unlikely a lender will allow Paramount to raise twice its market cap in debt. Therefore, while the capex to build out Grassy Mountain is very modest, it's not overly modest relative to its current market cap.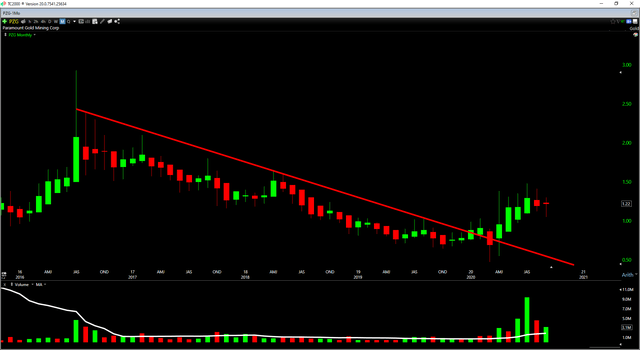 (Source: TC2000.com)
Fortunately, the technical picture looks to be improving, as Paramount has broken out of a multi-year downtrend and is seeing a surge in volume the past few months. This suggests that we're finally seeing some buying interest. It's possible that some small funds are betting on Grassy Mountain going into production and comfortable with the risk, given how reasonable the valuation was. While there's no guarantee that the stock goes higher from here, the recent breakout from the multi-year downtrend is a positive development, which has moved the long-term chart back to bullish. If this momentum could continue, this would allow Paramount to finance a portion of the capex with a high share price and some of the share dilution.
While there are much better gold projects out there in the sector, the recent feasibility study is a step in the right direction for Paramount, and lower capex relative to the 2018 study is a positive development. Even though this is a tiny project with one of the lowest production profiles in the sector, the costs are exceptional, as Paramount would have 60% plus margins at current gold prices. Therefore, while there is financing risk, I believe this is offset by industry-leading projected costs and a very reasonable valuation. For this reason, I see Paramount as high-risk, high-reward at current levels, but I am personally focused on larger projects with more attractive economics like Integra Resources (OTC:ITRG) and O3 Mining (OTCPK:OQMGF).
Personally, I do not buy sub $100 million companies, so I have zero plans to start a position.
Disclosure: I am/we are long GLD, ITGR. I wrote this article myself, and it expresses my own opinions. I am not receiving compensation for it (other than from Seeking Alpha). I have no business relationship with any company whose stock is mentioned in this article.
Additional disclosure: Disclaimer: Taylor Dart is not a Registered Investment Advisor or Financial Planner. This writing is for informational purposes only. It does not constitute an offer to sell, a solicitation to buy, or a recommendation regarding any securities transaction. The information contained in this writing should not be construed as financial or investment advice on any subject matter. Taylor Dart expressly disclaims all liability in respect to actions taken based on any or all of the information on this writing.