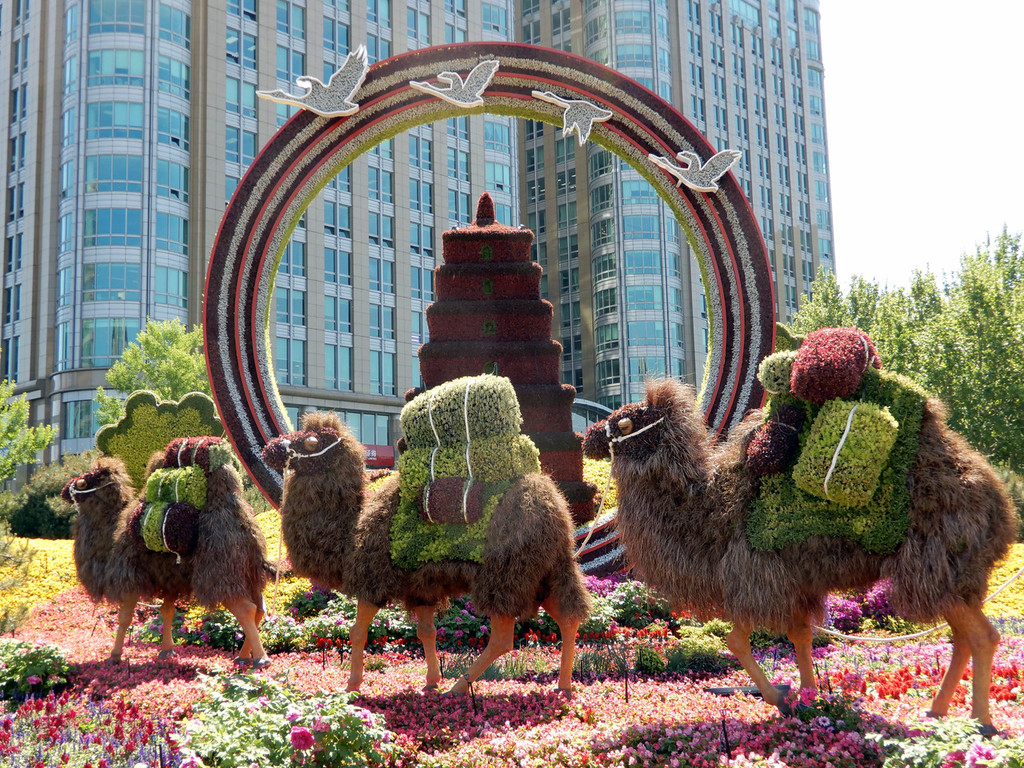 The Belt and Road Initiative has provided ample investment opportunities for outbound Chinese companies, despite stringent cross-border investment regulations crimping opportunities in several nations, according to professional services firm EY.
According to EY's latest semiannual "China Go Abroad" report released on Tuesday, China's outbound direct investment value contracted 8 percent year-on-year to $57.4 billion during the first half of this year.
But experts at EY pointed to the fact that the companies' outbound investment structure is optimizing. Despite the adverse global investment conditions, China's outbound direct investment value in the manufacturing industry increased 7.3 percent year-on-year and that in the information transmission, software and IT services sector surged 31.7 percent from a year earlier.
Despite the increasingly stringent regulations and conflicts between globalization and protectionism in Europe and the United States, the Belt and Road Initiative has spurred new international cooperation, said Albert Ng, EY China's chairman.
In this regard, the value of newly-signed overseas engineering procurement construction contracts with countries and regions participating in the Belt and Road Initiative came at $63.6 billion in the first half of 2019, up 33.2 percent year-on-year.
When it comes to Chinese companies' outbound mergers and acquisitions, only 257 such cases were reported in the first six months, down 40 percent from a year earlier. The value of these M&As totaled $20 billion, down 60 percent year-on-year and reaching the lowest level in seven years.
Europe recorded the largest ever 87 percent year-on-year decline in deal value during the first half of this year, with the value of 92 M&A cases registered in the first six months coming at $3.6 billion. Hsuan Chen, EY China Central Transaction Advisory Services leader, explained that the uncertainties regarding Brexit and stricter foreign direct investment revision in Europe Union have resulted in Chinese companies' more prudent investment attitude toward this destination.
Due to the increasing geopolitical risks, the M&A cases' value registered in North America also slumped 72 percent year-on-year during the first six months.
But on the other hand, the value of the M&A cases jumped 22 percent year-on-year in Asia, which can be largely attributed to the BRI. Australia became the top M&A destination during the first half of this year, with the total deal value amounting to $3.8 billion. Its advanced technology and well-established elderly healthcare system are much favored by the Chinese investors, explained Chen.
Looking ahead, Jesse Lyu, global tax leader of EY China Overseas Investment Network, suggested Chinese companies to keep an eye on the investment opportunities related to mechanical and electrical products, industrial chemical products and instruments in South Korea and Japan.
They should also look for opportunities related to mining and metals in Australia, Russia and Brazil to further secure supply chains of strategic natural resources, said Lyu. Investment opportunities related to automotive and transportation in Germany and Japan should also be noted in order to deepen companies' roles within the value chains, he said.