Update (0808ET): Alright New Yorkers, are you ready for a tropical storm this weekend?
Tropical storm warnings have been posted from Maryland to Deleware to New Jersey to New York City as Tropical Storm Fay moves into the Mid-Atlantic region on Friday morning. 
At 0500ET, the National Hurricane Center said Fay is sustaining winds around 50mph, about 25mph shy of becoming a Category 1 hurricane. 
Radar and satellite imagery suggest Fay has become more organized on Friday morning than it did Thursday. 
Tropical storm warnings have been issued for the U.S. coast from New Jersey to Rhode Island after #Fay formed off the North Carolina coast.

It's the earliest 6th-named storm on record, according to @ColoradoStateU pic.twitter.com/KQdLXpvGys

— Bloomberg QuickTake (@QuickTake) July 10, 2020
Weather models show the tropical storm could make landfall in New York City late Friday evening.
Winds are not expected to be a major issue unless the storm significantly strengthens in the next 12 hours. However, torrential rainfall could be seen, some areas in or around the city could see 3 to 5 inches in the overnight hours – some places could see upwards of 7 inches. The big risk at the moment is flash flooding. 
Tropical Storm Fay is the earliest sixth-named storm on record. And the 2020 Hurricane Season is only getting started!
*  *  *
Update (1921ET): Weather models suggest Tropical Storm Fay could strike New York City on Saturday. 
*  *  *
Chances are, as early as Thursday, the 2020 hurricane season could get its sixth tropical system – now forming offshore of the North Carolina Outer Banks and likely headed to New York City. 
Earlier this week, the National Hurricane Center (NWS) had a 70% probability the storm would develop into a tropical system. If that is the case, within the next 24-hours, winds would have to sustain 39 mph to become Tropical Storm Fay.
NWS Weather Note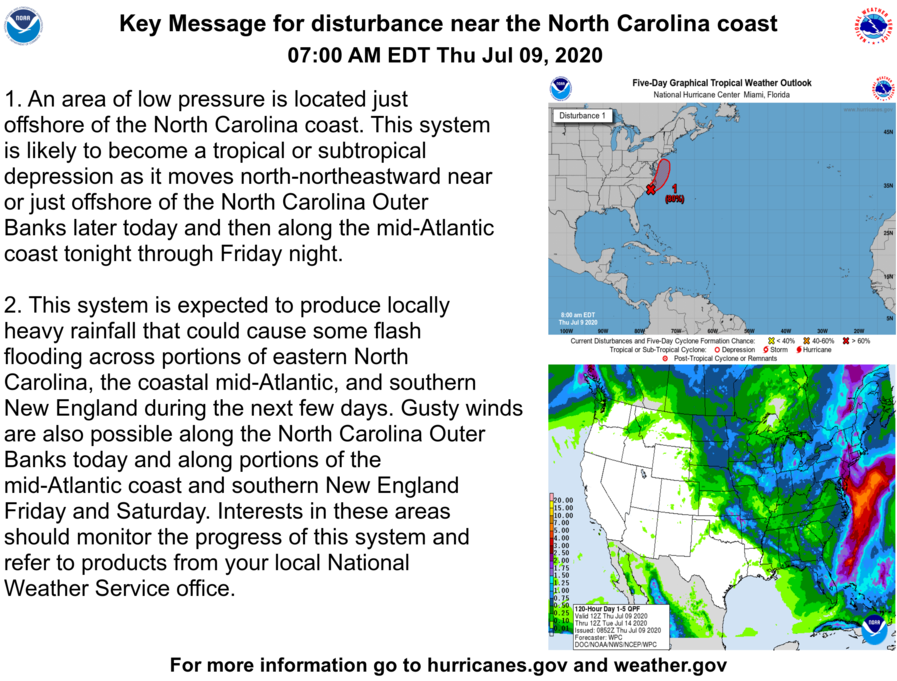 "Environmental conditions are expected to be conducive for development and a tropical or subtropical cyclone is likely to form within the next day or so," NWS said. 
The system began forming over the Florida Panhandle on Monday. Several weather models suggest the storm could track up the East Coast in the coming days, eventually striking New York City. 
"We've been watching the center of this system move across Georgia and the Carolinas for a few days now," CNN meteorologist Taylor Ward said. "As the center moves offshore of North Carolina and hugs the coast, it will be able to tap into the warm waters of the Gulf Stream and could become a tropical storm."
Tropical Weather Models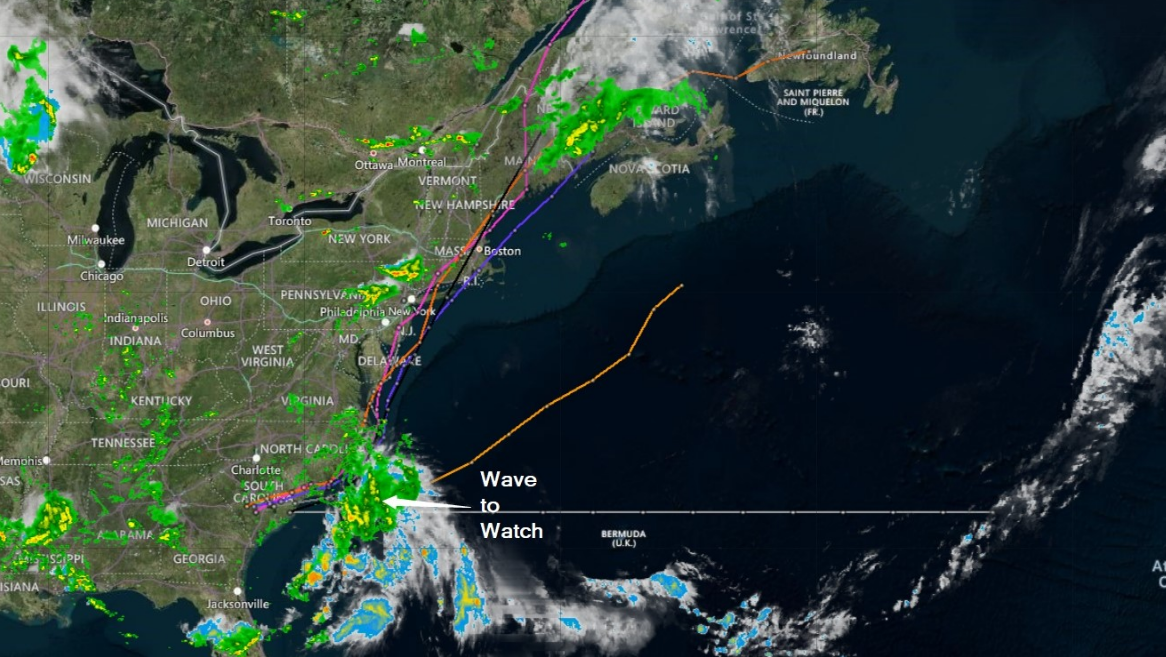 "Residents along the mid-Atlantic and Northeast coasts should expect conditions similar to a Nor' easter," said Ward. "Bands of rain and gusty winds will bring the potential for coastal flooding, beach erosion and rip currents from Thursday to Saturday."