In my last article on Nvidia (NVDA), I discussed the huge leap forward in GPU technology marked by the launch of the GeForce RTX 30 Series. Only a few days later, NVDA announced the biggest chip deal in history with its $40B purchase of ARM from SoftBank (OTCPK:SFTBY). To my surprise, the reactions of the analysts to first publish articles on the deal here on Seeking Alpha were neutral and very bearish. Likewise, the most recent article on Advanced Micro Devices (AMD) is very bullish.
Obviously, I disagree with this sentiment. The ARM purchase entirely changes the future of Nvidia and could easily stifle AMD in several ways. So, today, I wanted to give my own take on the deal, why it's good for NVDA, and why it's a particularly large threat to AMD and other direct competitors.
Moving to Mobile
Let's start with Nvidia CEO Jensen Huang's main reasoning for the ARM purchase:
"There are three reasons why we should buy this company and we should buy it as soon as we can. And the reason for that, number one is this, as you know, we would love to take NVIDIA's IP through ARM's network."
Reading between the lines, Nvidia wishes to leverage the ARM network to push their GPUs into the mobile market. This interpretation makes complete sense once you understand ARM's importance in the mobile SoC (system on a chip) market. In short, pretty much the entire mobile market runs on ARM IPs – both its CPUs and GPUs.
ARM licenses its CPU and GPU to mobile chip companies. ARM's GPU unit – called Mali – is used by the majority of the market. Most smartphone companies see little reason to use anything but Mali GPUs in their SoCs because the ARM license for its CPG is bundled with Mali. Thus, paying for ARM's CPU IP, which is considered essential for smartphones due to its better power efficiency (compared to, say, an x86 architecture), gives you free access to the ARM GPU IP, and this that whenever you see an ARM CPU in an SoC's specs, you almost always will also see a Mali GPU.
With the purchase of ARM, Nvidia could easily leverage the ARM license deals in its favor. One method would be by uncoupling the ARM CPU and GPU IPs and instead offering an Nvidia GPU in the aforementioned bundle. This would probably occur at higher (and incrementally increasing) licensing fees. This push for Nvidia GPUs over Mali would shake up the entire mobile chip environment.
Bad for AMD
The first effect would be pushing competitors out of the market. For example, unlike Apple's (AAPL) recent shift to ARM, which I called a blessing in disguise for AMD, Nvidia's recent ARM-focused action is bad news for AMD. Nvidia could push AMD's GPUs out of the mobile market. Samsung's (OTC:SSNLF) upcoming Exynos SoC GPU is being developed by AMD.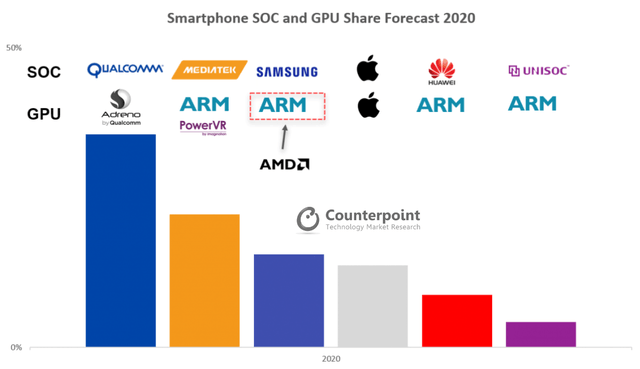 Nvidia is likely to put a stop to the AMD ARM GPU. A few possibilities exist. For example, Nvidia could deny AMD the license. It could make the license deal with AMD unreasonably expensive. It could step in and offer Samsung a better deal. But the main reason I believe the Samsung-AMD deal will end is simply the threat of these aforementioned reasons. I discuss this more below; essentially, AMD cannot responsibly continue its reliance on ARM for its GPU deal with Samsung as that would not only make it reliant on Nvidia's goodwill but also means that it is funneling its money to its direct competitor, which is a clear opportunity cost.
Nvidia's ARM purchase could also put Qualcomm (QCOM) and PowerVR in danger. Smartphones SoCs aiming for ARM CPUs will see a heightened incentive to get Nvidia GPUs on the cheap. Moreover, as Nvidia GPUs begin eating up the mobile market share, more companies will be driven to code in CUDA, a free software platform released by Nvidia allowing for coding with Nvidia – and only Nvidia – GPUs.
Controlling

ARM License Deals
As mentioned above, Nvidia's ownership of ARM puts it in control of ARM license deals. Nvidia could simply refuse to provide ARM licenses to companies it deems to be in direct competition. In fact, the mere possibility of this is enough of a threat to force Nvidia competitors to leave certain markets. For a company to be reliant on the goodwill of Nvidia to continue providing ARM licenses is a liability, and for the sake of its shareholders, other options will certainly be considered.
Then, there is the licensing fee issue. SoftBank only barely made back its investment on its purchase of ARM via its licensing fees (ARM's primary revenue stream), but in the hands of Nvidia, these licensing fees are worth more than their tiny ROIs. Nvidia's ARM-reliant competitors now must "pay a tithe." Money moving from one competitor to the other – all things being equal – is a change in the market that clearly benefits Nvidia while hurting Nvidia's rivals.
AMD's reliance on ARM technology now puts a sizable portion of its licensing spending into a river flowing directly to its direct competitor in the GPU market, essentially partially funding its opposition. This cash flow is clearly bullish for Nvidia, bearish for AMD, and might even result in AMD abandoning ARM for something like RISC-V, an act that would be bearish in at least the short term for AMD due to the investment required.
Moreover, we could see Nvidia produce ARM-based CPUs on the cheap in the near future, effectively entering the ARM CPU market to compete with AMD (and Intel (NASDAQ:INTC)) on two fronts. Nvidia would not need to pay for ARM licensing, giving it an edge. This could allow Nvidia to enter new markets. One obvious market is the datacenter market, in which it can undercut its competitors, possibly pushing bundled deals with its highest-margin products and even offering its main moneymaker, GPUs. This, again, is bearish for AMD, as AMD has been hitting the datacenter market hard as of late.
Nvidia: Opening New Doors and Trade Implications
The purchase of ARM truly does open new doors for Nvidia in ways it did not for SoftBank, and this is mainly because of Nvidia's already profitable GPU market. Nvidia did not spend $40B cash and stock for ARM's measly licensing profits. The company clearly plans to leverage its ownership of ARM and ARM's licensing deals to further spread Nvidia's IP, as Jensen Huang said himself. This is the biggest chip deal in history for a reason.
While I was previously merely bullish on NVDA, I am now additionally bearish on AMD. However, AMD is still a strong company that has overcome adversity in the past. I've written quite a bit about AMD's overtaking Intel in the CPU market. As long as NVDA doesn't push too far into the CPU game, AMD's main concerns with NVDA are in its continued domination in the tech side of GPU game and the threat of strongarming possibilities in the ARM CPU game (especially in mobile, as described at the beginning of this article).
Nevertheless, the ARM acquisition overall poses a huge threat to AMD, and I'd highly suggest at least running a pair trade if you're investing in the chip sector, with NVDA the long leg and AMD the short leg. In a pair trade, you hedge market/sector risk by going long one stock and short another, both stocks being sector players. The long leg is the company you believe will outperform, while the short leg is the company you believe will underperform. As per my thesis above, the long leg and short leg should be NVDA and AMD, respectively.
If you are not worried about market risk, however, I suggest overweighting NVDA and underweighting AMD. A bolder investor might even decide to ditch AMD entirely in favor of NVDA.
Exposing Earnings is an earnings-trading newsletter (with live chat). We base our predictions on statistics, probability, and backtests. Trades are recommended with option strategies for the sake of creating high-reward, low-risk plays. We have 89% accuracy for our predictions in 2019.
– Upcoming Earnings Plays: AZO, ORCL, MU, CAMP, LQDT
Check out my methodologies in these four videos.
If you want:
A definitive answer on which way a stock will go on earnings…
The probability of the prediction paying off…
The risk/reward of the play…
A well-designed options strategy for the play…

…click here to see what Exposing Earnings members are saying.
Disclosure: I/we have no positions in any stocks mentioned, and no plans to initiate any positions within the next 72 hours. I wrote this article myself, and it expresses my own opinions. I am not receiving compensation for it (other than from Seeking Alpha). I have no business relationship with any company whose stock is mentioned in this article.