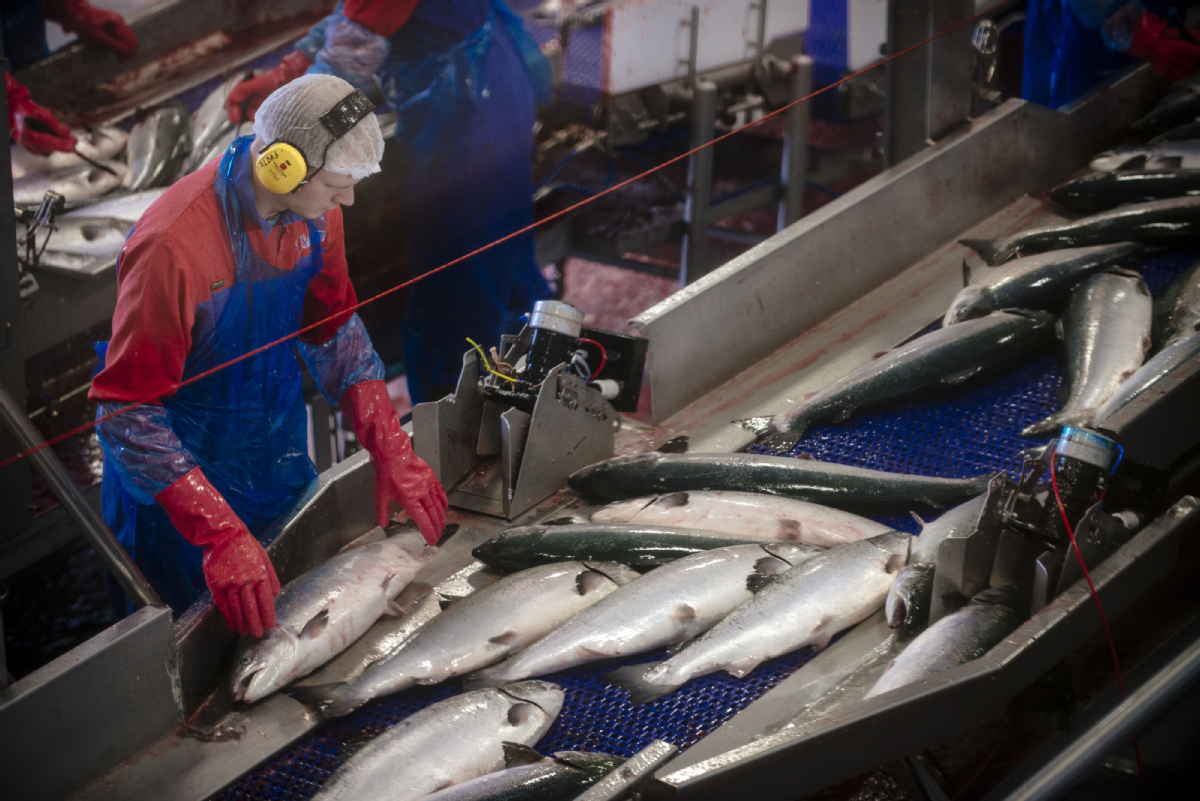 Norway's seafood exports to China are projected to continue growing strongly, as the two countries have been making good progress on consultations for a free trade agreement, a Norwegian official said.
"China is Norway's most important trading partner in Asia, and I am pleased with the positive development in our seafood exports to this market," Harald Nesvik, the Norwegian minister of fisheries and seafood, said at a recent news conference.
"During my time visiting China, I have observed the close collaboration between the Norwegian and Chinese seafood industries, and I look forward to seeing the long-term growth of seafood trade between our two countries," he said.
Nesvik said there's been "very good progress" in Norway-China FTA consultations. He did not elaborate further.
Official data showed Norwegian seafood exports to China are gaining momentum, and China has now become the fastest-growing market for Norwegian seafood this year.
At the end of the third quarter, total Norwegian seafood exports to China reached nearly 112,000 metric tons, an increase of 14 percent year-on-year, according to the Norwegian Seafood Council, a public company owned by the Norwegian Ministry of Trade, Industry and Fisheries.
Led by fresh salmon, sales of which climbed 92 percent in the first nine months of the year, Norway has seen steady development across all seafood export categories to the Chinese market, including Norwegian arctic cod and mackerel. "Our surveys show that Norway is a most preferred seafood origin among Chinese consumers. From the cold clear waters of Norway, seafood from Norway will continue to satisfy the appetites of Chinese consumers," said Victoria Braathen, director for the Chinese mainland and Hong Kong with the Norwegian Seafood Council.
In November, the NSC presented at the second China International Import Expo along with Norwegian seafood firms, where they showcased a selection of seafood products. The CIIE ran from Nov 5 to Nov 10 in Shanghai.
China's enhanced endeavors in opening the market wider, such as hosting the CIIE, will generate fresh opportunities for global companies to expand in the promising market, said Bai Ming, deputy director of the international market research institute under the China Academy of International Trade and Economic Cooperation.
Nesvik said China's economic growth rate remains higher than many other countries and the minister said he believes there will be fresh opportunities in the world's second largest economy when asked about China market's potential given the current uncertainties in the world economy.
As for the tide of protectionism, he said: "It's better for nations to trade with each other, rather than building walls against each other."
Nesvik said he hopes countries can open up for trade instead of closing the door, because "trade wars between big nations are going to influence all of us".