Following the completion of NIO's (NIO) latest fundraising round, the NIO story appears to be vastly more compelling in my view. Admittedly, at a $27 billion market capitalization (at the time of writing), the valuation case isn't quite as clear-cut as it was when I last covered the stock. But on a relative basis, I still like NIO relative to its peers – not only has it turned cash flow positive, but it also has range of growth and margin levers available to tap into. Long-term investors willing to ride out the volatility will find a lot to like here, in my view.
NIO Leads the Upturn in Chinese EV Sales
According to China Passenger Car Association (CPCA) data, NEV sales rebounded strongly in July, with passenger NEV wholesale volumes rising 28.3% YoY to ~83k units. Electric vehicles (EVs), in particular, outperformed at +37% YoY, with hybrids also gaining ~36% YoY, offsetting weakness in plugin sales (down ~7% YoY).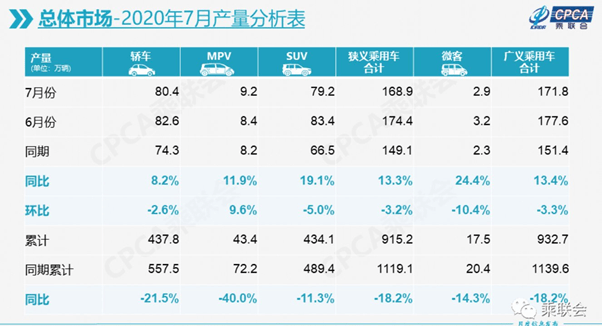 Source: @DKurac via Twitter
This came as a surprise, given the sector is still recovering from previous subsidy cut pressure and the coronavirus impact. Yet, the prospect of a revised dual-credit policy should provide some cushion, with the price of NEV credits expected to rise, further boosting NEV sales.
Crucially for NIO, it is also posting strong share gains, alongside Tesla (NASDAQ:TSLA) China and Lixiang Auto, delivering 3.5k units in July (+322% YoY), and 4.0k deliveries (+104.1% YoY) in August. With 2.8k ES6 deliveries, the model continues to make inroads into the list of China's top-selling EVs (the ES6 commanded an ~3% share in July).
2Q20 Sees Encouraging Progress Toward Breakeven
NIO's quarter was similarly strong, with revenue at RMB 3.7 billion and gross margins inflecting positively at 8.4% (relative to prior guidance of 3%). The key highlight for me, though, was NIO's vehicle-level gross margins reaching 9.7% for the quarter, a significant 4.7 percentage points above prior guidance.

Source: NIO Earnings Release
Expenses also trended positively, with opex largely under control thanks to ongoing cost control initiatives. Of note, R&D and selling general and administrative expenditures stood at RMB 545 million and RMB 937 million, respectively, which was only a slight uptick from the prior quarter's suppressed levels. Nonetheless, the overall operating expense ratio was healthy at 39.8%, driving a narrowing in the net loss to ~RMB 1.2 billion from the RMB 1.7 billion net loss in 1Q.

Source: NIO Earnings Release
Also worth mentioning was NIO's improving cash flow position – a direct result of NIO's efforts in obtaining more favorable terms from suppliers. For instance, management obtained an extension in credit terms from 60 to 90 days and successfully negotiated non-cash payment methods. On the other side of the equation, NIO's direct sales model also drove earlier cash collection, driving favorable working capital shifts. While bears might argue that the positive working capital impact is transitory, I would contend that NIO's significantly improving gross margin trajectory should further enhance its cash flow position in the upcoming quarters.
The key driver behind my optimism lies in NIO's order intake for the EC6, which not only came in well above expectations but also saw limited cannibalization of the incumbent ES6 model. Now, given the EC6 and the ES6 share the same platform, and the EC6 commands a premium, incremental sales of the EC6 should prove margin accretive. Additionally, deliveries of the EC6 coupe (which boasts a strong backlog to date) in late-September could catalyze further improvements from here.
Potential Upside Surprise to a Cautious 2H Guide
Somewhat surprisingly, NIO's guide for 3Q was fairly conservative – management called for 11,000 to 11,500 deliveries, which would imply an 11% QoQ increase at the top end. This seems conservative, given the strength of July deliveries at +322% year over year. Additionally, the gross margin guidance for 3Q stood at 'over 10%,' which, given 2Q numbers (9.7% vehicle gross margin), seems well within reach. Key margin drivers range from lower manufacturing costs, savings from battery and non-battery component costs, as well as a more favorable mix.
Looking ahead to 4Q, monthly deliveries are guided to reach 5,000 on the back of the planned EC6 ramp, in addition to ~2,500 to 3,000 ES6 monthly deliveries. The numbers seem feasible, given the targeted JAC Anhui capacity expansion towards 4,500 to 5,000 monthly units by end-August. This should help relieve supply constraints and fulfill the EC6 order backlog, with >40,000 units on the cards for end-FY20. On the back of the top-line strength, I am also expecting further improvements to the gross margin, with ~15% likely by 4Q, by my reckoning.
Additional Upside from EV Credits and BaaS Transition
Another potential source of upside for NIO could be the updated dual credit policy in China, which has, thus far, driven a notable price increase in NEV credits. Given NIO generated ~100,000 in EV credits in FY19, it should benefit from ~RMB 120 million in revenue, at the current per-vehicle market price. Should the company sell these credits in 2H, FY20 gross margins should benefit as well, with further upside likely in FY21 as well (management anticipates ~200K in additional credits this year).
I also think the shift toward a BaaS model could prove highly accretive. It offers customers the option to lease the battery separately from a battery asset management company, potentially boosting volumes through lower upfront prices, while also allowing for enriched service content with regard to battery/financing. As of end-2Q, NIO had 142 battery swap stations in operation, with plans to further expand coverage going forward.
I also like that NIO is thinking longer term with its autonomous driving initiatives – NIO plans to ramp its 200-strong team dedicated to advanced driver assistance systems (ADAS), with a new Navigate on Autopilot (NOP) functionality also set for release in 2H. Per management, the focus will be on freeing up time on the road and reducing the rate of accidents. While management did not disclose specifics around pricing, incremental add-ons like the NOP serve as potential levers for margin expansion over the long term.
Living up to the 'Tesla of China' Billing
There's been no shortage of hype around EVs of late, but in NIO's case, at least some of it is well deserved. With a meaningful pickup in new model launches set for 4Q, along with a capacity ramp and a range of margin levers at hand, I see ample upside potential ahead for NIO. Though the recent capital infusion adds complexity to the ownership structure, cash is cash, and the fortified balance sheet, as well as the presence of a state backstop, significantly de-risks the NIO case, in my view.
Disclosure: I/we have no positions in any stocks mentioned, and no plans to initiate any positions within the next 72 hours. I wrote this article myself, and it expresses my own opinions. I am not receiving compensation for it (other than from Seeking Alpha). I have no business relationship with any company whose stock is mentioned in this article.