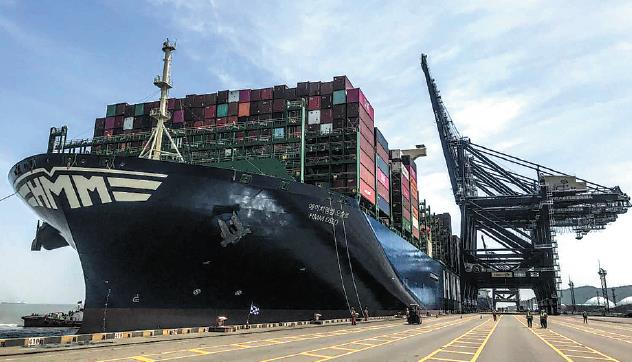 Coastal city charts diversified plans to cushion against pandemic woes
Exporters in Ningbo, a coastal city in East China's Zhejiang province and a traditional foreign trade hub in China, have been tapping new trading platforms to boost their trade volume with the help of the local government, despite stagnant foreign dealings in countries and regions worldwide being locked down due to the COVID-19 pandemic.
"We had a fruitful talk and negotiation with foreign purchasers for further business cooperation, and presented a variety of sanitary products at the event, including face masks and forehead thermometers," Dong Fangxia, a sales manager from Yinzhou Xiyu Import & Export Co Ltd in Ningbo, told China Daily.
Dong was describing a recent online exhibition in April for anti-epidemic products that her company attended. Hosted by the local commerce bureau, the event aims to launch a new platform for local exporters to better connect with the outside world, hoping to help local exporters deal with their sales and marketing issues.
The city's commerce bureau said a total of 42 purchasers from more than 20 countries and regions had direct online talks and consultations with suppliers based in Ningbo through the online exhibition.
Home to more than 20,000 foreign trade enterprises, Ningbo saw a decrease of 10 percent in imports and exports in the first quarter of 2020 due to the novel coronavirus outbreak worldwide.
To help companies cope with the difficulties caused by the disease, the Ningbo government released a slew of policies to support foreign trade and spur economic growth on March 30. Besides a financial relief fund totaling 200 million yuan ($28.01 million), foreign trade companies in the city are able to get support from 10 items which include Customs clearance and insurance.
After all these efforts, the city's foreign trade sector saw a slight increase in April with a growth rate of 0.1 percent in imports and exports.
The foreign trade value stood at 76.72 billion yuan in April. Notably, exports rose 8.7 percent year-on-year to 50.32 billion yuan, outpacing both the provincial and national averages.
Wang Xungang, a staff member in charge of the export business at Ningbo Asia Pulp & Paper Co Ltd, said the company has experienced steady growth with export value reaching $173 million in the first four months of this year, up 27.12 percent year-on-year.
In a separate development, the HMM Oslo, one of the world's largest container ships, docked last Tuesday at the Daxie port area of Ningbo-Zhoushan Port. It is the world's largest port by throughput volume for 11 years in a row.
The cargo handled at Ningbo-Zhoushan Port in 2019 reached 1.12 billion metric tons, making it the world's largest port by throughput volume for the 11th consecutive year, statistics from the Zhejiang Harbor and Shipping Administration showed.
Measuring 400 meters in length, 62 meters in width and 33 meters in height, the HMM Oslo has a maximum tonnage of 225,000 tons and can accommodate up to 23,820 TEUs (twenty-foot equivalent units).
Xiang Wenjian contributed to this story.