As one of the most liquid ASX-listed gold names, Newcrest Mining (OTCPK:NCMGF) may screen as an ideal candidate for a defensive portfolio hedge, but I do have some concerns heading into fiscal 2021. While fiscal 2020 numbers largely lived up to expectations, the more challenging outlook for Lihir, for instance, could see the achievement of the 1Mozpa target delayed further. Admittedly, NCM does have a strong resource base and a compelling set of growth opportunities available, but the realization of value from these opportunities will likely prove to be a long-dated, costly proposition, complete with execution risk. Additionally, incremental exposure to Papua New Guinea through the Wafi project adds geopolitical risk to the mix. At c. 13x trailing EBITDA, shares appear to be fully valued.
Gold Prices Buoy Fiscal 2020 Results
NCM posted a solid top line for the fiscal year, with $3,922 million in revenue, the vast majority of which came from gold sales of 2.143Moz, with an average price of $1,530/oz. The increase in gold prices contributed positively to revenue, despite a c. $82 million impact from hedging (Telfer).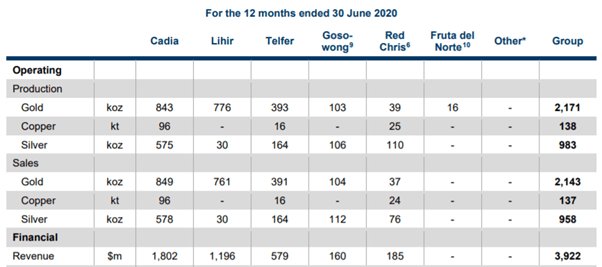 Source: Fiscal 2020 Results Release
EBITDA was also solid at +10% Y/Y, reaching $1,835 million at a 47% margin. The c. 2%pts in EBITDA-level margin expansion was primarily due to Cadia, which led the way at a 71% EBITDA contribution, followed by Lihir at 25%. This led to statutory net profit after taxes of $647 million, up considerably on a Y/Y basis. I would note, however, that the number does not account for several one-off items, including a c. $57 million write-down on the Gosowong divestment, c. $47 million in finance costs from an early bond repayment, and c. $11 million from transaction and integration costs.

Source: Fiscal 2020 Results Release
Investors will also draw much comfort from the leverage ratio (net debt/EBITDA), which is well below the <2x target post-capital raise (recall the prior fundraise for the $460 million Fruta del Norte acquisition, which left c. $311mn on the balance sheet after fees). As of end-fiscal 2020, net debt stood at $624 million, which would imply a 0.3x leverage ratio, relative to $3.5 billion of liquidity (> $1.5 billion in cash). Getting to the 2x target would imply an incremental c. $4 billion in funding to support growth.

Source: Fiscal 2020 Presentation
Finally, the dividend was also solid at 17.5 cents per share (on a fully franked basis), well above consensus, and bringing the full-year distribution to $0.25 per share. This compares to underlying fiscal 2020 free cash flow (excluding acquisitions) of $670 million, implying a c. 3% FCF yield.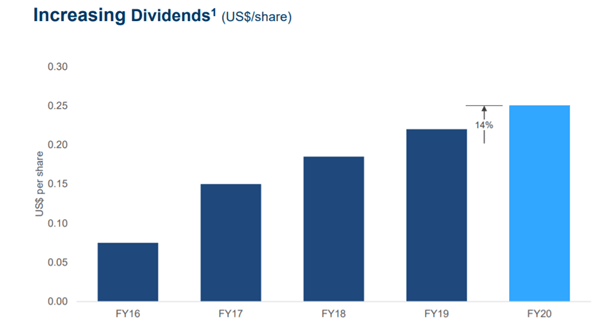 Source: Fiscal 2020 Presentation
Cadia Outlook is a Concern
Cadia did deliver a solid fiscal 2020 result, with a record 31.7Mtpa from panel cave extractions and 34.1 Mtpa in processing for the June quarter to drive the fiscal beat. Yet, recovery remains just below the 80% gold aspiration, despite encouraging progress thus far. Going forward, however, further success will be needed to sustain recoveries, especially considering the declining grade of the orebody. For now, Cadia will benefit from higher gold prices (free cash flow reached $991 million under a significantly lower gold price than current levels), despite a lower Y/Y production outlook.
Admittedly, management has been active on the M&A front – acquisitions such as that of Red Chris (Canada) offer new opportunities to offset production once Cadia grade (and therefore, production) begins to decline more steeply (likely from 2023 or so). Encouragingly, initial studies have been positive, with evidence of a higher-grade core offering NCM optionality around the mining process, timing, and capital expenditures required for production.
Challenges at Lihir Also Weigh on Fiscal 2021
Looking ahead, however, gold production guidance for fiscal 2021 lies within the 1,950 to 2,150 koz range, with All-in Sustaining Cost (AISC) guidance at $1,800-$1,950 million. Meanwhile, the guidance for copper production stands at 135 to 155kt, implying a higher cost on the back of lower-than-expected grades at Lihir. Including $35-$45 million for Havieron and $30-$40 million for Red Chris, growth capex stands at $580-$690 million.

Source: Fiscal 2020 Results Release
While the near-term drop in grade from 2.6g/t to 2.3 to 2.4g/t (FY21-FY23) at Lihir will weigh on results in the short term, I would emphasize that the grade increases later in the decade, with 2.9-3.0g/t in fiscal 2027-2029. In the interim, however, the average grade is still c. 2.6g/t. There could be room for further optimization (with capex), by bringing grades forward, but this will depend on the outcome of the seepage barrier feasibility study due by end-fiscal 2021.
Overall, this entails more conservatism is needed at Lihir, with the achievement of the 1Moz target likely pushed back by a couple of years. I would also note that the production guidance did not specifically include any allowance for COVID–19-related interruptions. Therefore, the risk appears to be to the downside, as any potential sourcing or logistics issues could weigh on fiscal 2021 results.
Wafi-Golpu Presents an Added Risk to the Outlook
While Wafi-Golpu is often cited as a key part of NCM's organic growth strategy, I am concerned that it still remains without a Special Mining Lease. Management did acknowledge on the conference call that it remains committed to the project and to the country, but there remains a lot of unanswered questions. Optimists will point to Lihir, which has demonstrated its social license to operate with a sound community and government engagement. But if the PNG Government's effective nationalization of Barrick/Zijin's Porgera mine on the non-renewal of its mining lease is any indication, increased exposure in PNG presents added geographic risk to the NCM outlook.
Valuation Appears to Be Full at Current Levels
Overall, fiscal 2020 will go down as a good year, with the sizable earnings and dividend beat particularly notable. The balance sheet is also strong despite the acquisition-heavy year, although I would note that this is largely down to c. $300m entering the balance sheet following the recent capital raise for the Fruta del Norte acquisition.
The near-term outlook, however, appears to be a concern, with Lihir's challenges persisting beyond the current year, and likely delaying the achievement of the 1Mozpa target. Bulls may cite the portfolio of organic growth opportunities available, but the value creation process will not only take time but also consume significant capital expenditures, while also adding to execution and geographic risks. Shares currently trade at c. 13x trailing EBITDA, which represents a premium to other large producers. With plenty of risks on the horizon, I view the valuation as full at these levels.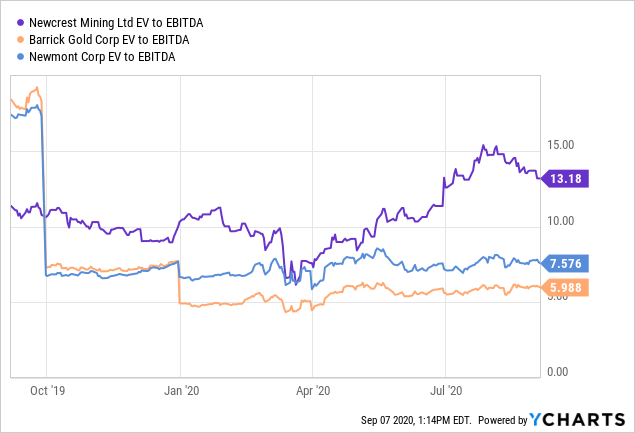 Disclosure: I/we have no positions in any stocks mentioned, and no plans to initiate any positions within the next 72 hours. I wrote this article myself, and it expresses my own opinions. I am not receiving compensation for it (other than from Seeking Alpha). I have no business relationship with any company whose stock is mentioned in this article.