Netsreit (NTST) is a recent net lease REIT IPO that may be flying under the radar. That's a shame because its portfolio appears to be of high quality, deserving of a premium multiple. While the analysis of financial results is a little messy due to the substantial capital raise from the IPO, the forward dividend yield suggests that shares are materially undervalued. I rate shares a buy with at least 25% total return upside.
Agree Realty 2.0?
When I look at the portfolio of NTST, I can't help but think of Agree Realty (ADC), the true "best-in-class" net lease operator as determined by investment-grade exposure. NTST may be able to give ADC a run for its money, as its 64% narrowly beats the 61% exposure at ADC: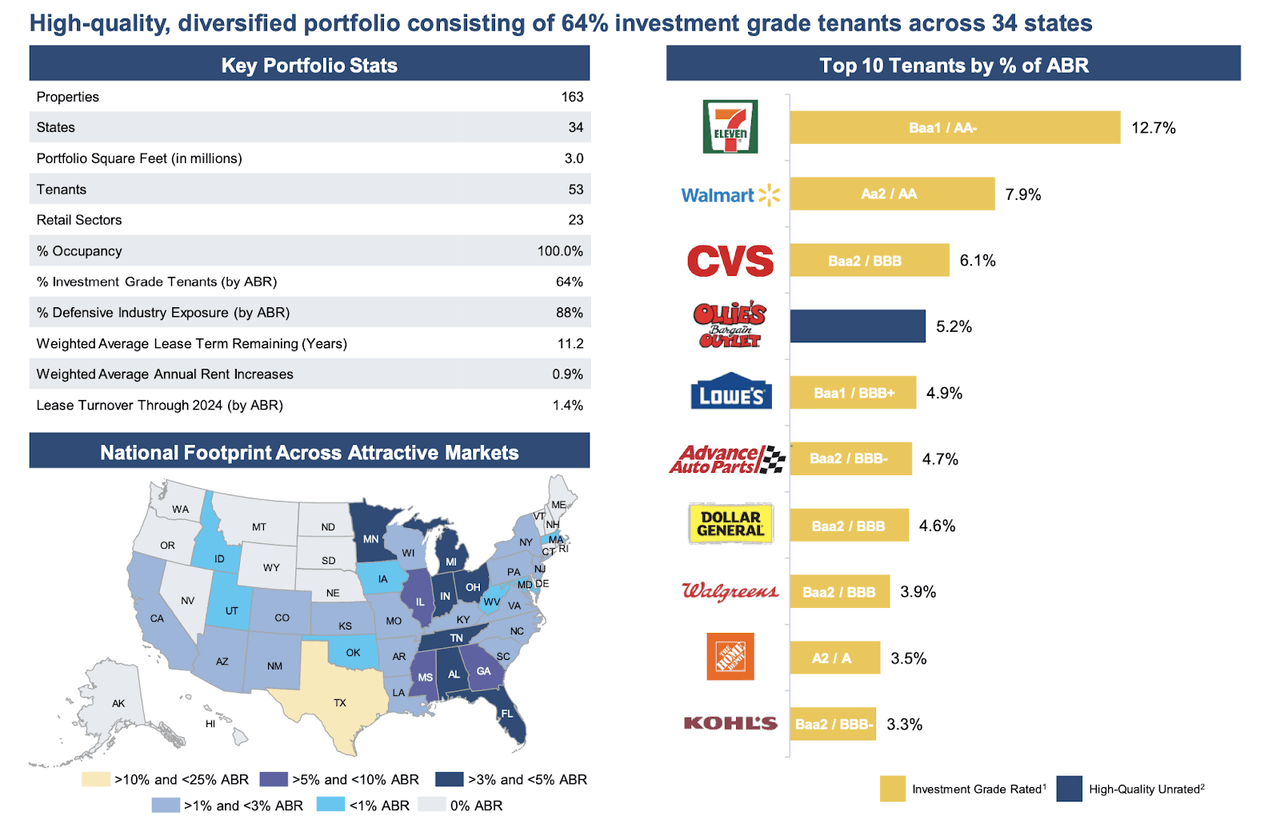 Why does investment grade exposure matter? The major net lease retail tenant bankruptcies over the past decade have primarily been of tenants without that investment-grade designation. This year, NNN REITs with high investment grade exposure have outperformed peers with less investment-grade exposure: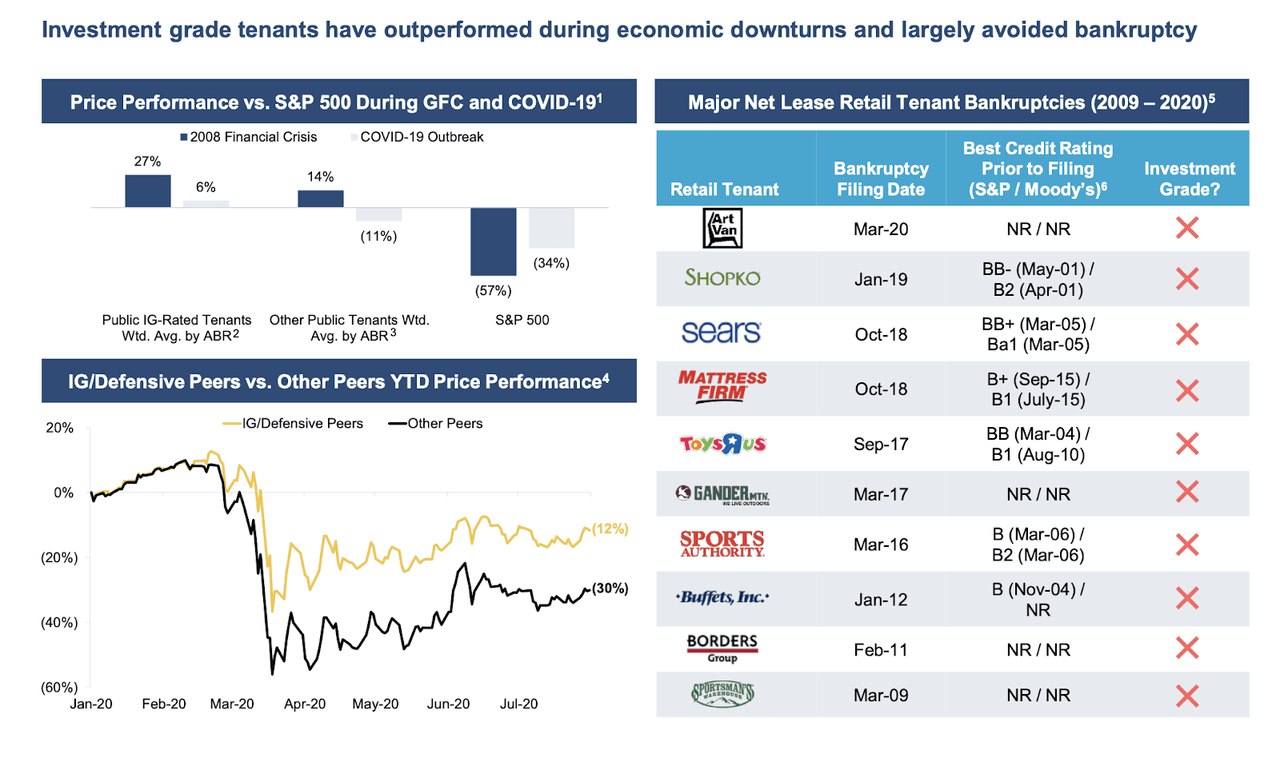 The stock price outperformance is closely tied to fundamental outperformance. After collecting 87% of second-quarter rent, NTST has collected 98% of third-quarter rent. Such results make it seem like NTST has been minimally affected by the pandemic.
Should investors expect to see NNN REITs across the board begin prioritizing investment-grade exposure? While I predict some level of increase in exposure to investment-grade tenants, I note that it is not necessarily correct to claim that investment-grade tenants are "better." As we can see below, investment-grade tenants tend to have lower acquisition cap rates and minimal annual rent escalators, as evidenced by a recent acquisition of a Walmart (WMT) supercenter: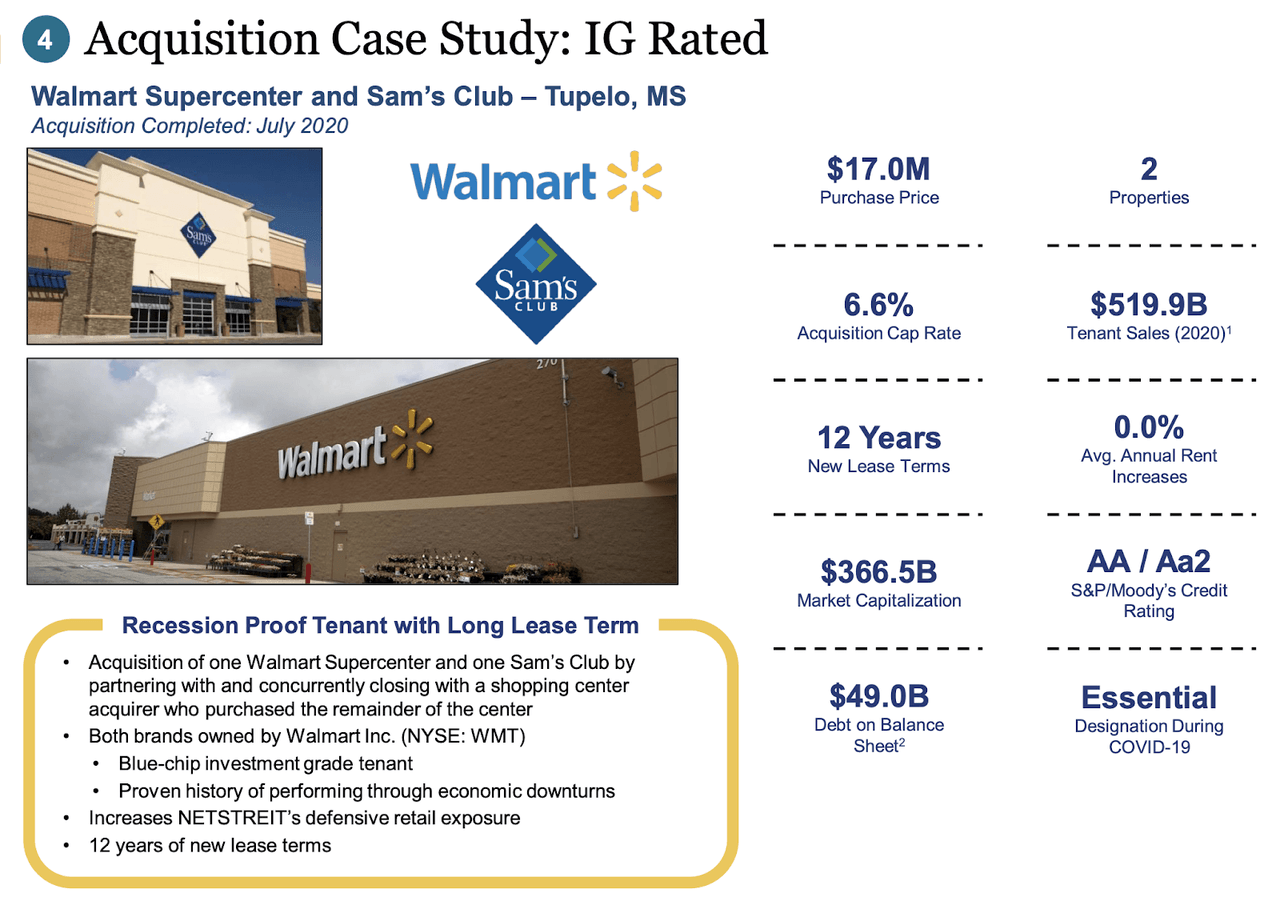 On the other hand, sub-investment-grade properties can be acquired at high cap rates with more aggressive annual lease escalators: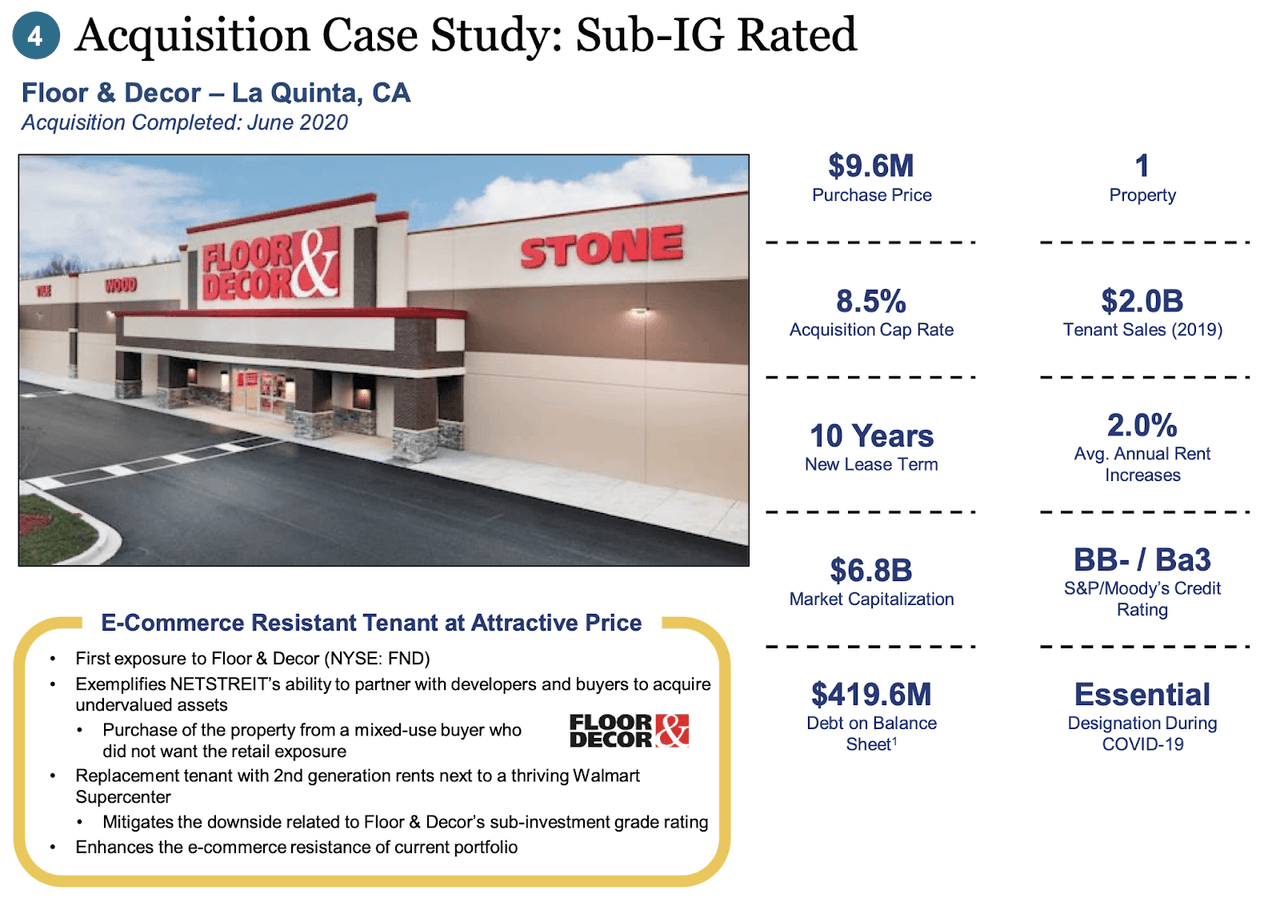 In normal times, the higher yields from sub-investment-grade tenants seem to compensate for the higher perceived risk.
Many NNN REIT peers have average annual escalation rates between 1.0-1.5%. According to the Form S-11, NTST's portfolio has an average annual escalation rate of 0.93% – lower than the average due to the higher exposure to investment-grade tenants.
Balance Sheet Analysis
As of June, NTST had total debt of $175 million. Pro-forma for acquisitions that took place prior to the IPO, NTST earns $24.4 million in EBITDA. That makes for a debt to EBITDA multiple of 7.2 times. I note that we have not yet taken into account proceeds from the IPO.
According to NTST, the company targets a low leverage ratio over the long term:
"We will target a conservative net debt to EBITDA leverage ratio of 4.5x to 5.5x at scale to best position the Company for growth."
Following the IPO, NTST theoretically would have virtually no net debt on the balance sheet.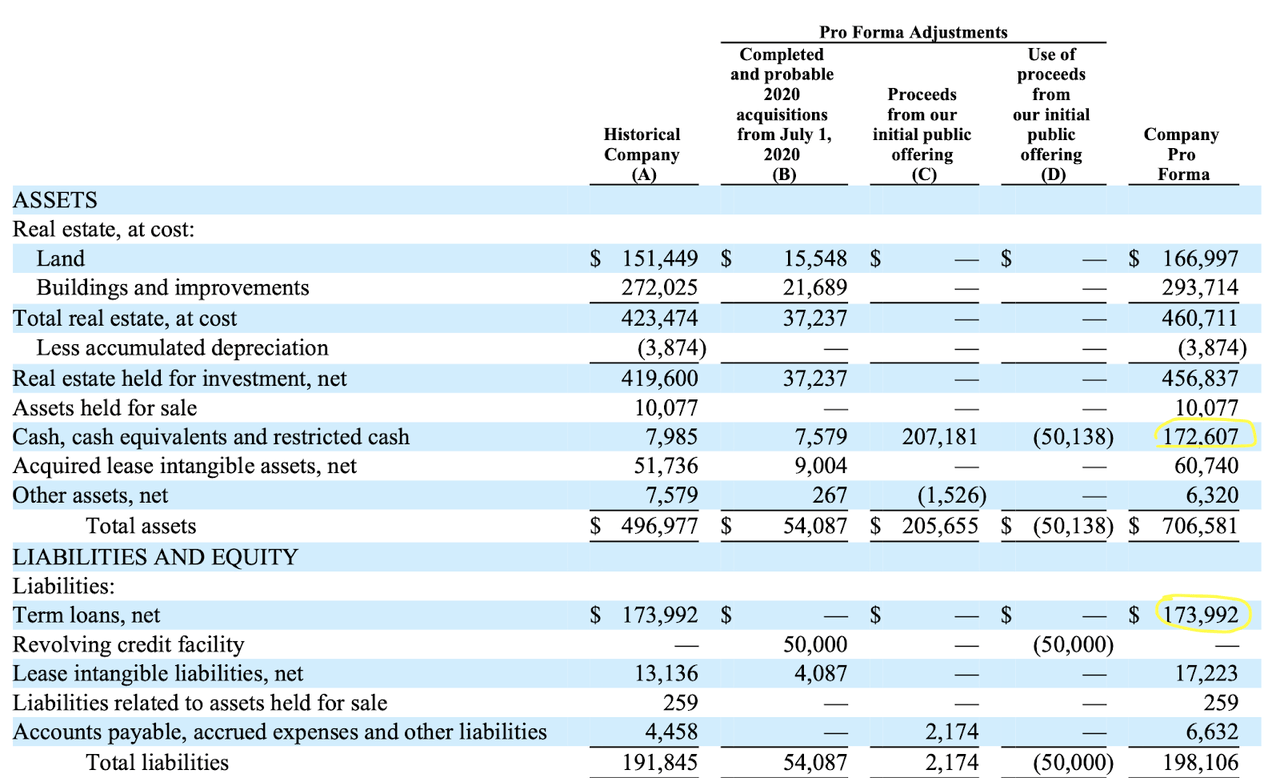 NTST has disclosed recently that it has acquired $103 million of new properties at a 6.5% cap rate. This suggests that cash on hand might be $70 million and the pro-forma EBITDA run-rate is around $31.1 million. Debt to EBITDA may thus be around 3.2 times – I expect NTST to put more of its cash to work over the next several months.
Valuation and Price Target
It is difficult to value NTST on the basis of cash flow ('AFFO') because it has not yet fully invested all the proceeds from the IPO. Instead, we can estimate based on its financial results prior to the IPO. Prior to the IPO, NTST earned an annualized $19.1 million in AFFO versus $266 million market cap (based on $18 share price). At recent prices, shares trade at around 13.9 times AFFO.
It may be more prudent to value NTST on the basis of its dividend yield. NTST has announced an annualized dividend rate of $0.80 per share. That represents a forward 4.4% yield. This dividend yield is a steep discount to the aforementioned ADC, which I view to be NTST's closest comparable. ADC yields 3.7% – NTST would trade at $21.60 per share at that yield, representing roughly 25% total return upside.
Risks
NTST is a newly public company and can be considered unproven. The 64% investment grade tenant exposure looks great on paper, but forward results may not mimic the past. In particular, it is unclear how strong its underwriting process was for the non-investment-grade tenants. There is limited financial data regarding same-store or comparable sales growth or leasing spreads.

NTST has only 53 tenants, and the top ten tenants make up over 56% of the total rent. I am hopeful that NTST will use its IPO proceeds and future cash flow to diversify away from its current tenant base. By no means is the lack of diversification automatically a bad thing, but I liken net lease REITs to "real estate banks," and along the same lines it makes sense to diversify your loan book.

Much of my financial analysis used pro-forma numbers given by the company – actual results may differ significantly once the company releases financial results and puts its IPO proceeds to work. It is unlikely that the company moves away from its 64% investment grade tenant ratio, but at the very minimum, its tenant base is likely to look very different in 12 months than now.
Conclusion
Some say that the most attractive investment opportunities occur in under-followed names. NTST fits that bill, as it has yet to formally release financial results. NTST looks to be built in a similar mold to ADC, which trades 25% higher. I rate shares a buy on account of the high-quality portfolio and conservatively managed balance sheet.
Discover More High Conviction Ideas
NNN REITs are one of my 8 high conviction ideas. Subscribers to Best of Breed to get access to my top 10 holdings and full access to the Best of Breed portfolio. Exclusive Best of Breed content includes industry deep-dives, new compelling ideas, and high conviction picks.
Ignore the noise. Avoid bubbles. Stick to high quality and buy Best of Breed.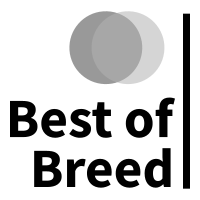 Disclosure: I am/we are long NTST, ADC. I wrote this article myself, and it expresses my own opinions. I am not receiving compensation for it (other than from Seeking Alpha). I have no business relationship with any company whose stock is mentioned in this article.