Through the years, Netease (NTES) has successfully leveraged its core competencies to deliver steady compounding, with a capable management team at the helm. Its outperformance stems not only from its leading positions in both client-based and mobile online games, but also its portfolio of licensed Blizzard titles. Looking ahead, its track record of consistent compounding looks set to continue, with tailwinds from both an expansion overseas and into Cloud Music. On balance, I see Netease shares trading higher from here.
Still a Gaming Powerhouse, Music Looks Promising
The success of the online games business in 2Q was perhaps unsurprising, given the COVID-19 backdrop. But the fact that growth still accelerated to 21% YoY (from the 14% YoY seen in 1Q) was certainly impressive. Within the gaming portfolio, World of Warcraft and the new mobile edition of "FWJ H5," drove the top line. The consistency of the gaming business is key – it provides strong cash flow to fund potential future growth drivers housed in the "innovative businesses" portfolio.

Source: Investor Presentation
Meanwhile, the Cloud Music business looks set to emerge as a key revenue contributor – it posted 'triple-digit growth' in 2Q. Upcoming quarters could even see an acceleration, with Netease signing a multi-year licensing agreement with Universal Music Group, and actively exploring new monetization methods beyond subscriptions and live streaming.
Overall, earnings per share (NYSEARCA:EPS) rose 32% YoY, well above Street estimates, as a stronger top-line outweighed higher marketing expenses across both Youdao and online gaming. Though operating margins were weaker at 26.7% on a non-GAAP basis, the marketing ramp-up in 2Q should begin to normalize in the upcoming quarters, serving as a tailwind for the margin expansion path ahead.

Source: Investor Presentation
Gaming Business Sees Expansion Across Both Paying User Base and ARPU
In a testament to the resilience and longevity of Netease's flagship titles, headline gaming revenue stood at RMB 13.8 billion despite the absence of major launches during the quarter and a sequential normalization of gamer traffic post COVID-19.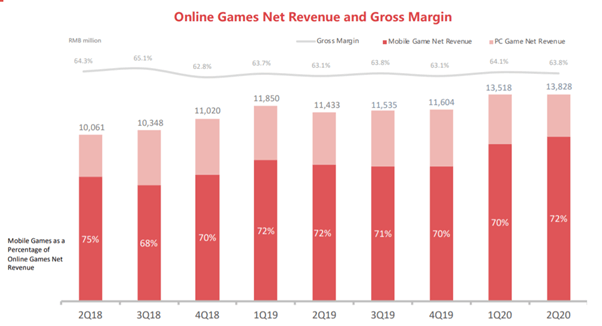 Source: Investor Presentation
Management's commentary around continued momentum within online gaming was particularly encouraging. For one, the paying gamer base has expanded, as consumer's willingness to pay for content looks to have increased post COVID-19. This adds to the accretion from increased spending by the more active gamer base, as they spend more time online and explore more titles. That said, user behavior has shifted back toward predominantly shorter sessions on daily commutes, which should benefit casual games over Netease, whose gaming portfolio covers more time-consuming MMORPG games.
But the online gaming cash cow still looks set to grow from strength to strength in 2H20/2021, backed by a rich gaming pipeline featuring titles such as The Lord of the Rings: Rise to War, Harry Potter: Magic Awakened, and Diablo Immortal. The PC side should also do well – new expansion packs such as Justice's second-anniversary expansion pack continue to drive user retention and pave the way for new monetization opportunities.
Overseas Expansion Could Be the Next Leg Higher
Overseas gaming contribution has been on the rise, reaching more than 10% of total online gaming revenue in 2Q. This largely reflected strength in Japan, with Netease's "Knives Out" mobile game topping the iOS games grossing chart in Japan during the quarter. Encouragingly, management plans to build on the 2Q strength with ~1 to 2 new launches of blockbuster titles in markets like the US and Japan going forward. To facilitate these launches, the company will boost its in-house development capabilities, while also driving increased collaboration with global game developers and IP holders such as Marvel and Pokemon.
I'm particularly bullish about the progress in the overseas gaming segment thus far, and see little reason it will not emerge as a meaningful revenue driver in the upcoming years. Management's target for overseas contribution to reach 30% (from >10% currently) looks feasible over the next three to five years, in my view, with further diversification likely to drive improved investor sentiment towards the stock.
Cloud Music a Key Long-Term Growth Driver
Within the high-growth non-gaming businesses, Cloud Music looks very promising – not only has revenue grown by more than 100% YoY, but there also looks to be ample growth potential ahead. Beyond subscriptions and live streaming, there remains a wealth of monetization models to tap into, and management has shown itself capable of consistently innovating on this front.
Recall that after Cloud Music was launched in April 2013, Netease subsequently introduced live streaming (LookLive) and, more recently, online karaoke (Sound Street). Partnerships with the likes of UMG could also drive incremental growth, while removing the constraints associated with exploring new models to enhance user experience. Given Cloud Music's continued focus on quality and professional music content, the competitive threat from short-form videos is limited, in my view.
Though Netease's ventures into online music and education are currently unprofitable, they are fast growing and, with economies of scale over time, look well-positioned for profitability down the road. The company also has disclosed IPO plans for the business, which could further unlock value.
Extensive Runway Ahead
Net-net, Netease's 2Q results affirm my belief that it will be a key beneficiary of favorable gaming industry tailwinds post COVID-19. Longer-term, its continued initiatives in diversifying the revenue base across both products and geographies should also drive further upside in 2H and beyond. Incrementally, the non-game businesses could surprise to the upside over time, with both Cloud Music and online education continuing to gain traction. As the market increasingly looks through regulatory headwinds and near-term margin pressure from non-game investments, I expect the stock to re-rate further on the back of new blockbuster gaming launches.
Adjusted for the impact of new shares from the secondary listing, I believe the stock should trade closer to $600, based on a 30x multiple on 2021 non-GAAP EPS. This reflects both Netease's current best-in-class capabilities as well as future growth drivers in online education and music. Potential 2H catalysts include new gaming launches such as Harry Potter: Magic Awakened and a potential Stock Connect approval.
Disclosure: I/we have no positions in any stocks mentioned, and no plans to initiate any positions within the next 72 hours. I wrote this article myself, and it expresses my own opinions. I am not receiving compensation for it (other than from Seeking Alpha). I have no business relationship with any company whose stock is mentioned in this article.