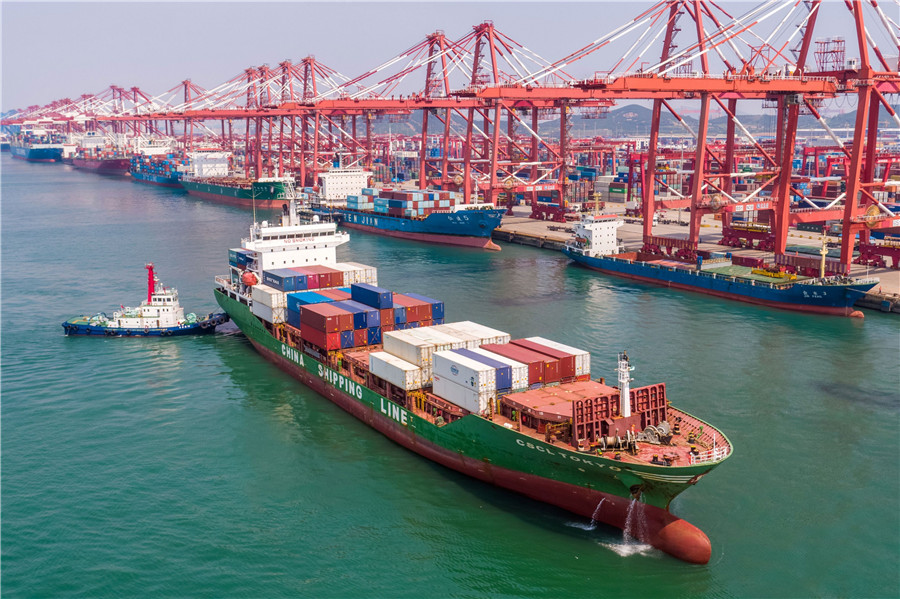 China's foreign trade maintained stable growth during the first 10 months of the year, and is expected to continue growing for the rest of this year and next.
Total foreign trade volume hit 25.6 trillion yuan ($3.67 trillion), expanding 2.4 percent year-on-year, the General Administration of Customs announced on Friday.
In the first 10 months, China's exports increased 4.9 percent while imports dropped 0.4 percent, according to the customs.
"Despite slower global economic growth, China's foreign trade performance has shown strong resilience. It is not easy to achieve positive growth against the global economic conditions," said Tu Xinquan, a professor of international trade at the University of International Business and Economics in Beijing.
"In addition, the Sino-US trade talks have made positive progress. China and New Zealand have concluded a deal to upgrade their bilateral free trade agreement.
"Those improvements are going to create a good foundation for trade growth in 2020," Tu said.
In October, foreign trade volume stood at 2.71 trillion yuan, down 0.5 percent year-on-year.
The import and export volumes of a single month have been kept at a high level of more than 2.7 trillion yuan for four straight months, customs data showed.
Many foreign businesses have benefited from the facilitated international businesses and improved business environment in China, indicated by a recent World Bank report that the country was ranked 31st for the ease of doing business, up from 46th last year.
In the same period, China's trade with the European Union and the Association of Southeast Asian Nations reached 3.98 trillion yuan and 3.54 trillion yuan, respectively, up 8.3 percent and 11.9 percent year-on-year, according to the customs.
Particularly, the growth rate of trade with countries and regions involved in the Belt and Road Initiative was higher than the overall growth rate.
From January to October, trade with the US dropped 10.6 percent to 3.07 trillion yuan.
In the past two weeks, China and the United States had a serious yet constructive discussion on properly solving their core concerns regarding trade disputes.
They have agreed to remove additional duties step by step as they make progress in reaching a comprehensive trade deal, the Ministry of Commerce said on Thursday.
"Next, we will continue to optimize the business environment of ports, and we aim to promote stable imports and exports," said Li Kuiwen, spokesman of the General Administration of Customs.