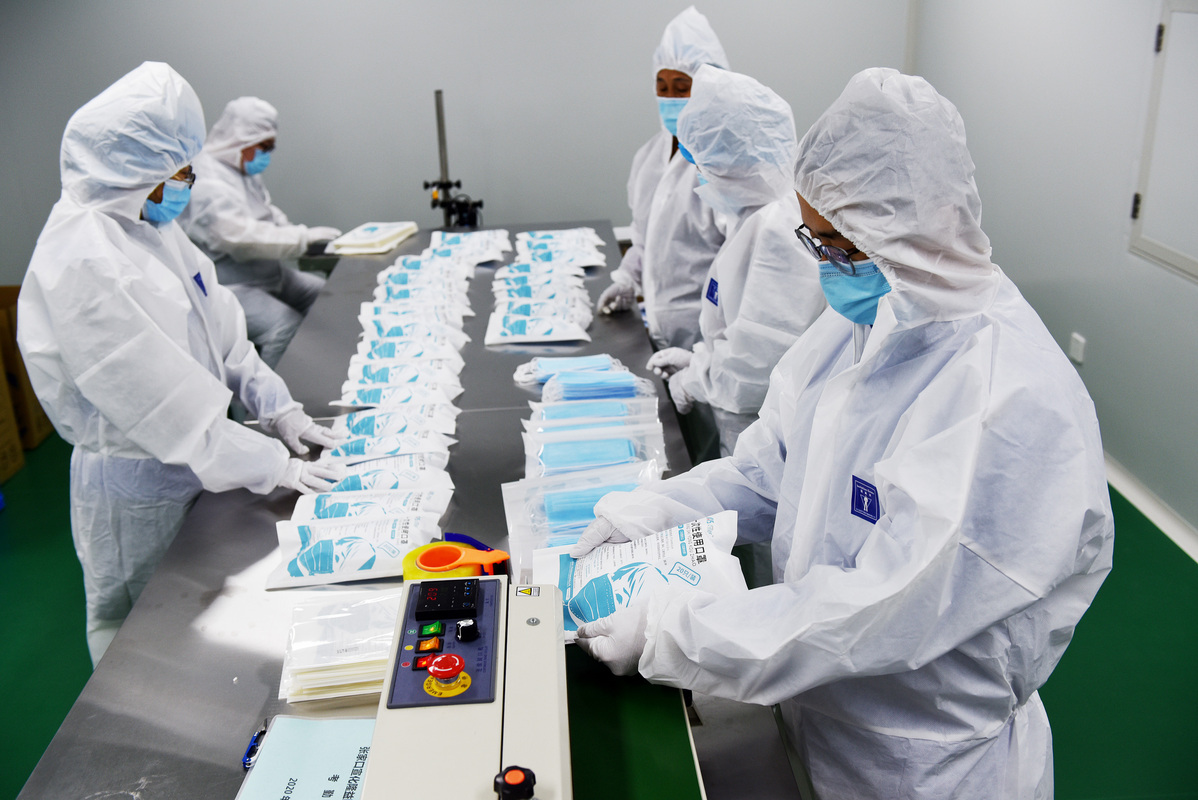 Domestic companies working round the clock to ensure dispatches are stable
As the COVID-19 pandemic hammers a growing number of countries and the world faces a shortage of medical supplies, Chinese drug and medical equipment manufacturers are working round the clock to produce as many products as possible to ensure a stable global medical supply chain.
When the epidemic broke out in China, many medical supply factories, especially those in the hardest-hit Hubei province, were unable to operate given the lockdown by the government to curb the spread of the contagion. As the outbreak in the country has increasingly come under control, plants have resumed operations and sped up their production of critical medical supplies so that surgical masks, protective gowns, ventilators and test kits can be provided not only for China, but also for the rest of the world.
Vice-Foreign Minister Luo Zhaohui said during a recent news conference that China had already offered emergency assistance to 83 countries and regions and international organizations such as the World Health Organization and the African Union. The assistance included test kits, masks and other medical supplies.
Data from the General Administration of Customs showed that from March 1 to April 4, China had inspected and exported epidemic prevention and control supplies worth 10.2 billion yuan ($1.4 billion), including 3.86 billion masks, 37.52 million protective gowns, 2.41 million infrared thermometers, 16,000 ventilators, 2.84 million test kits and 8.41 million pairs of protective goggles.
In face of the crisis, China is taking advantage of its complete industrial system and maximizing its powerful operational capability, Luo said.
At present, dozens of countries, such as the United Kingdom, Germany, Italy, Thailand, South Korea, Japan and Spain, are boosting their imports of masks, ventilators, protective gowns, disinfection materials, monitors, thermometers and test kits from China, industry experts said.
The importing countries were having difficulties in guaranteeing medical supplies. China, as an integral part of the global medical industrial chain, stepped up, they said.
Although affected by the pandemic during its initial stage, as economic activity steadily resumed, production capacity of Chinese factories gradually caught up.
The Ministry of Industry and Information Technology said that as of March 28, the average work resumption rate of the country's industrial enterprises above a designated size of 20 million yuan in revenue each reached 98.6 percent, and the average employee return rate was 89.9 percent.
Even in Hubei, where the outbreak was once the most severe, more than 95 percent of companies had resumed operations, and around 70 percent of employees were back at work.
Compared to large enterprises, work resumption rates at small and medium-sized enterprises reached 76 percent, said the ministry.
"Manufacturing plants for medical supplies and daily necessities had relatively higher return rates," said Xin Guobin, vice-minister of the ministry.
Li Xingqian, director-general of the Ministry of Commerce's Department of Foreign Trade, said China owns the world's largest, most complete and comprehensive manufacturing system, and the advantages of the system are irreplaceable. China's foreign trade development has sufficient resilience, ample room for development and strong innovation capability.
"This long-term positive trend will not change, neither will China's position in the global industrial chain," Li added.
Ever since the novel coronavirus outbreak, the Chinese government has never levied any restrictions on the export of surgical masks, and producers are expected to carry out their business in a principled way according to market forces.
Despite the ongoing battle with the outbreak in China, the Ministry of Commerce said China has not and never will restrict the export of medical supplies, and it will continue to provide supplies to the best of its ability, to help other nations fight the pandemic.
Cao Xuejun, deputy director-general of the MIIT's Consumer Products Industry Department, said currently, the epidemic situation in China has been steadily improving, and the production capacity of masks, protective gowns and other medical supplies increased rapidly, thus greatly alleviating supply shortages.
"We encourage domestic manufacturing enterprises of medical supplies to actively meet foreign demand, standardize production and export according to corresponding standards in contributing to the global fight against the contagion," Cao said.
Starting from April 1, exporters of medical products, including COVID-19 testing kits, masks and ventilators, need to provide extra documentation when they go through customs clearance, said the commerce ministry.
The Chinese government will ramp up efforts from various departments to accelerate the process of exporting crucial medical supplies to the world while strictly controlling product quality, said Zhang Qi, deputy director-general of the Department of Medical Device Regulation under the National Medical Products Administration.