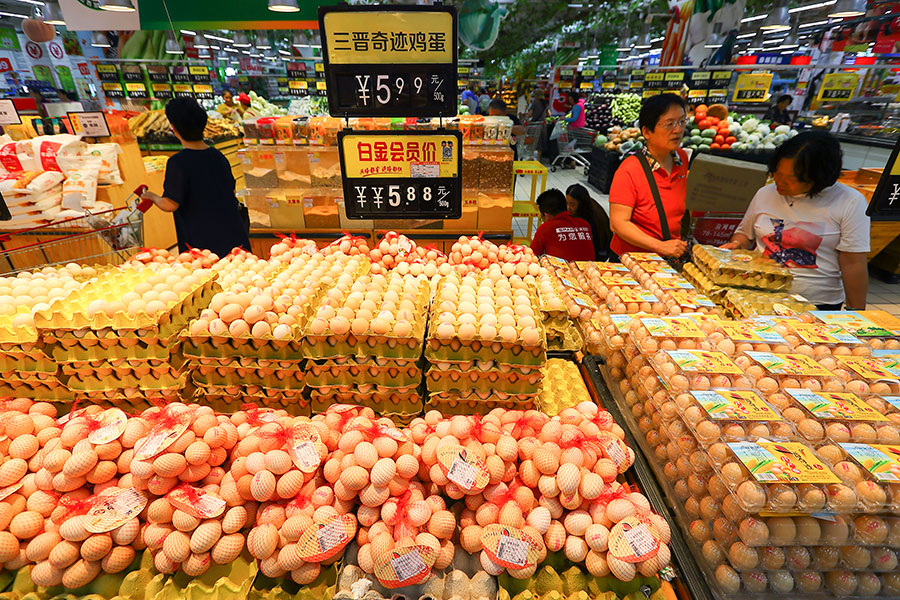 Li Weili, 66, has grown new interest in looking for recipes on her mobile apps to draw inspiration to innovate her meals.
Li, a Beijing-based retiree who has used pork as her main meat at the dinner table for years, has learned how to add beef, chicken, and eggs on the menu to diversify the sources of protein in her family.
"We have come to a common understanding at home that consuming more kinds of meat is healthier and tastier," said Li, who frequents the Sam's Club, a high-end membership store of Walmart Inc.
"The wide selection of top quality beef, mutton, seafood and chicken at supermarkets has been overwhelming. You are never too old to try a new steak from Australia or raw black tiger shrimp from Thailand."
Li is among many Chinese consumers who have diversified their sources of meat by gradually switching from pork to other protein products like chicken, eggs, seafood, beef and mutton after pork supplies became short last year.
Zhao Ping, director of the international trade research department at the China Council for the Promotion of International Trade Academy, said diversity of meat consumption is a result of changing food consumption and rising awareness in healthy dietary habits. The ratio of chicken in meat consumption is expected to continue to rise in the years to come.
While beef and mutton take up 12.5 percent of meat consumption, pork sits at 62.9 percent while chicken clocks in at 24.6 percent in 2018, Zhao said.
However, pork is the preferred meat in Chinese cuisine and cannot be replaced on large scale over the long term, she said.
Pork production in the country has been seriously hit by the outbreak of African swine fever since August in 2018. Shortages in supply have resulted in soaring pork prices since the beginning of last year. The price of pork has more than doubled in many places.
Pork prices began declining recently because of increased supply.
Markets nationwide have consequently responded with more supplies of non-pork meat products.
The General Administration of Customs said meat imports other than pork have been on the rise. In September, beef imports reached 152,100 metric tons, up 52.5 percent year-on-year. Total imported beef in the first three quarters of 2019 has reached 1.13 million metric tons, a surge of 53.4 per cent year-on-year.
Kunlun Health Insurance chief researcher Zhang Wei told the Beijing Times that after the pork price increase, some consumers began to buy pork substitutes. As a result, the growth in demand for beef and mutton has also boosted meat prices in general.
Separately, egg prices have dropped significantly in November and early December at the Xinfadi market in Beijing after the price of eggs hit a peak early last year. Egg prices have risen because consumers also used them as a pork substitute.
Xinfadi is a wholesale market for agricultural products in Beijing.
In November alone, eggs were priced 4.33 yuan ($0.61) per 500 grams in the wholesale market, which is down 24 percent from the beginning of the month.
Egg prices have been hovering near the peak since April last year, boosting the profits of many chicken farms and resulting in an oversupply of eggs.
The decline in pork prices since the start of November of around 27 percent at the Xinfadi market has served to take the steam out of lofty egg prices.
During this time, chicken prices have also fluctuated greatly.
"When pork prices go up, chicken is up too. Now that the pork price is down, so is chicken," said Liu Tong, director of statistics at the Xinfadi market in Beijing.
Prices of pork substitutes such as chicken, eggs, beef, and mutton are expected to stay stable despite small fluctuations during the holiday season.
Demand for beef and mutton have increased and their prices did not significantly go down, Liu said.
In recent months, the Ministry of Agriculture and Rural Affairs has taken measures to restore pork production. These included methods to ensure sufficient pork supplies during New Year's Day and the seven-day Chinese New Year holiday in late January.
The government has also issued guidelines to reinforce the production of pork substitutes, which include chicken, beef, mutton and seafood.