We are witnessing a market environment with extreme sentiment changes. After the unprecedented ~34% drop of the S&P 500 (SPY) at the beginning of March, the stock market bounced back heavily by ~60% to put the year-to-date return at ~+10%. The Nasdaq (QQQ) performed even better, gaining 33% to date.
This recent melt-up in the stock market was a consequence of extreme market greediness with investors believing that the Fed's interventions (low interest rates and money printing) will lead to ever-increasing stock prices. However, the parabolic move of momentum stocks like Apple (AAPL), Tesla (TSLA), Amazon (AMZN), Zoom (ZM), Nvidia (NVDA) and AMD (AMD), among others, just wasn't sustainable at all. The recent news regarding SoftBank's (OTCPK:SFTBY) $4 bln high-risk purchases of big tech call options (which gives an exposure of ~$40 bln to stocks) is a good representation of the recent bull rally. Investors were following the market by jumping into risky assets without thinking about valuations and risks. SoftBank lost $70 bln with similar bets during the dot com bubble.
Last week's steep drop in the S&P 500 and Nasdaq, again, shows that following the market momentum can be good, until it doesn't. Those who invest based on emotions (following the market) rather than a consistent strategy have historically performed poorly.
In this article I will discuss the Fear & Greed index, which we use as indicator to avoid exposure to crashes like last week. By consistently following this indicator, you can reduce the impact of emotions on your investment decisions.
The importance of sentiment waves
The stock market, particularly in the short-to-mid term, is much rather a representation of investor sentiment (emotions and algorithms) than the underlying economy.
It's important to understand these "sentiment waves" of the stock market where bull rallies are fueled by extreme optimism and bear rallies by extreme negativism rather than underlying fundamentals. The media will always find a reason to explain recent market movements and accelerate this sentiment. Here are some of the media headlines during recent bull and bear rallies: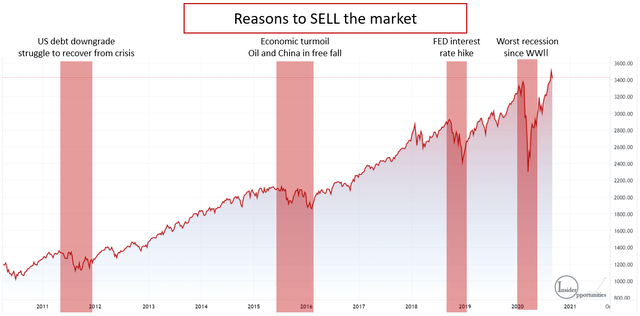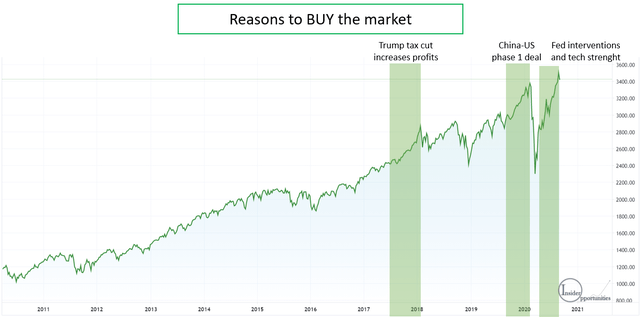 (Source: Insider Opportunities research)
Warren Buffett, legendary investor and founder of Berkshire Hathaway (BRK.A), has a spot-on quote regarding this topic:
Be fearful when others are greedy and greedy when others are fearful
It's by buying high-quality stocks in which you believe during extreme market pessimism (read: when everyone tells you to sell stocks such as in March) that you can reach outstanding returns. Additionally, it is important to not let your emotions get caught by extreme optimism in the market.
Now, how can an investor track whether the market is extremely pessimistic/optimistic? The Fear & Greed index!
Our #1 indicator: Fear & Greed index
The Fear & Greed index, created by CNN, is an equally-weighted index of seven indicators which tries to explain the emotions of the market. The index hovers between 0 (extreme fear) and 100 (extreme greed).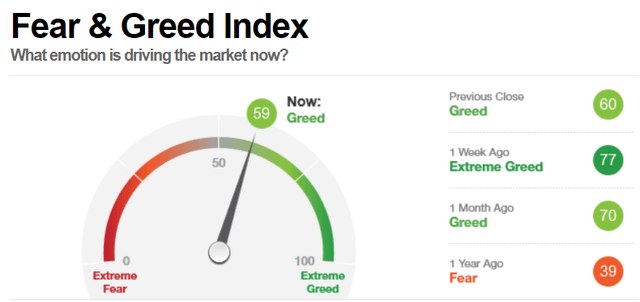 (Source: CNN)
The 7 indicators of this index are:
The CBOE 5-day average put/call ratio (high=fearful): The higher this ratio, the more bearish the market is. Put and call options are extremely volatile derivatives which can be used to bet on short-term market movements. The more calls (more puts) the market is buying, the more (less) they are betting on the market to go up in the short term. Usually when investors buy a lot of calls, this means that the market is getting greedy for short-term gains.
The yield spread, junk bond vs. investment grade (high=fearful): the higher this percentage, the more bearish the market is. This spread indicates the % that investors in low quality bonds (with a higher probability of default) demand over safer bonds. Usually, when the market becomes too bullish, investors are jumping into junk bonds to hunt for yields without thinking about the default rate.
The S&P 500 compared to its 125-day moving average (high= greedy). If this gap increases, this means that the market is running up significantly in the short term because of the greedy sentiment (buying stocks even when they increased significantly already).
The number of NYSE stocks hitting 52-week high vs. low (high=greedy): If investors keep purchasing stocks at their yearly high, this generally means that they are not looking much at valuations and rather following stock market sentiment.
McClellan Volume Summation Index (high= greedy): This is an alternative of market prices (number 3) which looks at how much volume is being traded in advancing stocks compared to declining stocks. If investors only run into a small selection of stocks with strong sentiment, this indicates that the rally is not healthy.
Difference in 20-day stock and bond returns. (high=greedy): Bonds are seen as a "safe haven" for investors. If demand for bonds decreases, this indicates that investors are not caring about market risks, making them too greedy.
The VIX index (high= fearful): The volatility index (VIX) is an index which, based on option contracts, measures market volatility. A low VIX indicates that investors are not nervous about the stock market and just buying stocks consistently without much downward pressure.
Is being "fearful when others are greedy" really an appropriate strategy? To analyse this, I performed research on the correlation between the Fear & Greed index hitting 80 (which can be seen as extreme greed) and the subsequent S&P 500 returns.
Since 2011 (to my knowledge the inception date of this index), the Fear & Greed Index hit 80 thirteen times. In 10 out of 13 times, this was followed by an average correction of 8.72% in the following 6 months. Interestingly, the Fear & Greed index hit 80 right before the two most recent stock market crashes in 2018 and 2020 and last week just hit 80 the day before the correction.

(Source: Insider Opportunities research)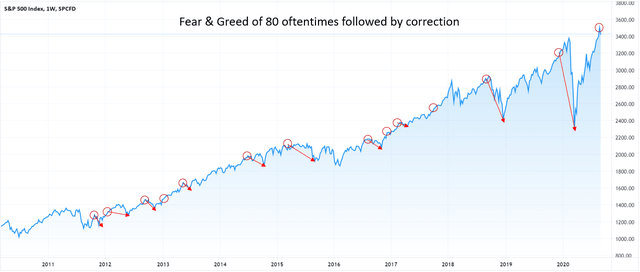 (Source: Insider Opportunities research with Tradingview)
How to use the Fear & Greed Index
In theory, the Fear & Greed Index looks very valuable, but can you use it in practice as well?
First things first, I believe it is important to understand that the index hitting 80 should not make you sell all your stocks. Oftentimes, the last stage of a bull rally is the strongest one and missing out these gains can damage your returns significantly. As the chart below shows, if you missed out the best 10 days since 1980, your wealth accumulation would've been halved! I'm not a fan of market timing, so it's not our goal to trade stocks in the short term based on the Fear & Greed index.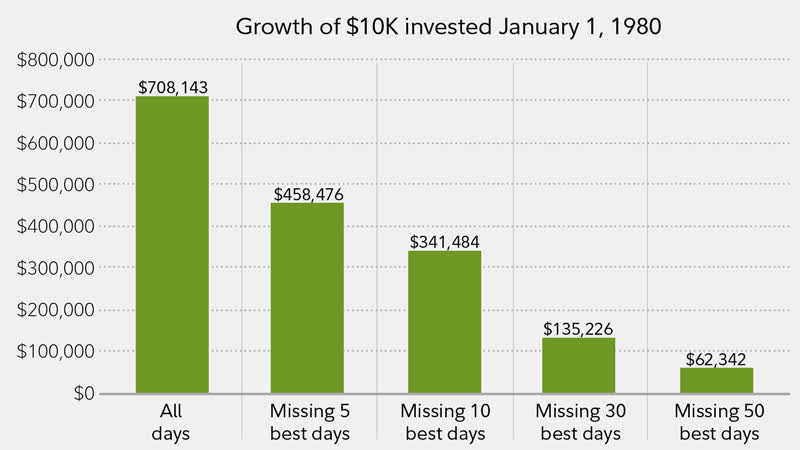 (Source: Thesimpledollar.com)
In our strategy we hedge our portfolio against a market crash based on the Fear & Greed Index. Instead of selling your stocks (market timing) in which you believe for the long term, it is much more interesting to buy a hedge which will reduce the impact of a market crash on your portfolio. For example, when the index hit ~90 at the end of 2019, I warned investors about market greediness and provided several option strategies to hedge against a downturn. Investors who followed my preferred investor strategy would have reduced the impact of the 2020 crash on their portfolio from 34% to ~22%.
In addition to option strategies, a short position on a market index could be interesting as well (especially when volatility is high). For example, one could buy a position of the ProShares UltraPro Short QQQ (SQQQ), which increases in value if the Nasdaq crashes.
If the market then loses value (on average 8.7% after the index hits 80), you can sell this hedge with a significant profit, which (partially) offsets the losses on your long positions.
Want to become a winning investor?
Then you should consider joining Insider Opportunities, one of the strongest growing SeekingAlpha communities!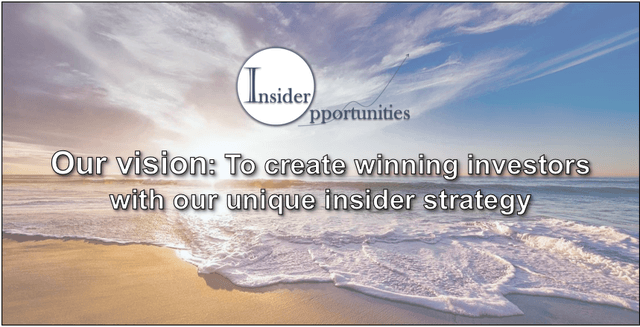 In addition to risk management based on the Fear & Greed Index, our unique insider strategy provides you winning stocks on a daily basis as well. Interested in how we do this? Find more information HERE and get convinced by our 14-day FREE trial! Don't hesitate to try it out, just like this and many other satisfied members!

Disclosure: I/we have no positions in any stocks mentioned, and no plans to initiate any positions within the next 72 hours. I wrote this article myself, and it expresses my own opinions. I am not receiving compensation for it (other than from Seeking Alpha). I have no business relationship with any company whose stock is mentioned in this article.