Co-produced with Treading Softly
Here at High Dividend Opportunities, we have consistently covered and monitored various options available to income investors. One such sector is the much-misunderstood and much-feared Collateralized Loan Obligation, or the CLO sector.
To do this we will need to take a longer than normal approach to understand the tremendous potential inside this little fund. We are going to start with the basics and move into more technical details.
Here's a road map of where we are headed:
A brief comparison of CLOs to BDCs
Overview of the fund in question
Understanding what happened in the loan market
An In-depth look at the fund's NAV and projections of what is to come
A Brief Comparison of CLOs to BDCs
Before we get to our main focus on XFLT, we need to begin with an explanation of CLOs. A CLO shouldn't be that hard to understand, and yet many confuse it with other securitized products. A CLO is essentially a little Business Development Company (or BDC) that invests in loans. We'll use PennantPark Floating Rate Capital (PFLT) as an example: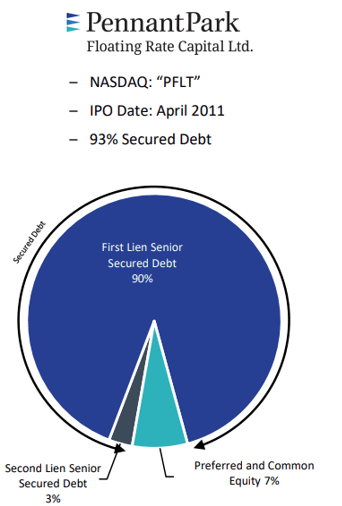 Source: PFLT Earnings Call Presentation
PFLT holds a large number of senior secured loans along with a small smattering of preferred and common equity. To buy and hold these loans, PFLT uses its credit facility and long term notes. They also finance themselves with common equity. BDCs like PFLT pay most of their income (which is mostly interest income) in the form of dividends to shareholders.
So, in short, we have a company issuing debt and equity to buy senior secured loans to make profits on the interest rate spread. That's the same thing that a collateralized loan obligation (or CLO) does. It issues out debt and equity tranches to buy loans and hold them. The key difference is that CLOs have a definite life cycle whereas a BDC like PFLT will attempt to go on forever. CLO funds (and CLO CEFs) buy the "equity tranche" or, simply put, they buy up the common equity issued out by the CLO instead of buying up the debt bonds.
If you're a BDC investor who buys common stock of a BDC like PFLT, you are essentially buying a perpetual CLO. CLO funds that buy the equity position in CLOs are essentially buying the equivalent to common shares of your favorite BDCs to generate income to pay you. The key difference between a common share of a BDC and the CLO equity is that CLOs have a set lifespan, BDCs do not.
Suddenly CLOs seem less confusing, right? Great!
Our Favorite Term-Fund
XAI Octagon Floating Rate & Alternative Income Term Trust (XFLT) is a CLO closed-end fund that currently yields +12%. This fund invests in senior secured loans, CLO equity, and CLO debt. So this is a well-diversified CEF. Historically the fund has primarily invested in senior secured loans.
Senior secured loans are considered lower risk because they have the first right to any assets of the company should it get into distress.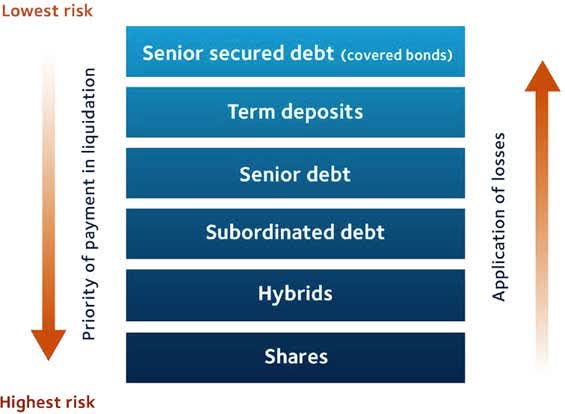 Source: FIIG Securities Limited
The space has been a great source of alpha generation as each investment here is unique. The terms and conditions of the loans don't make it easy for the individual investor to transverse this space well and a professional management is generally a must. Most senior loans also have covenants that are put in place to create problems for the borrowing company if the probability of default is increasing. This will usually force an issuer to take corrective steps before any actual default takes place, thus protecting the investor. This could include selling assets or issuing equity or just foregoing that big expansion it was eyeing. In contrast, high-yield bonds typically have access only to incurrence covenants, which are triggered if the borrower attempts to incur additional debt while certain financial requirements are not being met. Hence high-yield bonds do not provide the same continual downside protection to lenders that senior secured loans do. Thus investing in senior secured loans is much safer than investing in high-yield bonds.
This type of loan is not only a major building block to XFLT's portfolio, making up 41.5% of it, but also the foundational building blocks to CLOs.

Source: XFLT website
Currently, XFLT holds an almost equal portion Senior secured first-lien loans and CLO equity. These loans are generally more liquid and allow for easier trading, while CLO equity is often much more illiquid but provides higher levels of income.
Recently, XFLT removed its restriction on CLO equity position. Previously the fund was only allowed to hold up to 50% of its total portfolio in CLO equity, now it can go beyond this. This subtle change has massive implications for the future of this fund. This means that XFLT may slowly trend towards holding larger amounts of CLOs and see added volatility in its NAV like Oxford Lane Capital (OXLC) or Eagle Point Credit (ECC) have seen.
We feel that today, both CLO equity and CLO debt currently are much more attractive from a "value investing" standpoint than Senior secured loans. We will touch on why in more detail below.
XFLT net asset value, NAV, has been on a wild ride with COVID-19 hitting the loan market hard: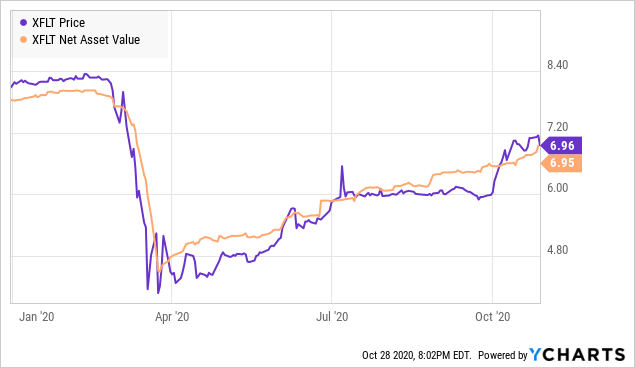 After its massive drop, XFLT has steadily seen its NAV improving. We expect this trend to continue.

Furthermore, XFLT did temporarily cut its distribution as a precautionary measure following the Pandemic crisis in March. In doing so they preserved capital to re-invest in opportunities but also ensured they were not overpaying. Management readily resumed the distribution back to original levels as the market regained clarity.
Currently, XFLT's distribution is back to pre COVID-19 levels and its NAV is on the rise. With a NAV drop like we saw in March, we must examine the loan market, in general, to understand what has occurred and if XFLT is impaired permanently going forward.
The Loan Market in General
CLOs are comprised of Senior Secured Loans (or SSLs). So let's examine where the SSL market stands now compared to earlier this year.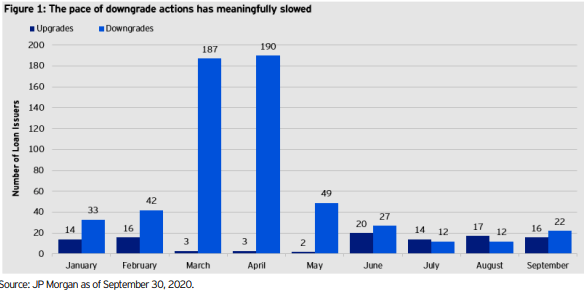 COVID-19 hit the loan market and credit quality suffered accordingly, mainly due to the liquidity crunch we saw back in March. Rating agencies were quick to act in cutting a swath of ratings tied to loans. This activity has rapidly slowed and rating upgrades have started to resume more readily as well across the observable market after the U.S. Fed injected back liquidity. Likewise, Senior Secured Loans (or SSLs) loans have seen their discount to PAR shrink as clarity in the market returned.

In April, SSLs were trading at 87% of PAR. Remember, SSLs are tied to the companies entire asset base and often see strong recoveries in the event of bankruptcies. Jumping to September:

The value of SSLs increased to 94.5% of PAR. SSLs have seen a meaningful value increase. This means CLOs and BDCs like PFLT are seeing their NAV recover in this section of their portfolios.
CLOs are dependent on not only NAV value to determine terminal value after the reinvestment period, but also credit ratings on their loans are important. When loan credit ratings dropped, some CLOs were forced to sell "C rated" loans to bolster their "B rated" loan category to remain in compliance. Meanwhile, from loans that were being repaid early, CLOs were able to buy new loans to replace them at a discount to PAR, thus boosting their income potential. This creates a building PAR or building a "value situation."
When a loan is repaid, it's paid at PAR value (with no discount). So if they pay you $100, you can turn around in April, or even now, and buy a new loan on the secondary market at less than PAR, and now you have leftover money to buy more loans "at a discount."
Within CLOs, the highest tiers of CLO debt saw little impact from COVID-19 while the lower tiers saw rapid price changes. In the chart above, the orange line is an index tracking only A-rated CLO debt, meanwhile, the purple line tracks A and B rated CLO debt prices. You can see how COVID-19 and market uncertainty caused both, A-rated debt and B-rated debt, to dip. A-rated debt, which has never suffered loss during the entire duration of CLOs existence, recovered promptly. This would've been a golden time to buy this tier of debt if you had access. Sadly, normal investors do not.
This all helps explain the NAV swings within CLO focused funds as well as the BDC sector in general during the last few months. It also shows that many BDCs will likely not see much more NAV improvement on SSLs returning to PAR alone. Meanwhile, as BDC common equity pricing has plenty of room to recover again, so does CLO equity pricing. This is why you still see today many BDCs stocks trading at a big discount to their respective "Net Asset Value" ("NAV") but are expected to see their NAVs go up when they report next. This creates a great opportunity.
XFLT's Portfolio Value
As we have seen XFLT's NAV increasing steadily, SSLs have mostly returned to PAR value, leaving little capital gains room for XFLT in that sector. XFLT released its semi-annual report with the value of its portfolio in March. They shared their CLO values, which also shows the weighted average value.

Source: XFLT Semi-Annual Report
This means that back in March XFLT was valuing its CLO equity at 36% of its principal value.

XFLT's cost is 69% of principal value, so XFLT is sitting on close to 50% unrealized losses on its CLO if it were to liquidate its portfolio now, but as CLO values normalize, they can see large capital gains.
If PAR is 100, XFLT's average cost basis is only 69 and current prices are 36. So they've seen 50% price erosion, but room for massive upside as prices move strongly upward. Likewise, since SSLs have moved to back to PAR so quickly and strongly already, if XFLT moves more of their portfolio into CLOs, they can capture more upside. Essentially buy low, sell high using the pricing disparity as an arbitrage opportunity.
This is why CLO equity and likewise debt are so attractive right now. Both have room to see meaningful price improvement and also larger sums of income since they are trading so low in value.
XFLT's NAV has improved from March 31st considerably: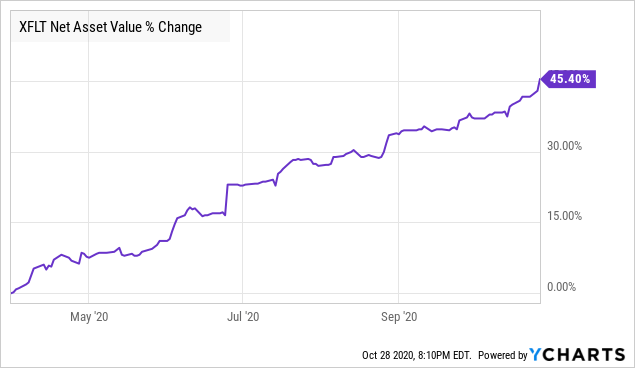 XFLT's NAV was $4.78 per share on March 31, it currently stands as $6.95.
XFLT's portfolio composition at that time was: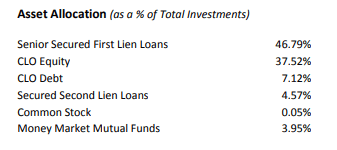 This means that 46.79% of each share was invested in SSL, or $2.24. We know that SSL values have risen 8.3% from April to September. So we can use this to estimate that XFLT's NAV rose over $0.186 per share alone on their loan portfolio. This means the rest is largely driven from CLO's returns to prior levels.
XFLT's portfolio composition has shifted to having more CLO exposure. We suspect that CLO values improved enough vs. loans that the rule change was necessary to allow XFLT to keep holding all of its CLO holdings without having to sell any. Buying an asset at one-third of its value leaves massive room for capital gains as the market normalizes. CLOs have plenty of room to continue to rise. Common equity in the BDC space can be used to illustrate this as many BDCs still trade well below their NAV values even as their loan portfolio values have returned to normal levels. Likewise, CLO equity will lag its debt tranches and SSL values.
Debt tranches of CLOs as seen above took a much harder dive in value vs SSL, likewise, CLO equity can only be assumed to have done similar.
Back in September 2019, XFLT's annual report shows they valued their CLO equity holdings at 57.8% of their principal value.

Source: XFLT Annual Report – Sept. 30th
Likewise, CLO debt was valued at 91% of the principal value of the debt vs. in March at 57.6%.
CLO values have room to strongly return to prior levels. For example if CLO equity values return to levels we saw in September of last year, this would be a 59% gain on each position purchased during the March collapse of the market prices, which is the percent gain from 36% back to 69% of PAR value.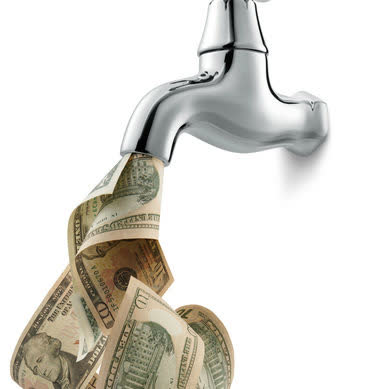 XFLT is not alone in seeing NAV recovery in relation to CLOs. OFS Credit (OCCI) recently released its estimated NAV for September as between $11.09-$11.19, this is an increase of approximately 3.6% in just one month time.
OXLC saw its estimated NAV jump 14.9-18% in the two-month timeframe from June to August.
We are seeing that across the spectrum, CLO focused funds are seeing strong NAV appreciation, and XFLT is right on point to join in on this as it continues.
Considering The Worst Case – CLOs Returning Only to Prior Values
XFLT remains an attractive small fund to gain exposure to the CLO and SSL sector. XFLT reports its NAV on a continual basis making it easier to see daily movements vs other CLO-focused funds like ECC or OXLC.
Let's consider a bad-case scenario of CLOs rising only back to their Sept 2019 levels:

The S&P 500 High Yield Corporate Bond CCC Index is often used as a means to estimate CLO equity tranche values. This index actually tracks the returns and values of CCC rated loans. The index is down 39.7% from exactly one year ago.
Using this rule of thumb, XFLT's current NAV of $6.97 (on 10/29/2020) comprised of 40% CLO equity, or $2.79 per share of NAV. If these positions rise back to the same levels as last year, their portion of XFLT's NAV would turn into $5 per share. This would raise XFLTs total NAV to $9.18 per share, a 31.7% gain. XFLT's NAV would be $1.04 above the levels it saw in September 2019. If XFLT buys more CLOs to overweight this sector, it could move even higher. So investors here could reasonably forecast their positions have room to appreciate 29% on capital gains alone all while locking over a 12% yield.
Conclusion
XFLT is a little known and low volume fund that has tremendous potential to move higher swiftly. It has a hybrid approach that makes it function more like a BDC than a CLO focused CEF. Its holding of both SSLs and CLOs among other debt means they can shift their focus to the sector that has the best opportunities. While NAV has moved swiftly upward already due to their SSL exposure, we now foresee the fund shifting assets to take advantage of the discounts within the CLO sector.
Another great feature of XFLT is that this is a floating rate CEF which can be a great hedge against inflation. With its distribution restored and room for its NAV to meaningfully return to its prior levels or above, investors should not hesitate to buy XFLT for both high income and strong capital gains potential. XFLT pays its distributions monthly, so it makes it even a better investment for those seeking a monthly paycheck!
Thanks for reading! If you liked this article, please scroll up and click "Follow" next to my name to receive our future updates.
Which Dividend Stocks We Are Buying?

High Dividend Opportunities is the largest community of income investors on Seeking Alpha for the 5th year in a row, with over 4400 members. Our best dividend picks are shared on a weekly basis. Our Immediate Income Method generates strong returns, regardless of market volatility, making retirement investing less stressful – simple and straightforward.
Join us to get instant-access to our model portfolio targeting 9-10% yield, our preferred stock portfolio, bond portfolio, and income tracking tools. Don't miss out on the Power of Dividends! Start your free two-week trial today!

Disclosure: I am/we are long XFLT AND OXLC. I wrote this article myself, and it expresses my own opinions. I am not receiving compensation for it (other than from Seeking Alpha). I have no business relationship with any company whose stock is mentioned in this article.
Additional disclosure: Treading Softly, Beyond Saving, PendragonY, and Preferred Stock Trader all are supporting contributors for High Dividend Opportunities.