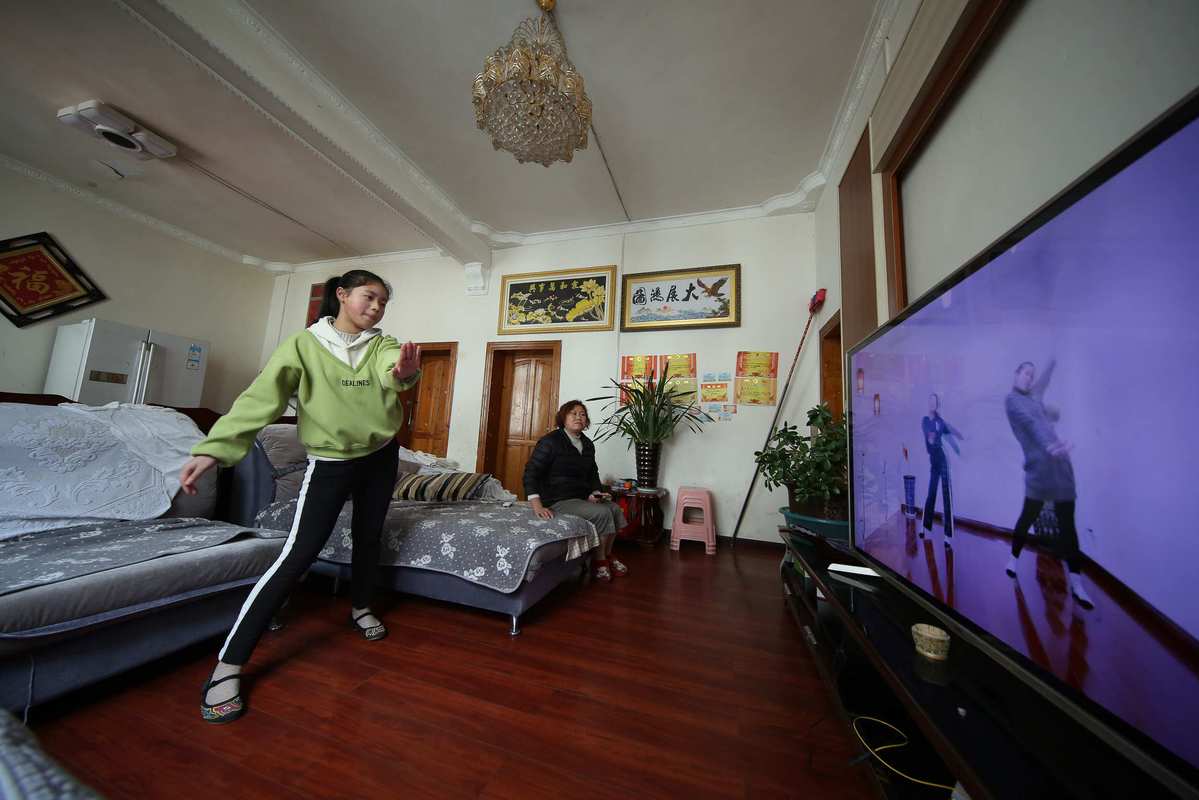 Content developers harvest more users in China, especially among youth, due to long stretches stuck in living rooms
Zhang Jing, a 31-year-old teacher from an educational institution in Beijing, has found a new form of entertainment to enrich her daily life amid the COVID-19 outbreak.
"I like singing and usually join a group of friends to sing and drink in a bar for a few hours or go to mini KTVs on weekends. However, I need to change my lifestyle as I have to stay home and chose remote work to avoid infection due to the epidemic," Zhang said.
Zhang can now sing alone with Changba, a mobile karaoke app. She can record her singing, upload it to an internet platform or share it on social media. Other users can browse her songs, comment and send virtual flowers if they enjoyed the way she belted out a ditty.
In the past, Zhang would also go out for dinner with her friends.
These days, she checks out online recipes and has learned to cook with the help of Xiachufang.
A string of applications such as a mobile karaoke app, an online recipe-sharing community, online fresh food sales and mobile fitness communities are gaining traction among young generations in China as they spend more time at home due to the outbreak.
Changba, which literally translates into Singing Bar, provides an online platform for music fans and allows users to share their performances with friends.
"People are more willing to use mobile karaoke applications during the epidemic period, and our users' growth rate, retention rate and activity level surged dramatically," said Chen Hua, founder and CEO of Changba.
Chen said the impact of the disease on people's daily lifestyles is comprehensive, and the offline music performance market is a good example of that.
"The internet has become the pivot of people's life, work and entertainment," Chen said.
Changba Live House has provided online performance opportunities for 100,000 musicians. "We cooperated with Modern Sky, one of China's largest indie record companies, with 200,000 users watching the online concert on the first day of livestreaming," Chen said.
Chen added that the main users of Changba are music lovers and their fans usually range from 20 to 30 years old. "We found that youths under 20 swarmed into our app amid the outbreak, and older users have come back. In addition, they tend to spend more time on mobile karaoke apps, and their frequency of use each day is also rising."
Chen said the epidemic is having an influence on the company's offline business with over 700 Maisong KTVs across the nation. "Our competitiveness lies in the low operating costs. I believe this business will witness explosive growth when the outbreak ends because users still have strong demand for an offline entertainment experience."
Xiachufang has experienced a temporary disruption of its service due to the influx of a large number of users during the Spring Festival.
Xiachufang founder Wang Xusheng said data flow from new users has grown 10 to 20 percent daily, and the company has expanded the capacity of its servers.