This article was coproduced with Nicholas Ward.
In recent months, we've given a lot of attention to the multi-family real estate investment trust (REIT) subsector. Its relatively high-rent collection throughout the Covid-19 recession has marked it as one to watch, at the very least.
Essex Property Trust (ESS) and AvalonBay Communities (AVB), which are widely viewed as blue-chip stocks, have stood out in particular. But we also just wrote on the "grave dancer" REIT, Equity Residential (EQR).
ESS – one of just a few dividend-aristocrat REITs – and AVB have produced strong, double-digit total return compound annual growth rates (CAGRs) over the long-term. While the latter froze its dividend during the Great Recession, it didn't cut it, which is still an impressive feat.
We continue to believe that all these companies offer rare and compelling value in today's market environment. However, we recognize that many people have concerns about their strong exposure to urban coastal markets.
High unemployment, concerns about ongoing social unrest, and the potential for an urban exodus are something less than desirable, after all.
So let's discuss another high-quality multi-family REIT, this one focusing across the Sun Belt and mid-Atlantic regions. By that, we mean Mid-America Apartment Communities Inc. (MAA).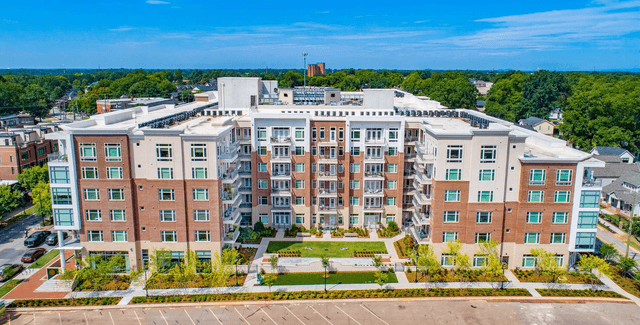 (Source – The Greene in Greenville, South Carolina)
About Mid-America's Apartments
We recently launched our REIT IQ ratings system at iREIT. This proprietary system spans all the real estate investment trusts in our coverage spectrum.
In the multi-family space specifically, we offer in-depth coverage of 10 companies. AvalonBay took the top spot at last check, but Mid-America Apartment is close behind with an 88.6 out of 100.
At the end of its most recent quarter, MAA had ownership interest in 102,104 apartment units spanning 16 states and D.C. It has a diversified portfolio with a near even split of class A and B-type apartments mainly located in suburban/inner-loop areas of Sun-Belt cities.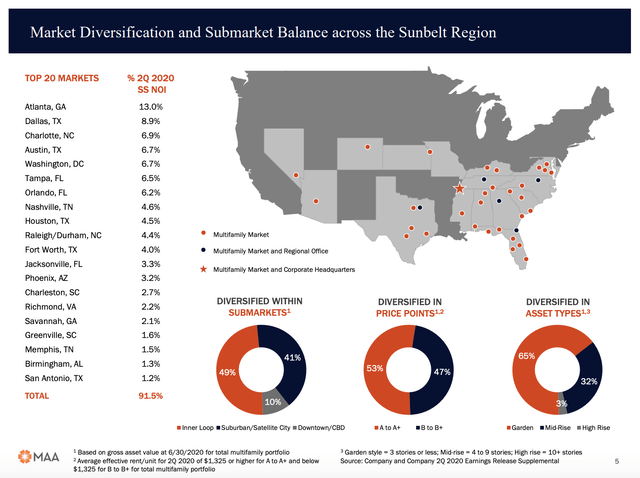 (Source: MAA Capital Markets Update September 2020)
That means it has exposure to relatively high-growth, business-friendly areas with attractive tax policies.
Throughout the shutdowns, MAA's geographical approach has paid off nicely. It recently reported that, on a weighted net operating income (NOI) average by state, the July unemployment rate it operates in was 8.8%.
That was well below the national average of 10.2%.
We also like MAA's focus on quality. Consider the graphic it recently released. This highlights how the average tenant across its largest investment markets is a relatively young, well-to-do professional with an average income of $70,000-$80,000.
Rent expenditures therefore make up roughly 20%-23% of their spending budgets.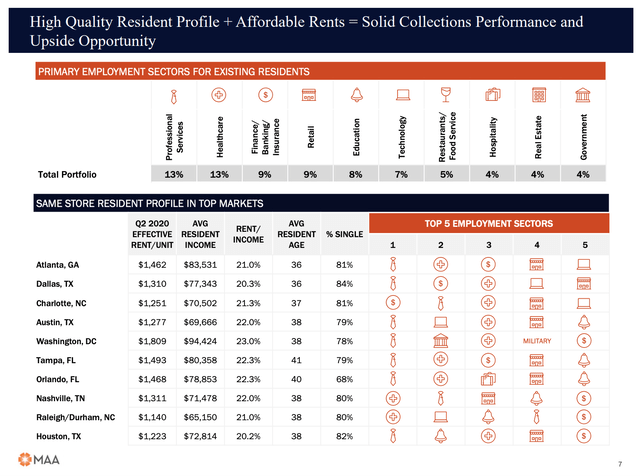 (Source: MAA Capital Markets Update September 2020)
Better yet, that high percentage of single young professionals seems surprisingly loyal these days. In recent years, Mid-America Apartment's turnover rate has fallen, making it more protected still.
What's more, the move-out rate to buy a single-family home its cities are seeing has remained fairly steady over time. This means the nationwide record-low mortgage rates aren't hurting MAA that badly either.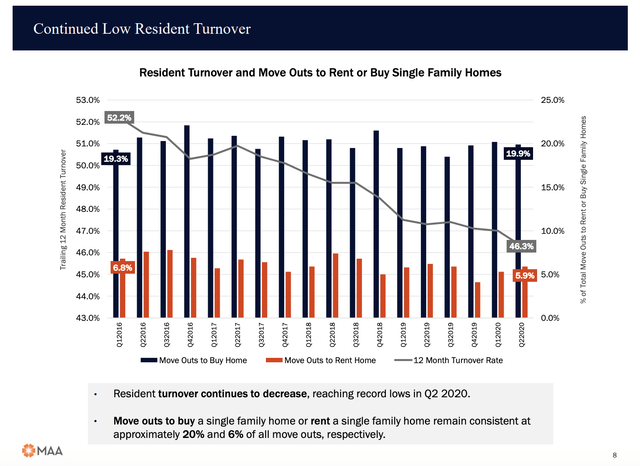 (Source: MAA Capital Markets Update September 2020)
Renovations Are Mid-America's Game (and It's Good at Them)
With regard to the high-quality/desirable nature of its asset base, Mid-America Apartment continues to invest in its portfolio. Renovating older models and increasing the technological appeal of its apartments is what it does.
And does well.
The company has been upgrading older apartments with:
Stainless steel appliances
New countertops
Updated cabinetry
Flooring
Plumbing
Light fixtures.
It's also taking strides to keep its apartments competitive digitally speaking by installing smart-home devices. And high-speed internet is included in the cable bundles it offers across its portfolio.
These technology-based investments should give investors solace in the continuing work-from-home environment.
Mid-America has redeveloped about 25,000 units during the last three years. The average cost per unit is in the $6,000 range. However, these investments are paying off immediately with near-double digit average associated rent increases.

(Source: MAA Capital Markets Update September 2020)
The company had plans to renovate another 7,000-8,000 units in 2020. But COVID-19 uncertainties have led it to reduce that number to 4,000-5,000. Mid-America sees the opportunity to update another some 11,000 units in the near-term…
Which, as you can see below, has the potential to create $226.5 million in future value.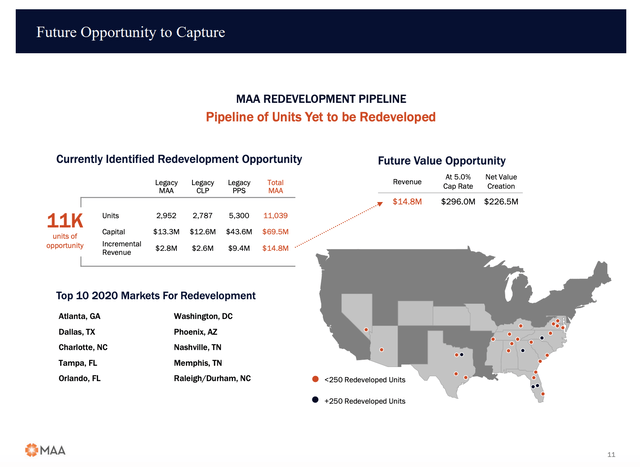 (Source: MAA Capital Markets Update September 2020)
All the while, MAA is investing heavily into new developments too, which should continue to drive growth. It currently has approximately $460 million in developments in progress.
These buildings will result in 1,940 new units with an expected average NOI yield of 6.1% and stabilized incremental NOI of $28 million to $29 million once the developments are complete. (Stabilization is expected to occur between 2022 and 2023 on the current pipeline developments.)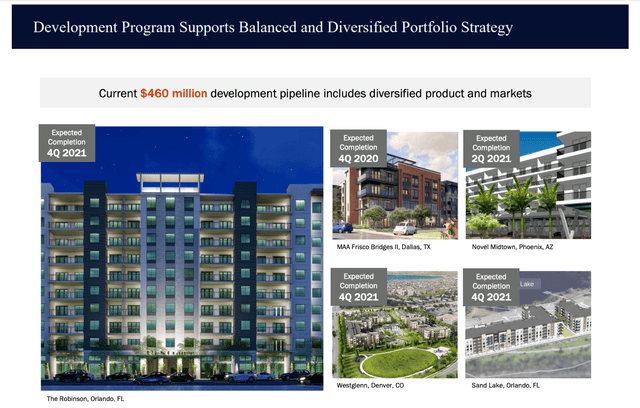 (Source: MAA Capital Markets Update September 2020)
Rent Collection and Balance Sheet, the Mid-American Way
Obviously, rent collection is paramount for REIT success. And few are doing it better right now than Mid-America Apartments.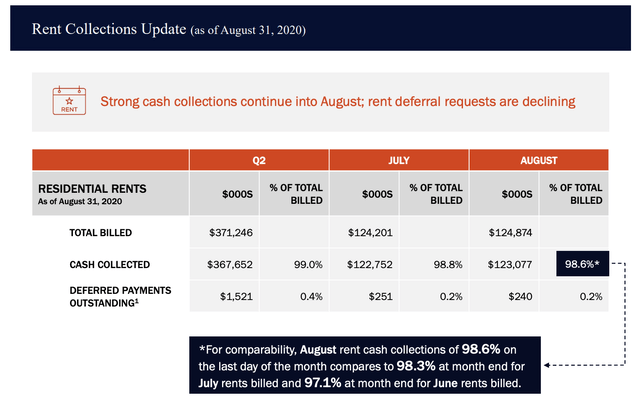 (Source: MAA Capital Markets Update September 2020)
The company has collected nearly all its rent due, and deferred payments outstanding are falling. As the economy continues to rebound, we expect to see more good news in this regard.
MAA is even seeing solid rent increases this year. New leases during Q2 did produce negative lease-over-lease growth. But its average renewal increase was 5.7%, leading to a blended average growth of 1.3%.
As for occupancy rates, those remain at pre-COVID-19 levels, hovering in the 95.5% area – just one more piece of data to bring peace of mind.
In full transparency, MAA has relatively little cash on its balance sheet. At the end of the most recent quarter, it had roughly $20 million on hand.
Fortunately, its liquidity is much higher, with borrowing potential of about $900 million… more than enough liquidity to cover planned portfolio investments. And, in terms of total assets, MAA's debt levels remain relatively low at just 31.2% compared to a sector average of 33.5%.
Its net debt to adjusted earnings before interest, taxes, depreciation, and amortization for real estate (EBITDAre) ratio is 4.69x – compared to the larger sector's 5.32x. And although cash levels are low, MAA continues to maintain investment-grade credit ratings of BBB+ from S&P.
That's helped it create an average effective interest rate of about 3.7% across its $4.5 billion debt portfolio. This is a fairly respectable rate and 91.3% of it is fixed-rate debt.
Plus, maturities are spread out nicely. So we don't expect its debt load to be an uncomfortable burden moving forward.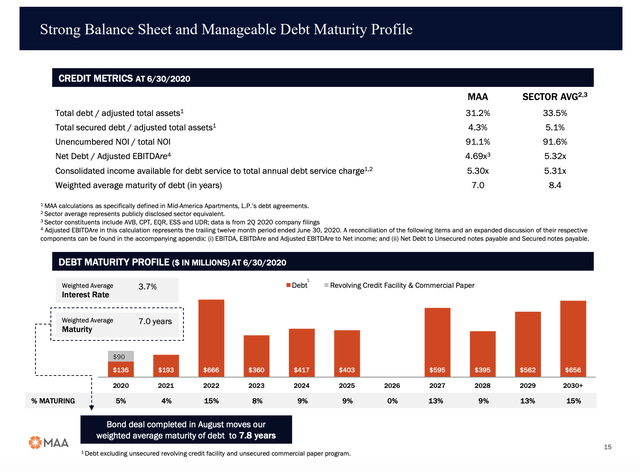 (Source: MAA Capital Markets Update September 2020)
A Sun Belt Dividend Story
To most REIT investors, the dividend is the most important aspect of an investment thesis. And, right now, Mid-America Apartment yields a mere 3.38%.
On the plus side, its five- and 10-year dividend growth rates come in at 5.6% and 4.6%, respectively. Its most recent dividend increase came in at 4.2% in December 2019.
MAA is currently on a 10-year consecutive annual dividend growth streak. And its forward adjusted funds from operations (AFFO) dividend payout ratio is 71.05%.
Analysts do expect -5% AFFO growth in 2020 and flat performance in 2021. But its low payout ratio implies it could continue providing low single-digit dividend increases in the near-term anyway.
Mid-America Apartments froze its dividend for a year during the Great Recession. So we wouldn't be entirely surprised to see management take that same conservative approach today.
But it didn't cut it. In fact, MAA recently declared its 106th consecutive quarterly dividend – showing the reliable nature of the passive income it generates.
Looking at Mid-America Apartment Communities' Valuation
Part of the reason Mid-America's dividend yield is relatively low is because of its stock's recent relatively strong performance. Actually, that's why we rate it as Hold.
While we view MAA as a sleep-well-at-night (NYSEARCA:SWAN) stock, its short-term valuation is somewhat iffy.
As you can see on the FAST Graph below, it trades with a blended p/AFFO multiple of 20.67x. This is well above its long-term average of 17.84x.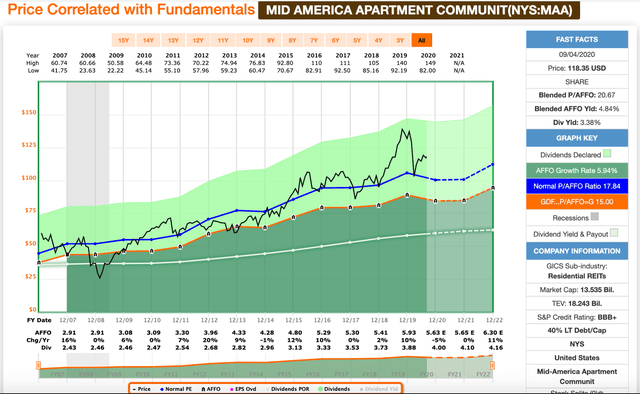 (Source: FAST Graphs)
It's also above the valuation premiums that its blue-chip peers currently offer. For instance, ESS trades for 18.7x AFFO right now and AVB for 19.4x. Yet both of these companies offer higher dividend yields with similar forward-looking AFFO growth prospects.
Due to the low interest rate environment and MAA's reliable cash flow generation, we aren't surprised to see a premium valuation here. However, we're not interested in paying a relatively high premium for shares – especially when AFFO growth is expected to struggle over the next 18 months or so.
Our price target is $104.40/share, which would mean shares trade at about 18.5x. This appears to be a more acceptable premium in the current environment, giving MAA a 3.85% yield.
In Conclusion…
Without a doubt, Mid-America Apartment Communities is a SWAN stock we enjoy owning. But we won't be recommending it for new shareholders when it's roughly 12% overvalued.
As noted previously, the iREIT IQ quality scoring model assigned MAA a score of 88.6. Compare that to a peer average of 74.7 and REIT average of 64.7).
Its weighted average cost of capital (OTC:WACC) score, meanwhile, is 89 versus a peer average of 62.5 and REIT average of 47.5.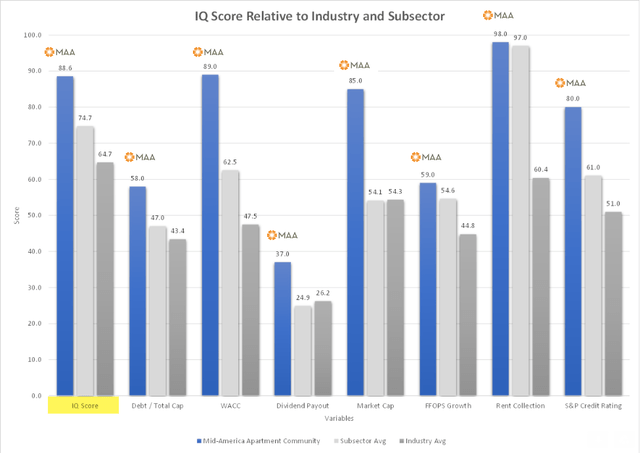 (Source: iREIT on Alpha)
So, again, we like this company. Just at the right price.
Author's note: Brad Thomas is a Wall Street writer, which means he's not always right with his predictions or recommendations. Since that also applies to his grammar, please excuse any typos you may find. Also, this article is free: Written and distributed only to assist in research while providing a forum for second-level thinking.
Join the iREIT Revolution!
At iREIT, we're committed to assisting investors navigate the REIT sector. As part of this commitment, we are launching our newest quality scoring tool called iREIT IQ. This automated model can be used for comparing the "moats" for over 150 equity REITs and screening based upon all traditional valuation metrics.
Join iREIT NOW and get 10% off and get Brad's book for FREE!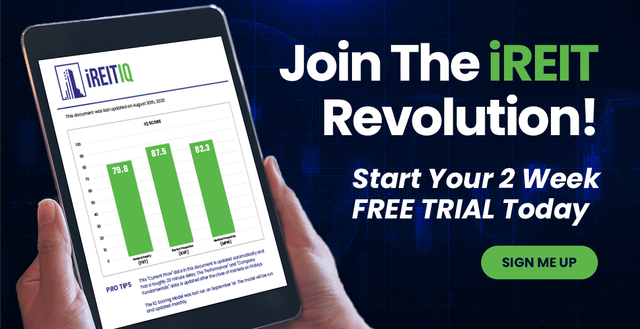 * Limited to first 7 new members * 2-week free trial * free REIT book *
Disclosure: I am/we are long ESS, AVB, EQR, CLPR. I wrote this article myself, and it expresses my own opinions. I am not receiving compensation for it (other than from Seeking Alpha). I have no business relationship with any company whose stock is mentioned in this article.