MediWound (MDWD) has popped up on my scanner several times over the past couple of years following some potent company press releases and catalysts. Admittedly, I would take a look at the headline and then check the ticker only to see a big move followed by a fade, so I have failed to actually start a position. Now, I am committed to making an entry in the coming weeks or months ahead of a potential PDUFA for the company's NexoBrid product. I believe MediWound is an underfollowed ticker that is currently trading at a discount when considering its long-term prospects. As a result, I believe MDWD is worthy of a speculative buy at these prices.
I intend to provide some background information on MediWound and present a case for a long-term position in MDWD. In addition, I discuss some of my leading downside risks and how I intend to start a position in the coming weeks or months.

Image Source: MDWD
A Bull Thesis
MediWound is an Israeli biopharmaceutical company dedicated to developing, manufacturing, and commercializing proteolytic enzyme technology for severe burns and hard-to-heal wounds. MediWound's NexoBrid does not require surgery and swiftly eliminates burn eschar minus damaging viable tissue. At this point in time, NexoBrid is approved in the EU, Israel, Argentina, South Korea, Russia, and Peru. MediWound's EscharEx, is a topical biological drug for debridement and hard-to-heal wounds. EscharEx has established safety and efficacy in various hard-to-heal wounds with only a few daily applications.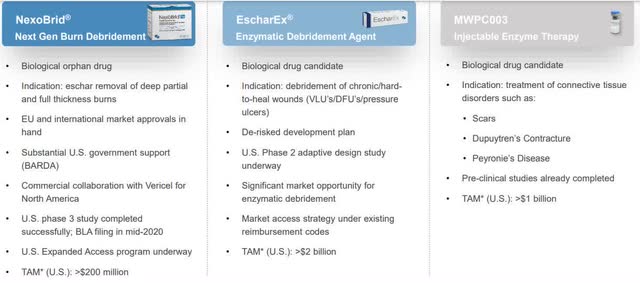 Figure 1: MediWound Products and Candidates (Source: MDWD)
Back in June, MediWound filed NexoBrid's BLA which has been a collaborative effort with the company partners, specifically BARDA and Vericel (VCEL). NexoBrid's BLA submission comprised of data from multiple studies, including the company's pivotal U.S. Phase III DETECT study. MediWound anticipates to hear from the FDA about the BLA acceptance and be provided with a PDUFA date in the near future. If approved, MediWound will be eligible to receive $7.5M in milestone payments from Vericel.
MediWound already has a deal with BARDA to help them build an emergency stockpile of NexoBrid in order to help patients with severe burns injuries. The company already announced their first delivery to BARDA, while the bulk of the scheduled deliveries will transpire in 2021. MediWound has accumulated a significant safety stockpile to ensure they have a product to meet the expected demand over the next several quarters.
The company's EscharEx candidate is in a Phase II study for the treatment of venous leg ulcers matched against placebo and standard-of-care. The company halted enrollment due to COVID-19, but MediWound recently reinitiated patients' enrollment into the study and expects to complete this treatment in the first half of 2021. If approved, EscharEx could be a game-changer in a ~$2B market (Figure 1).
So far, the company's marketed products have experienced some success, with MediWound pulling in $1.1M in product revenue in Q2, which was a 17% increase over Q2 of 2019. What is more, gross margins improved to 44% from 29% in Q2 of 2019 as a result of an increase in product sales and an improvement of the company's manufacturing processes.
In terms of cash, the company has a solid balance sheet that should support the company's commercial growth. At the end of Q2, the company had $24.4M in cash and short-term bank deposits and the company has no debt. MediWound will continue to invest in R&D efforts but the company reiterated their 2020 cash burn to be in the range of $8M-$10M, so we shouldn't expect massive dilution in the immediate future.
My thesis is focused on the company's ability to get their products approved in the United States and the products' ability to make inroads into their respective markets. Overall, most of the important numbers are pointing in the right direction with the potential for the company to report continued revenue growth.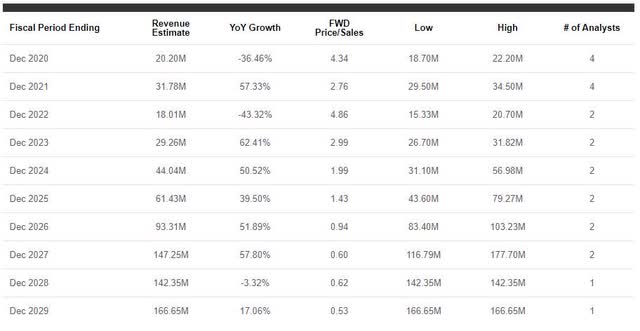 Figure 2: MDWD Revenue Estimates (Source: Seeking Alpha)
If all goes well, that potential growth should move the share price in the right direction as the market starts to recognize the company's ability to bring home some solid paychecks. Looking at figure 2, we can see the Street expects the company's revenue to undulate in the coming years as MediWounds' products continue to establish a foothold in the market, while the company also receives milestone payments and deliver shipments to BARDA.
So, the market might not enjoy the peaks and valleys in the earnings, but eventually, the Street expects the company to record strong sequential growth and eventually break $100M in revenue around 2026-2027. At that point, MediWound will be pulling in more in revenue than its current market cap of ~$87M, which is a forward price-to-sales that is <1x. Considering the sector's average price-to-sales is 5x, we can say MDWD is discounted for its future revenue growth. Indeed, there are uncertainties, but I am quite confident MediWound's fundamentals will continue to improve and the company will progress towards several meaningful milestones that will allow them to hit these expectations.
Downside Risks
My leading downside risk comes from the expected undulating revenue over the next couple of years. The market doesn't like to see a decrease in revenue year-over-year, even though it is because of milestone payments or large orders. MDWD might be an exception, but I have seen this happen to numerous other tickers, where the company reported a significant decrease in revenue because of a large milestone payment occurring in the previous quarter or in the same period the previous year. The market likes to see that clean and clear sequential growth, so it is possible MDWD does get punished around earnings.
Another downside risk comes from the potential of a secondary offering or another form of dilution. Although the company has a healthy cash position, we don't have a clear view of when the company's product revenue will get them to break-even. As a result, investors should accept the likelihood that the company could execute a secondary offering at some point in the future.
My last significant downside risk comes from the company's industry and its inability to generate hype from investors. Wound healing products don't exactly attract the same level of attention as cell therapies or gene editing, which are known for impressive valuations and creates a frenzy around those tickers. As a result, I don't expect MDWD to generate a lot of hype that leads to a huge momentum play to the upside.
My Plan
I am looking to establish a minuscule position in the coming days in anticipation the FDA will accept the company's BLA for NexoBrid and will continue commercialization activities with the company partner, Vericel. Once the company has a PDUFA date for NexoBrid, I will look to make a few technical additions ahead of the FDA's decision. If approved, I will look to shave some of that position and will hold the remaining shares for a long-term speculative position. Admittedly, I am not expecting to establish a large position in MDWD due to some of the downside risks, but I am attracted to the company's products and the company's ability to make deals. Overall, I expect to hold some MDWD shares for at least five years in anticipation that they are able to clear $100M in revenue and expand its pipeline.
Disclosure: I/we have no positions in any stocks mentioned, but may initiate a long position in MDWD over the next 72 hours. I wrote this article myself, and it expresses my own opinions. I am not receiving compensation for it (other than from Seeking Alpha). I have no business relationship with any company whose stock is mentioned in this article.