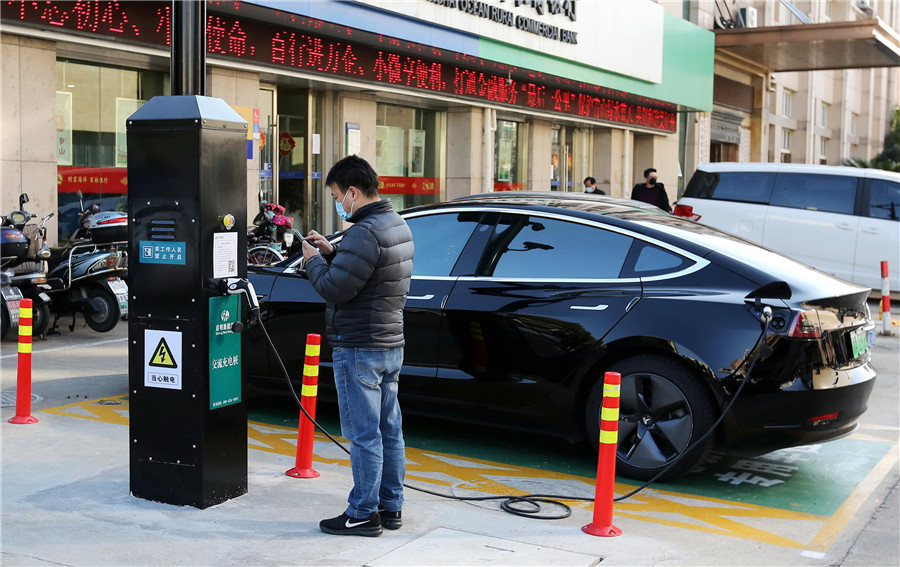 China will invest more to upgrade the country's infrastructure projects in such fields as charging piles, ultra-high-voltage grids and intercity transit systems, with a firm goal of sustaining economic growth amid the novel coronavirus epidemic.
The move is part of the country's efforts to minimize the impact of the contagion on the economy through more investment in new infrastructure projects instead of resorting to massive government-led stimulus measures.
A priority of the infrastructure plan is to build more charging stations for electric vehicles. There were 1.22 million charging piles in China as of December. The number of electric vehicles was about 3.4 times as many as charging piles-far from meeting the target of parity for e-vehicle and charging pile numbers.
"By 2030, the number of new energy vehicles in China is expected to reach 64.2 million," said Sun Huifeng, president of CCID Consulting. In the next 10 years, 63 million charging piles need to be constructed, which can translate into a market value of 1.03 trillion yuan ($146.7 billion), Sun said.
He added that it is necessary to optimize charging networks nationwide to make charging processes smart, efficient and flexible. He urged more efforts among various parties to work toward the goal of standardization allowing all electric vehicles to be recharged at all stations.
In early March, a meeting of the Standing Committee of the Political Bureau of the Communist Party of China Central Committee said China will accelerate the construction of new infrastructure such as 5G networks and data centers.
Besides newly emerging sectors, new infrastructure also refers to technological advances in traditional industries including ultra-high-voltage grids and intercity transit systems.
The State Grid Corporation of China recently released a preliminary 2020 work plan for ultra-high-voltage grids and interprovincial electricity projects.
UHV electricity transmission has been successfully used in China to transmit both alternating current and direct current electricity over long distances. According to the document, five UHV alternating current projects across the nation are expected to gain approval between March and December.
At the beginning of the year, the State-owned giant said it would invest more than 400 billion yuan in power grid construction, which can draw social investment of over 800 billion yuan into the sector, according to SGCC Chairman Mao Weiming.
Zhu Jianfang, chief economist at CITIC Securities, said investment flowing into new infrastructure projects is expected to surpass 2 trillion yuan this year, accounting for 10 to 15 percent of investment made into all infrastructure projects in 2020.
In a recent research note, Zhu said his team predicted that the growth rate of overall infrastructure investment this year could be at least 8 percent. New infrastructure investment, with the central government's strong support, may witness a double-digit rise, he added.