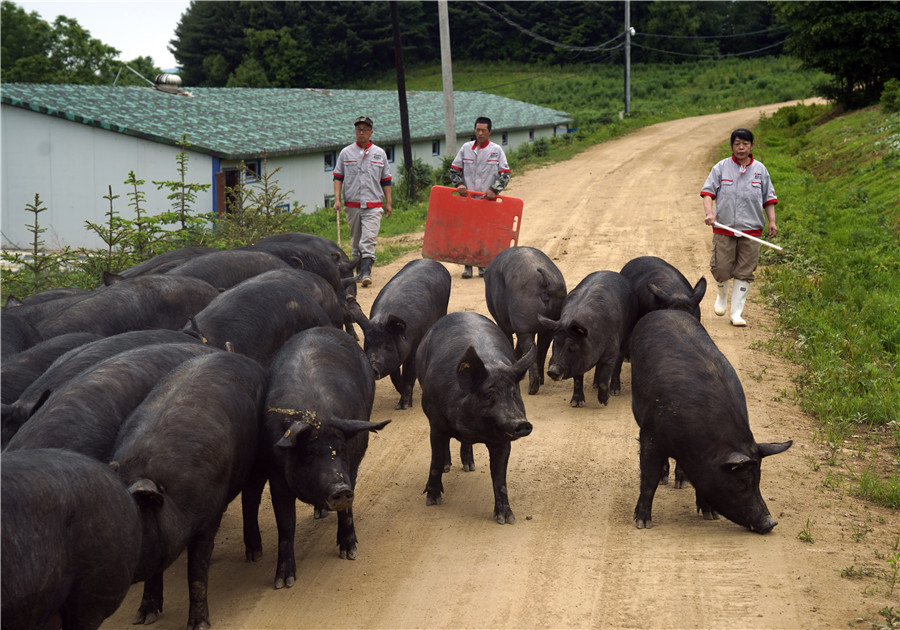 Fiscal subsidies, insurance coverage expansion help support construction of pig farms and contain high prices
Zhu Guolong, who owns a mid-sized pig farm in Jilin province, had planned to expand his farm as pork prices gradually rose from the summer, but he did not carry out his plan for fear that the African swine fever that has swept some parts of the country may continue to spread.
"I fear that I would lose money if the disease continues to spread even after I expand my farm," said Zhu, who owns the Changchun Topigs Animal Husbandry Co Ltd in Dehui.
"If prices continue to stay at such high levels, I will consider expanding my farm then," he said.
According to the Ministry of Agriculture and Rural Affairs, China's pork prices in surveyed markets averaged 51.22 yuan ($7.3) per kilogram in the last week of November, the fourth consecutive week of falling prices. In some cities, pork prices peaked at more than 60 yuan per kilogram in October.
In June, pork prices were only about 20 yuan per kilogram. Then they started to surge and more than doubled in October, pushing the national consumer price index above 3 percent to hit 3.8 percent, and further lifting it to 4.5 percent in November.
Facing the continual and strong spikes in pork prices, the authorities have adopted a slew of policies to increase market supply and encourage hog farming.
Governments at all levels have vowed to support the building of pig farms and fiscal subsidies are given to those who raise pigs.
In Jilin province, for example, the provincial government has provided subsidies and loan interest discounts for raising pigs. It has also encouraged the expansion of insurance coverage for raising of pigs and sows to alleviate risks to farmers and enterprises.