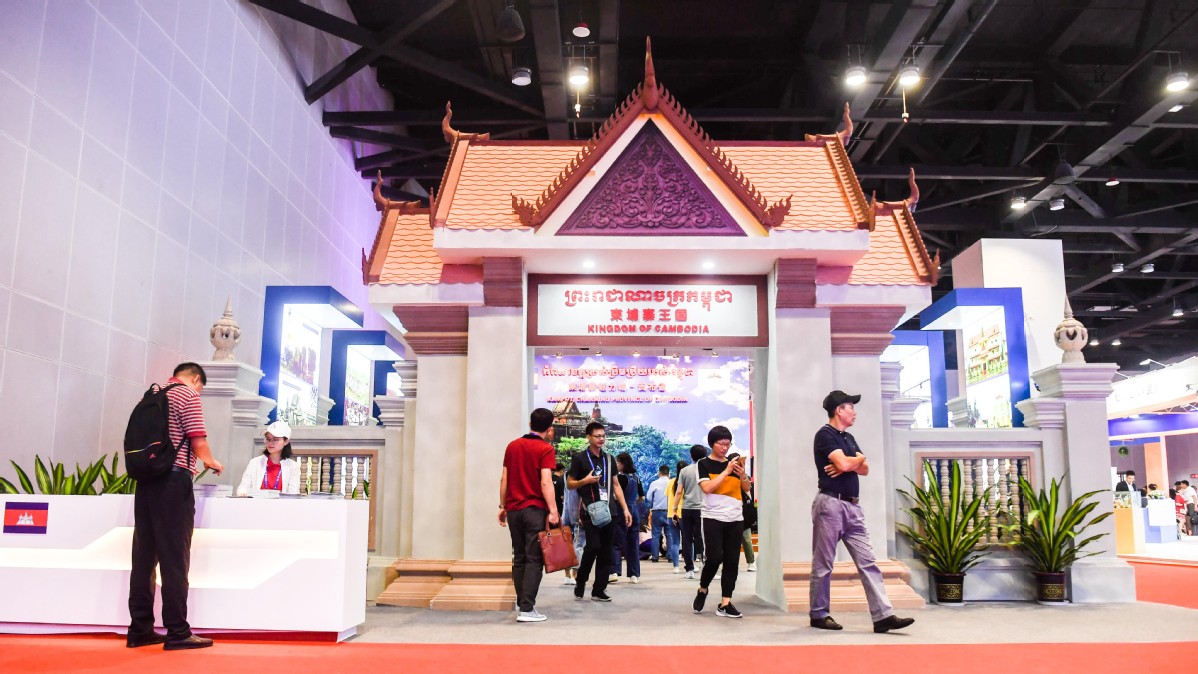 Cambodia sees room for stronger synergy in bilateral ties with nation
With the 10-member Association of Southeast Asian Nations surpassing the United States to become China's second-largest trading partner this year, its member economies are rushing to establish more trade promotional and manufacturing facilities across China to seek new growth opportunities.
Pan Sorasak, Cambodia's commerce minister, said the country will open its sixth trade center in China by the end of this month to further promote bilateral ties in trade, investment, culture and tourism.
The new trade center will be located in Kunming, capital of southwestern China's Yunnan province, he said, and Cambodian Deputy Prime Minister Yim Chhay Ly is scheduled to attend its opening ceremony.
"The center will exhibit Cambodian products and documents related to cultural and tourism sites, the business environment and investment potential in Cambodia," he said in a speech at the ministry's annual conference.
The minister noted the five existing Cambodian trade centers in China are in Guangzhou in southern Guangdong province, Xi'an in northwestern Shaanxi province, Haining in eastern Zhejiang province, the Hong Kong Special Administrative Region, and Yantai in eastern Shandong province.
Cambodian Ministry of Commerce spokesman Seang Thay said Cambodia saw China as a huge market for its products, particularly for agricultural ones.
"Cambodian trade centers in China are useful in promoting Cambodian products, investment potential, investment law and regulations, tourism attractions, and culture to Chinese investors and tourists," he said.
China is the biggest source of both foreign direct investment and tourists to Cambodia, and a key trading partner of the nation.
According to Cambodian government data, the Southeast Asian nation attracted a total investment of $21 billion from China from 1994 to date.
On the tourism side, the country gained 2 million Chinese tourists during the first 10 months of 2019, up 24 percent over the same period last year.
And for trade, the bilateral trade volume totaled $6.6 billion last year and is projected to hit $10 billion by 2023.
China has remained ASEAN's top trading partner for a decade. Bilateral trade volume reached $578.04 billion between January and November this year, jumping 7.5 percent year-on-year. With promising trade prospects, both sides aim at a joint target of two-way trade of $1 trillion and $150 billion in investments by 2020.
Asia Pulp & Paper Co, the Indonesia-based paper product manufacturer, pledged to raise its investment in China as the country's demand for baking paper, oil-proof paper, packaging paper, baby care and biodegradable paper products has notably surged due to strong purchasing power in major cities and the fast urbanization pace throughout the nation.
Supported by more than 70,000 employees globally, the group, with 25 million metric tons of annual production capacity for various paper goods, invested 45 billion yuan ($6.43 billion) in Rudong county, Jiangsu province, to build a plant producing high-end paper-made items in July. Once the facility becomes operational, it will be able to produce 3.96 million tons of paper products annually.
At last year's China International Import Expo, the company received $170 million worth of orders from clients both in China and globally. It also sealed import deals with a number of Chinese companies in Zhejiang and Guangdong provinces during the first CIIE.
Zhang Ge, CEO of the household paper unit at APP's China branch, said China's second-child policy has also brought new momentum to the mother and child care area, giving the company a clearer view of consumer demand, such as safety, purity, zero stimulation and softness.
Li Yong, deputy director of the China Association of International Trade Expert Committee, added that China and ASEAN will see sustained trade growth in the future after the upgraded protocol of the China-ASEAN Free Trade Area came into effect in October. In comparison with the previously goods trade-focused agreement, the upgraded CAFTA covers more areas including trade in goods and services, investment, and economic and technological cooperation.
To better confront protectionism, he said ASEAN and China both export a large amount of manufactured goods, agricultural and commodity products to global markets annually. They have been upholding a rules-based multilateral trading system and promoting regional integration.
Xinhua contributed to this story.