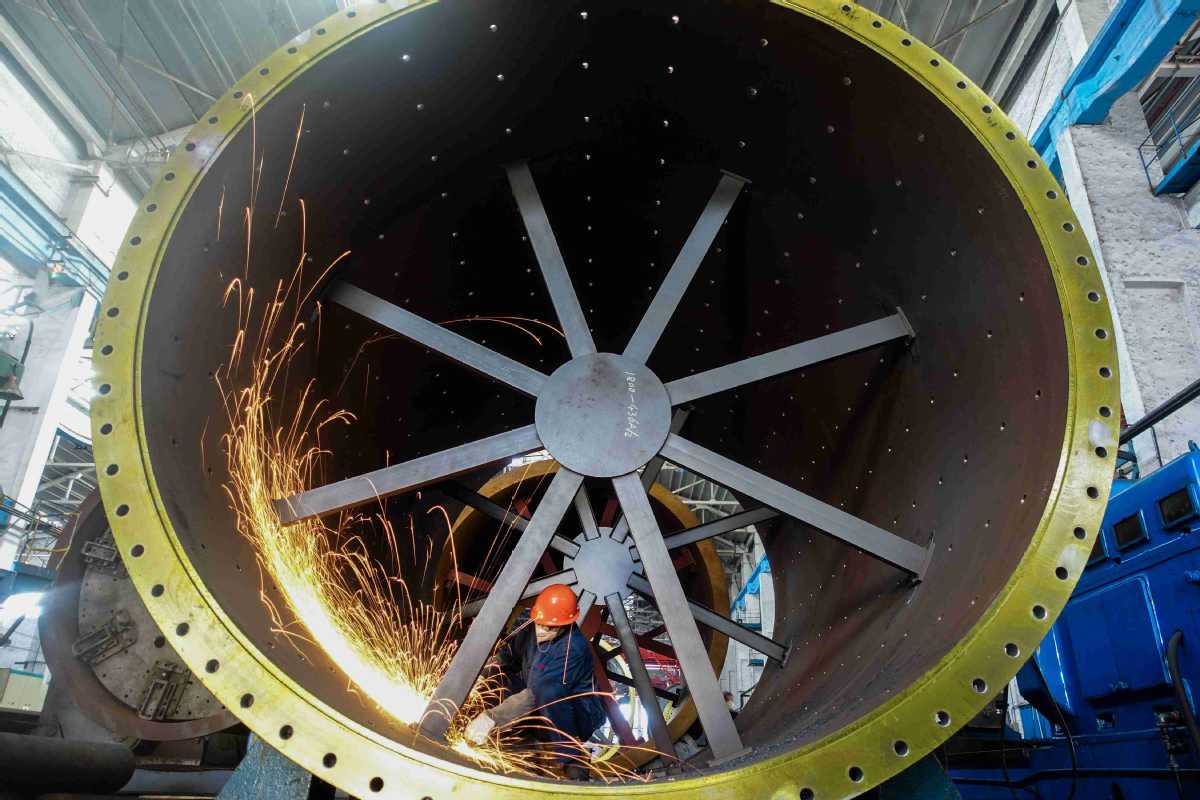 Central authorities, domestic companies stepping up efforts to meet worldwide demand for China-made products
Liu Chuchun and his team have been busier than ever for more than a month. Like millions of people involved in the manufacturing sector in China, they are facing the unprecedented challenges of resuming work while strengthening efforts to prevent further infections amid the novel coronavirus outbreak.
As head of Lenovo Group Ltd's plant in Shenzhen, Guangdong province, Liu is in charge of restarting production as soon as possible so that the plant's personal computers and servers can continue being exported to over 170 countries and regions on schedule.Lenovo is the world's largest PC maker, and its Shenzhen plant is at the forefront of maintaining the company's global supply chain. The efforts by Lenovo to restart production while ensuring the health and safety of its employees offer a glimpse into the resilience of Chinese manufacturing.
"After hard work, we hit full capacity earlier this month," Liu said. Currently, about 4,000 workers are assembling components at the Shenzhen plant, with products supplied to more than 100 multinationals including US tech heavyweights Microsoft and IBM, France's La Poste as well as Japanese automaker Toyota.
Lenovo is among a growing number of Chinese manufacturers that have resumed operations. As markets worry that China-made products may not be able to meet global demand amid the coronavirus outbreak, the central authorities and domestic companies are stepping up efforts to ease such concerns.
As of March 13, with the exception of the hardest-hit Hubei province, more than 95 percent of large companies across China had resumed normal production and over 80 percent of company employees had returned to work, according to the nation's top industry regulator.
"Currently, companies and related supply chain entities are resuming operations in an orderly manner. The nation's industrial economy is back on track in a positive direction," said Xin Guobin, vice-minister of industry and information technology, at a news conference in Beijing recently.
"More targeted measures will be rolled out to help firms solve problems. We will also step up efforts to collaborate with key industries and related supply chains in different regions to resume operations," he said.
Yang Yuanqing, chairman of Lenovo, said: "The epidemic outbreak will not damage China's leading role in the global supply chain as the country has the world's largest manufacturing system with the most complete industrial chain and supporting facilities."
China is also undergoing a critical stage of moving from a manufacturing powerhouse to a smart-manufacturing center, which will generate more opportunities, Yang said.
To encourage people to return to their jobs, Lenovo has launched several measures. The company purchased anti-epidemic goods including surgical masks and disinfectants, hired buses to bring employees back to work and sought help from other suppliers.