Financial news
Making China's cities productive and livable
By
|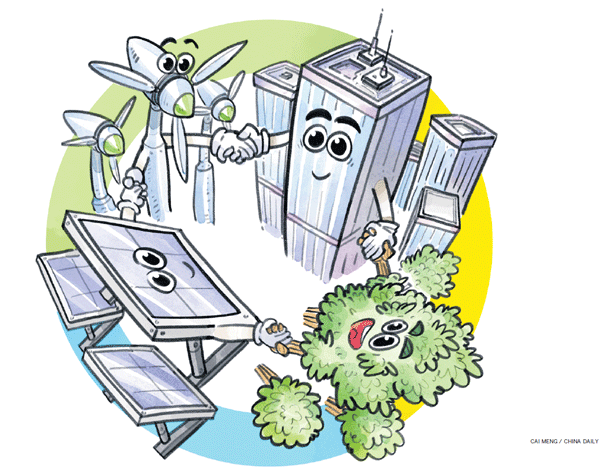 Future historians will see the urbanization of China, and of countries throughout Asia, as one of the biggest social and economic transformations ever. Getting this right – maintaining the productivity of cities while making them livable for all their citizens – is crucial to the future of the world.
China is making very large investments in transportation infrastructure, social support and environmental protection that will improve lives in cities and spread prosperity to smaller cities and hinterlands.
The Asian Development Bank issued a report in September titled Fostering Growth and Inclusion in Asia's Cities that used a new database of nighttime light intensity to analyze the rapid growth of urban areas throughout Asia.
The report explains that large urban areas are highly productive for three reasons.
First, they match workers to jobs, and firms to markets.
Second, individuals and organizations in close proximity have the opportunity to learn about new ideas, technologies and techniques.
Finally, dense urban areas allow people to share infrastructure facilities and access to people with highly specific skills. These are called agglomeration effects.
The report recommends policies that improve cities: 1) travel within cities must be fast and cheap; 2) clusters of big cities with the surrounding smaller cities and rural areas should be supported by transportation investment and unified regional planning; 3) real estate, especially housing, needs to be affordable to a wide variety of people; and 4) cities must be healthy with good environments.
China is already taking steps, and making large investments, to apply these principles to its cities.
For example, the report cites Beijing as an example showing that "a city with air pollution and motor vehicles can, with sufficient investment and political will, improve its air quality." From 2013 to 2017, sulfur dioxide was reduced by 83 percent, nitrous oxide by 43 percent, and fine particulate matter by 35 percent, according to the report.
Any resident of Beijing will confirm that the improvement in air quality has been almost miraculous.
The report also concludes that "efficient and affordable public transportation can improve mobility, especially for low-income residents, directly and greatly improving their labor market participation". China's massive investment in urban subways directly addresses this issue.
However, housing prices in China's large cities are still very high by world standards, despite limitations on financing for speculative purchases. The ADB report recommends that Chinese cities allocate more land for residential use. It also concludes that many cities have made commutes worse by allocating city center land to commercial use and concentrating residential building in the suburbs.
Using the newly developed database of nighttime light intensity, the ADB researchers show that city clusters – linked and integrated urban areas – are key to growth throughout Asia.
Agglomeration effects make large cities more productive; however, that productivity is limited by congestion and by high costs, especially high housing prices. The solution being implemented in China, and to a lesser extent elsewhere, is the creation of large urban clusters – in which the benefits of a large city are spread to nearby smaller cities and rural areas.
China is building infrastructure to integrate each of three huge urban clusters consisting of Beijing, Tianjin and Hebei province in the north, the Yangtze River Delta centered on Shanghai in the eastern region, and the Greater Bay Area of Guangdong province, Hong Kong, and Macao in the south.
In an earlier interview with China Daily, Barjor Mehta, lead urban specialist for East Asia and the Pacific at the World Bank, said: "China has built a remarkable network of high-speed rail connecting all the cities. It has also been doing metros in each big city. The next thing when you want to encourage development of a metropolitan region is to seamlessly connect the smaller cities within the region with the metropolitan core. Each of the smaller cities themselves has its own internal transportation. The next big benefit you get is having much better connections within the extended metropolitan regions, linking a very large city with other cities within commuting distance around it."
A decade or so ago, most of China's development was taking place in a few very big cities on the east coast. But this is no longer true. Government investment in infrastructure as well as health and education is spreading wealth across the country and to smaller cities.
A 2017 Morgan Stanley report concluded that China's private consumption will more than double by 2030 – substantially driven by growing incomes in smaller cities. Lower-tier cities already produce 59 percent of the country's GDP with 73 percent of its population and, according to the report, 75 percent of the people moving from rural to urban areas over the next decade will move to smaller cities.
Robin Xing, Morgan Stanley's chief China economist, said in the report: "While investors perceive larger cities as offering the most important consumer base, we believe that lower-tier cities will be bigger, wealthier and more eager to spend, and could contribute two-thirds of incremental growth in national private consumption toward 2030."
This means that the gap in per-capita disposable incomes between first-tier and smaller cities will continue to shrink, moving from 55 percent in 2010 to about 45 percent today to an estimated 36 percent in 2030.
Continuing government investment in education and healthcare, combined with lower housing and daily living costs, will make China's smaller cities more and more attractive places to live, relieving pressure on the huge first-tier cities.
The ADB also published, in November 2018, a report touting China's successes in improving the urban environment – presenting case studies of how Chinese cities improving the environment and their transportation systems.
"The PRC recognizes the need for transforming its growth pattern and has established a vision to realize 'ecological civilization', promoting sustainable, inclusive, low-carbon, and resilient growth. Recognizing the need to improve the urban environment, and the critical role that cities play in mitigating the effects of climate change, the PRC has identified and implemented several city-level initiatives for sustainable development. These include measures to conserve energy, reduce emissions, increase mass transit and non-motorized transport infrastructure, introduce new energy vehicles, increase green infrastructure, rehabilitate wetlands, and improve flood protection," said the 2018 ADB report.
The Tsinghua-Lancet Commission on Healthy Cities in China concluded in an April 2018 study that the key to building a healthy nation is creating safe, walkable cities where people can get exercise as part of their everyday lives.
This is especially important because the population is aging and cases of diabetes, high blood pressure and chronic heart disease have been rising. China's current large investment in urban parks and greenways is designed to let citizens lead healthier lives – thus helping the country to achieve the goals specified in the Healthy China 2030 plan.
These government plans to improve China's cities are already showing massive benefits for the country and are a key foundation for future sustainable growth.