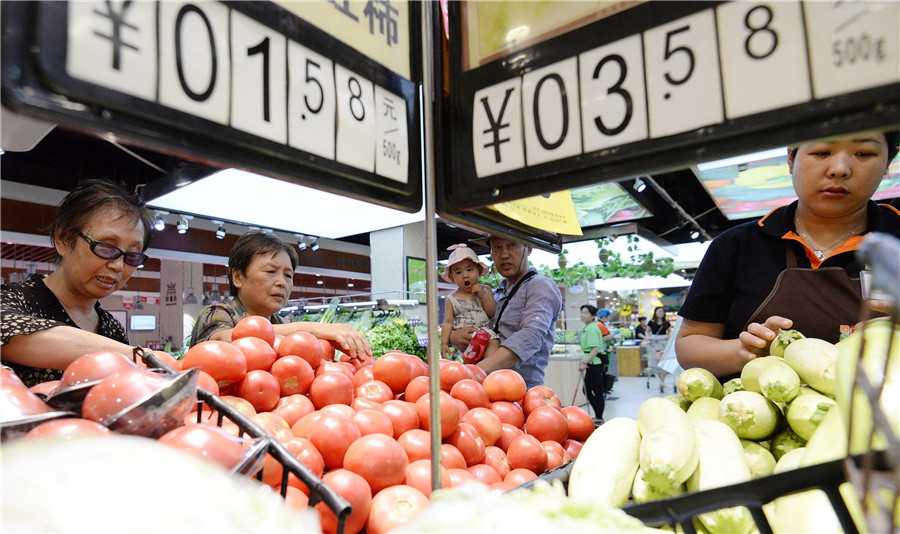 China is unlikely to face major inflationary pressure this year, despite the consumer price index, a primary barometer of inflation, hitting a 15-month high in May, analysts said on Wednesday.
The nation's CPI rose for the third consecutive month to 2.7 percent year-on-year last month, the highest since March 2018, the National Bureau of Statistics said on Wednesday.
The reading quickened from 2.5 percent for April, as tighter supplies of fruit, pork and vegetables drove up food prices by 7.7 percent year-on-year, the NBS said. Non-food prices saw a mild increase of 1.6 percent over the same period.
Fruit prices recorded the most notable rise mainly because bad weather hammered supplies, with the price of fresh fruit up 26.7 percent year-on-year in May, the NBS said.
"The food price rise is mainly driven by seasonal and structural factors, rather than an overall imbalance between supply and demand," said Yang Weiyong, an associate professor of economics at the University of International Business and Economics in Beijing.
"Considering that imports can ease structural supply shortages, food prices should not pose continuous inflationary pressure," Yang added, pointing out that fruit prices will fall as more types of fruit mature, and as the country ramps up and diversifies fruit imports.
Given that the inflationary risks of food prices are controllable and that economic downside pressure may weigh on aggregate demand, Yang expects the country to maintain mild inflation this year.