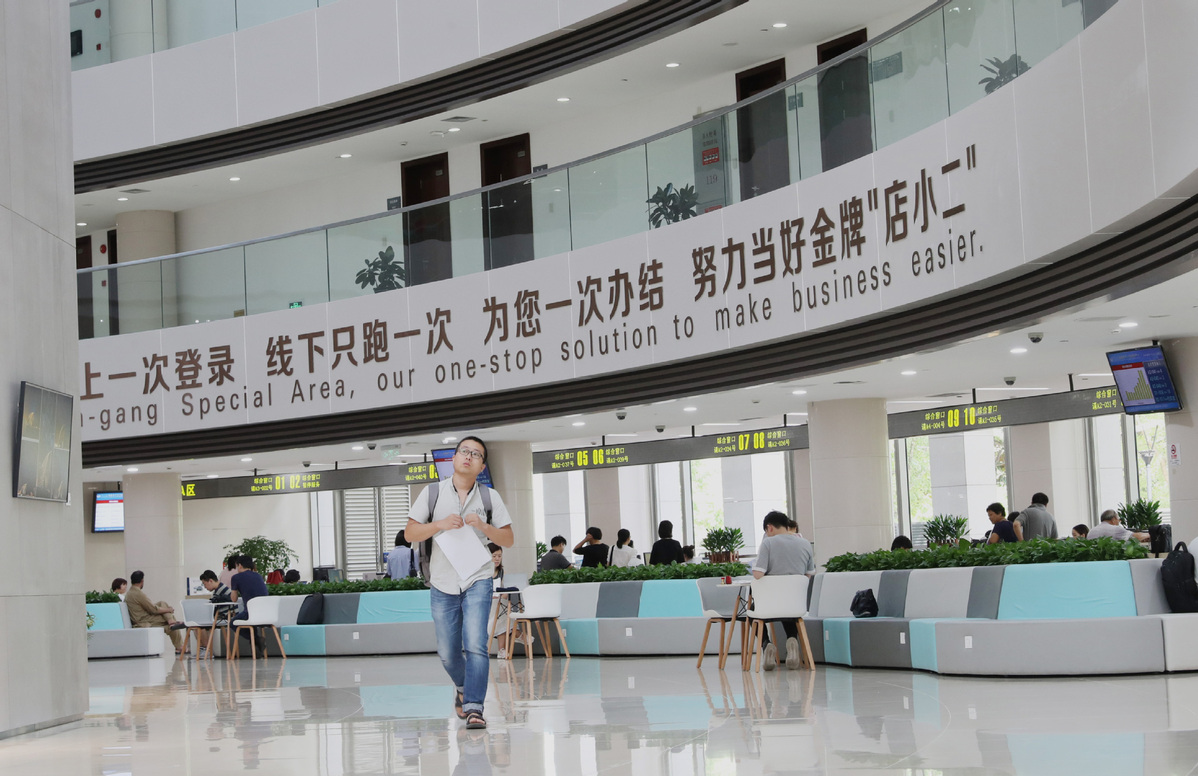 The inclusion of Shanghai's Lingang Special Area into the China (Shanghai) Free Trade Zone last year has spurred the region's fresh round of reform and opening-up.
Among the latest developments, Lingang recently unveiled its dedicated business watchdog administration in March, giving the area more discretionary power in market regulation.
Previously, the market regulatory administrations of the Pudong New Area and Fengxian District took charge of business registrations and the issuance of business licenses within different areas of Lingang.
Consequently, responsibilities for administrative licensing, supervision and law enforcement within the scope of the Yangshan Special Comprehensive Bonded Zone will be transferred to the new administration.
"We will create simplified business access and fair competition to give full play to Lingang's role in reform and innovation, demonstration and guidance as well as overcoming difficulties," said Yan Yijun, director of the newly established administration.
The area has also stepped up upgrading its communications infrastructure in a bid to better serve enterprises and help them better connect with global counterparts. On April 20, a communications infrastructure special plan was launched to promote the construction of 5G, fiber optic broadband, the industrial internet, the internet of things and a data center.
Under the plan, much study will be conducted into the construction of international cable channels, development of offshore data centers as well as offshore service outsourcing.
The proposed deployment of the internet of things is expected to further enhance high-end manufacturing and smart manufacturing, narrow-band IoT technology to be applied in the industrial internet as well as the development of new energy vehicles.
Electric vehicle maker Tesla recently released a video from inside its giant Lingang plant offering a ray of hope after manufacturing worldwide ground to a halt due to the novel coronavirus pandemic.
The plant has helped it partially weather the storm, with the US company selling 10,160 cars in China in March, its highest-ever monthly sales in the country, according to the China Passenger Car Association.
Shanghai has unveiled measures to support Lingang for sustainable high-quality growth covering talent retention, taxation, housing, land planning, industrial clusters, transportation networks and urban public services.
"The launch of this series of policies shows that Shanghai is leveraging all efforts from the city to bolster the development of the Lingang area," said Sun Yuanxin, deputy dean of the Free Trade Zone Research Institute, Shanghai University of Finance and Economics.
For example, companies engaged in production and R&D in select industries such as integrated circuits, artificial intelligence, biomedicine and civil aviation will enjoy a preferential corporate income tax rate of 15 percent within the first five years after establishment.
The municipal government is also proposing to create a 100-billion-yuan ($14.1 billion) fund to support business growth in Lingang. These preferential policies and system innovations in Lingang have already worked to prompt companies to locate their businesses in the area.