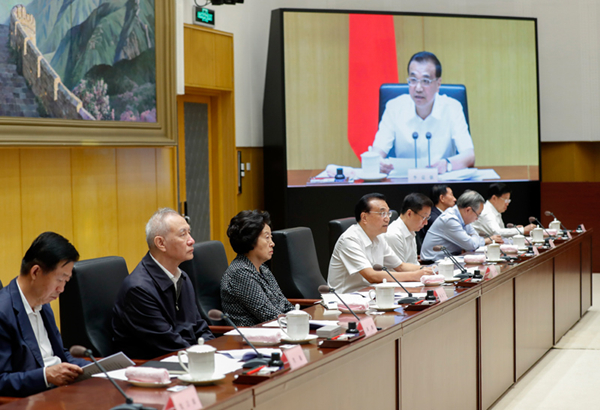 Premier encourages launch of Foreign Investment Law, related regulations
Premier Li Keqiang on Friday pledged to develop a better and more open business environment to bolster confidence among foreign investors and offer them more benefits.
Li made the remark at a teleconference on furthering administrative reform and optimizing the business environment.
The premier called for steps to implement the Foreign Investment Law and related regulations, as well as negative lists for foreign investment market access.
Further reform in administration and optimization of the business environment are key to improving the business environment, stimulating vitality of market entities and motivating forces of development, he said.
The moves, Li said, have promoted an increase in market entities, jobs, thriving business startups and innovation, and have driven the development of new business models based on the internet and digital technologies while also improving economic resilience.
He added that the moves have played an important role in the fight against COVID-19 and in spurring economic recovery and development this year.
Given the unprecedented challenges facing China, Li called for efforts to coordinate pandemic prevention alongside economic and social development, implement macroeconomic policy and deepen administrative reform, which help enterprises to address difficulties, inspire market vitality, stabilize economic fundamentals and advance high-quality development.
It is necessary to implement a mechanism that ensures fiscal funds will directly benefit businesses and people, and guarantees the effectiveness of tax and fee cuts to provide support for ensuring employment, meeting people"s basic living needs and protecting market entities, Li said.
Innovating credit service is also needed to facilitate financing for enterprises, especially micro, small and medium-sized enterprises, he said.
Measures should be taken to remove unreasonable restrictions that affect employment, especially new forms of employment, and develop flexible employment in accordance with local conditions, he added.
Li also stressed strict supervision of vaccines, drugs and special equipment.